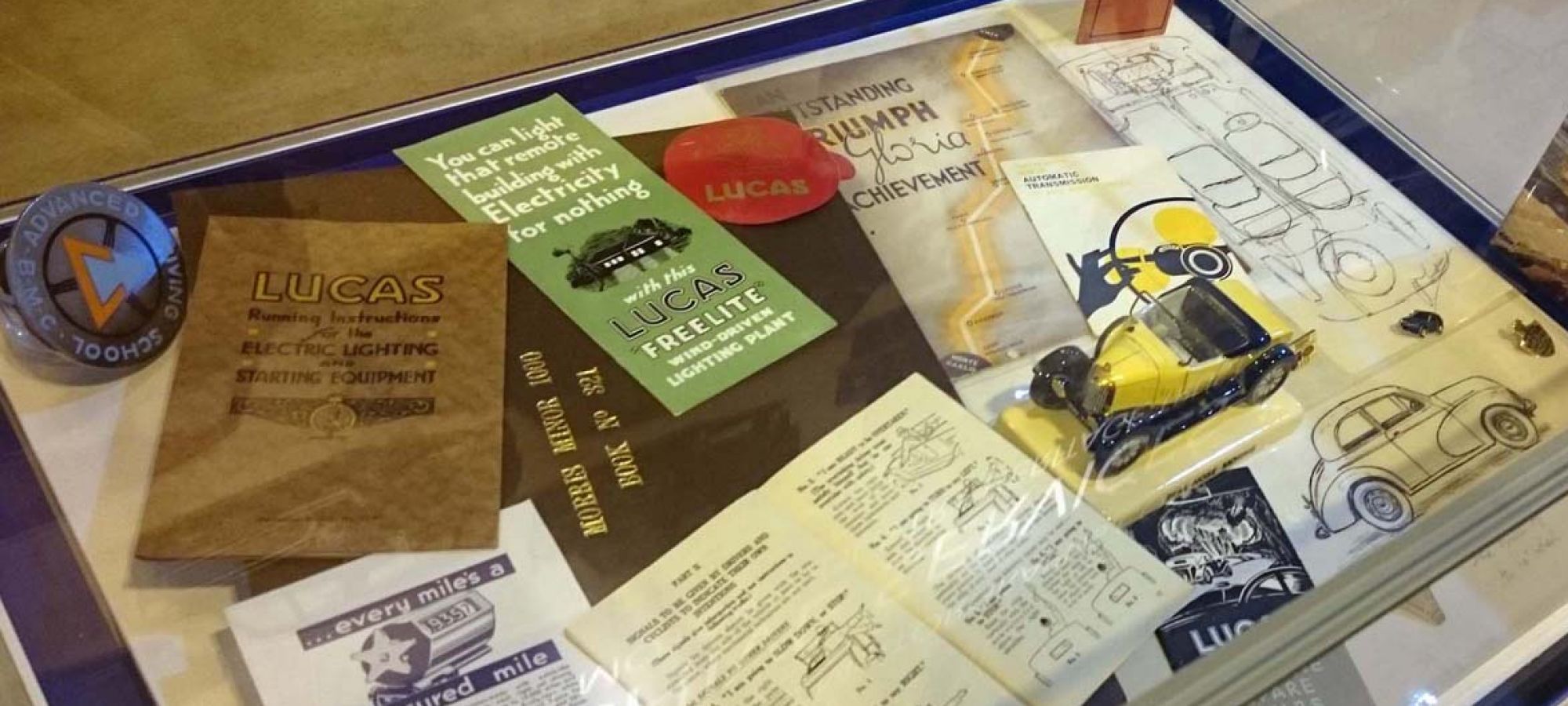 Planning a visit to our Reading Room? This page should help you prepare for your visit to us.
Reference Library
The Reading Room includes a Reference Library which is open every day between
10am and 4.30pm. No appointment is required, just come in and browse our collection
of books about cars and the motor industry. Library use is included in the standard museum entrance fee.
Accessing original records through the reading room
The Archive cares for a treasure trove of historic material that records the story of the British motor industry and the people who worked in it. This includes items such as business records, sales and technical literature and production ledgers. If you would like to study this material, please book an appointment to visit the Reading Room. The Reading Room is open for appointments Monday - Friday from 10am to 4.30pm.

Admission to the Reading R​​oom for the purpose of archive research is by appointment only, at no extra charge.
Before you visit:
Make an appointment. If you are requesting material from the Archive Store, we need a minimum of seven working days' notice. We have a limited number of staff and need time to identify the material for you.

In order to avoid disappointment, please make sure you advise us if there will be more than one person attending the appointment. There is a limit on the number of people per appointment due to the size limitations of the Reading Room.

Email history@britishmotormuseum.co.uk to make an appointment.
You can find some of our catalogues at:
- discovery.nationalarchives.gov.uk
- www.bmiht.com/catalogue/
If you are unable to find the material you are looking for on the online catalogues, please send an email and the team will advise you if it is available.
Please note that members of staff are not able to undertake research on your behalf.
Please bring:
Identification. We issue all visitors attending an appointment with a Reader's Ticket on arrival, which is valid for one year. To obtain your ticket, we need you (and anyone accompanying you) to produce a form of identification that shows your name and address. Acceptable documentation includes:

Driving license with address (this is by far the best form of identification)

Utility bill or bank statement issued within the last 3 months (printouts of online bills/statements are not acceptable)

Council tax bill for the current year

National ID card with address

International student photo card
Pens are not permitted, so please bring pencils for making research notes. You are welcome to make notes on a laptop but scanners are not permitted (this includes flat-bed and hand-held devices).
Copying Archive Material:
You must purchase a Digital Photography Permit from Archive staff to use a digital camera. You can order a permit when you book an appointment or buy it on arrival. This will allow you to copy archive documents (not photographic material) for research purposes, but subject to conservation, copyright and data protection restrictions.
Vehicle production records:
These records have certain access conditions that must be observed by researchers, this is to protect confidential data. They will only be available to registered users who accept the conditions of usage and complete the 'Conditions of Access to Production Records' form.