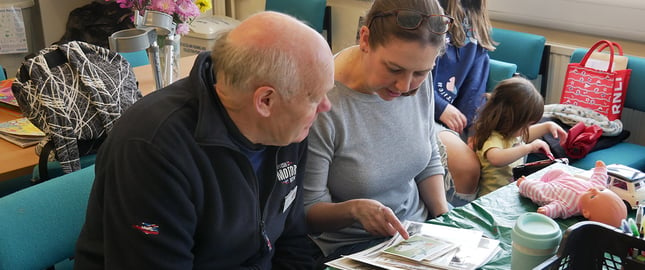 We would love to see you here at the British Motor Museum, but we understand that not all of you can come to us. Instead, we can come out to visit you and run one of our sessions, which can be adapted to meet the needs of your group.
Each session lasts approximately 1 hour and costs £60, including travel expenses, and is delivered by our Museum Community team.
We love to visit different groups, such as care homes, dementia cafes, Warm Hubs, youth groups and health and wellbeing groups, up to a 1-hour drive from the Museum.


Activities
Making Memories
Our boxes of handling objects may provoke memories and will undoubtedly provoke dialogue - whether verbal or non-verbal. These sessions can be between 20 to 60 minutes long.
The Art of Selling Immersive
These sessions take your group on the journey of buying a car assisted by the Community team and items from our Archive, such as brochures and paint swatches. What colour will you choose for your new car? This session lasts for around 40 minutes and is best delivered to small groups of no more than 10.
Ride in a Classic
Experience the sounds and smells of motoring in years gone by in this saloon, our 1960 Standard Ensign, lovingly restored by our volunteers. This session is best run in the summer months and works well as an add-on to another session. An additional fee of £60 applies to this activity.
History Talks
Find out more about the British car industry through a 45-minute history talk with our team. With different talks focusing on specific cars and themes, there is something for everyone! Find out more.
Virtual Tours
Join us any day of the week and experience a bespoke live tour of the Museum for your group via video call. Travel along our Time Road and meet characters from Britain's motoring history as they bring the vehicles from each decade and their stories to life. Perfect for sharing stories and creating new memories!
Simply pick your theme from the options available, and our team will bring you an engaging and interactive tour for up to an hour. A unique opportunity to get the whole Museum to yourselves for just £60!
Themes to choose from:
- 1900s to 1920s
- 1930s to 1940s
- 1950s to 1960s
- 1970s to 1980s
- General tour with Bertha Benz and Barry Wheeler, the car dealer
- Early Motoring: a chat and Q&A with William the Edwardian Chauffeur
The tour was very well led and very descriptive, covering all aspects, and left the residents with no need to ask questions, as said by one of the residents "How can we ask questions when they have covered it all so well?" - Barchester - Cubbington Mill
Enquire Now
If you'd like to find out more or speak to a member of the Community team, call: 01926 895238 or email: community@britishmotormuseum.co.uk
If you are ready to book, please contact the Bookings Team on;
t: 01926 895295
e: bookings@britishmotormuseum.co.uk
We also offer Virtual History Talks about the British Motor industry. If you feel that would be more suited to your group, you can find out more here.