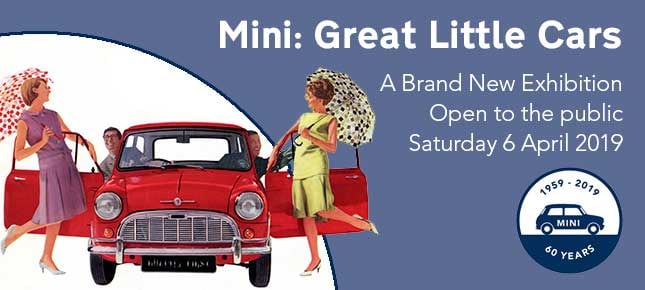 Exhibition 6 April 2019 - 4 March 2020.
The British Motor Museum has one of the most varied collections of Minis in the World. From the first Morris Mini-Minor to the last Mini Cooper, they include many important and unique examples.
Visitors to the Museum would normally find our Minis spread out among the many zones of the exhibition hall - everywhere from racing and rallying to prototypes - reflecting the impact the Mini has made on the motor industry, motorsport and everyday motoring.
To celebrate the 60th anniversary we're gathering together as many of our Mini models as we can fit onto the Mezzanine so you can appreciate them all in one place. There's everything from early examples to Issigonis' 9X protoypes; and from a Mini made from plastic to a bizarre twin-engined Moke!
There will also be the opportunity to see a rare factory scale model from the late 1960s for the very first time. This model was recently acquired by the Museum from the collection of the late Jack Daniels - the right hand man of Sir Alec Issigonis - whose job it was to turn the great man's sketches into engineered reality.
Come along, enjoy our unrivalled collection and discover why the Mini is one of the most iconic cars in the World!