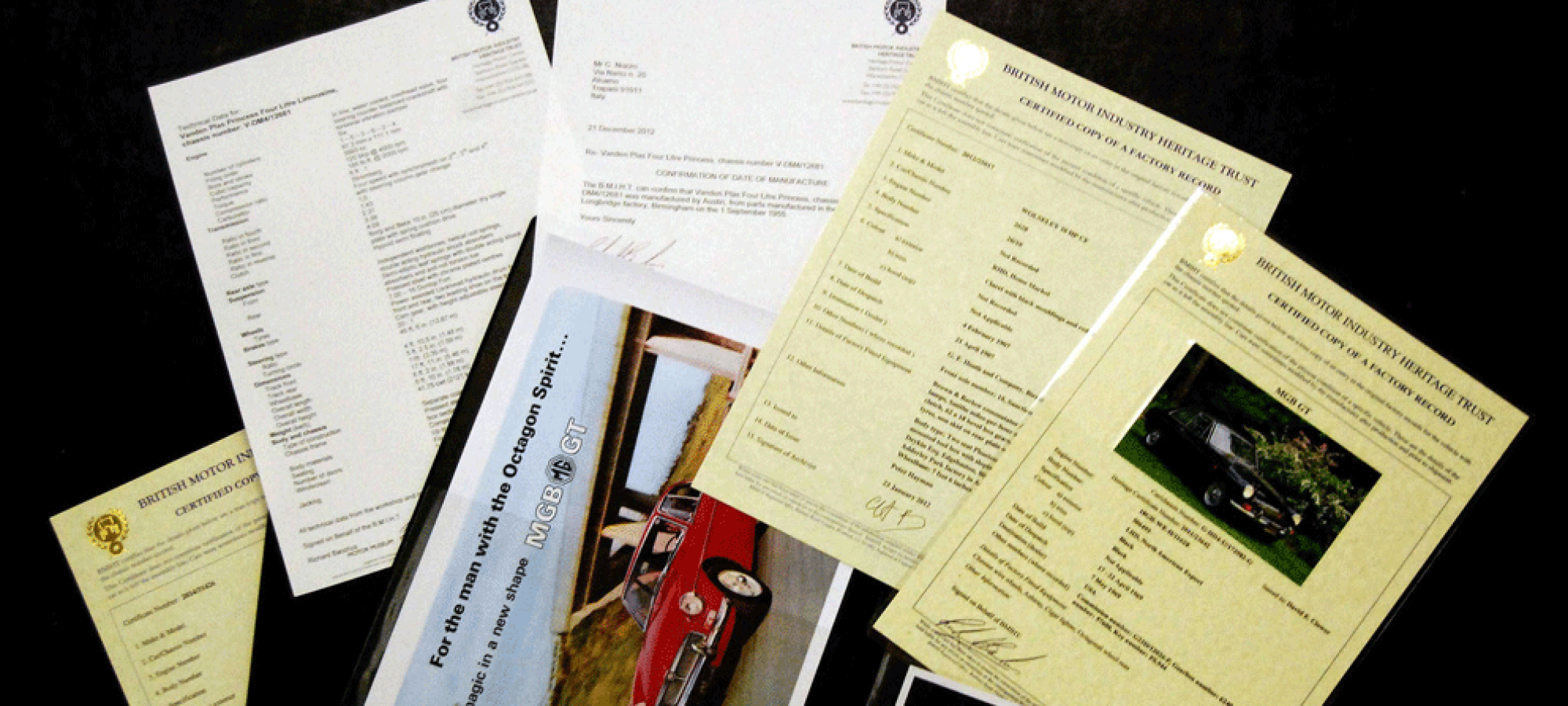 Heritage Certificates - Confirming the provenance of your cherished classic vehicle
The archive of the British Motor Industry Heritage Trust holds the original factory records created by many of the leading British motor manufacturers including Aston Martin, Austin, BMC, British Leyland, Land Rover, MG, Morris, Riley, Rover, Standard, Triumph and Wolseley.
If you are the owner of a cherished classic, or are looking for the perfect present for a classic car enthusiast, we can provide you with a certified copy of your vehicle's entry in the original factory ledger, showing your car's specification as it left the production line.
In addition to confirming key dates, details and identification numbers for your vehicle, a Heritage Certificate can be helpful when applying for tax exemption or an age-related registration mark, or importing/exporting your vehicle.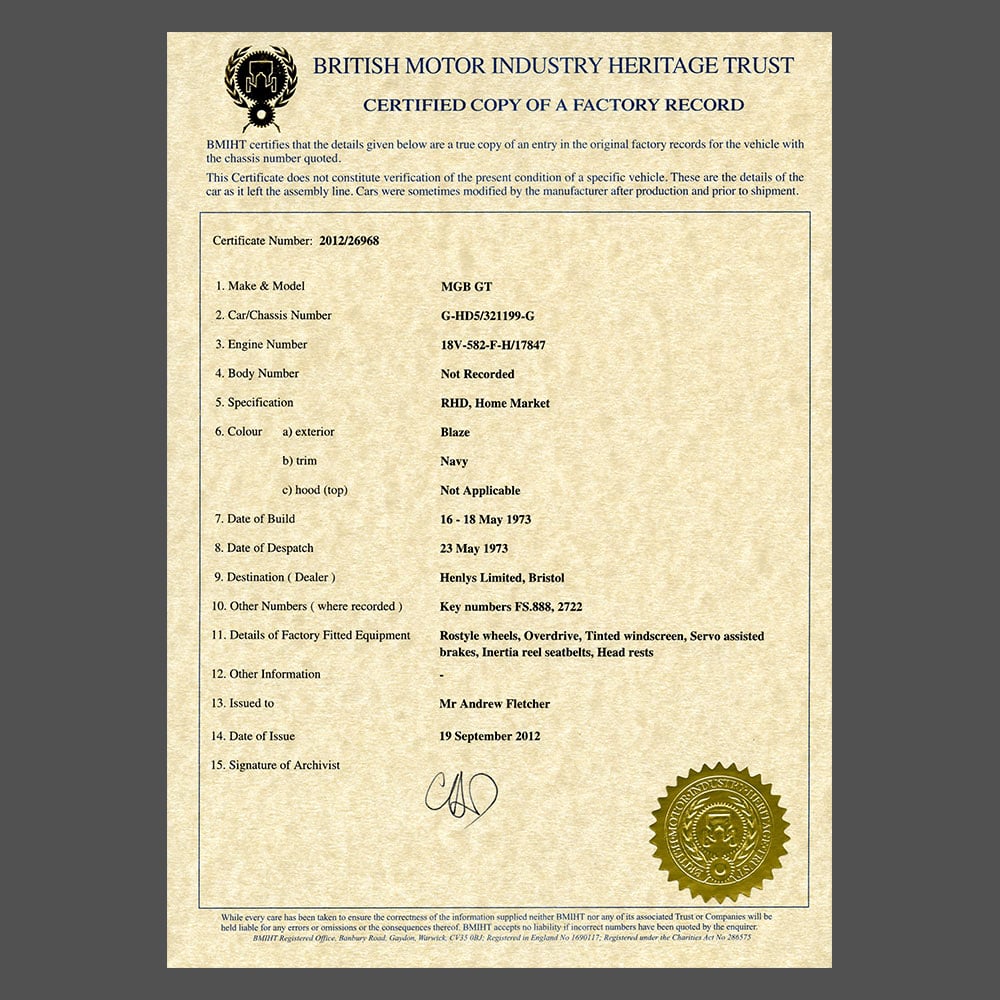 Heritage Certificate
£48 plus p&p
Own a 'Certified Copy of a Factory Record' for your classic car, showing your car's specification as it left the production line.
Discover details such as build and despatch dates, engine and body numbers, colour scheme, and details of factory fitted equipment.
Please note that the amount of information contained in the original ledgers does vary so not all these details will be recorded for every model.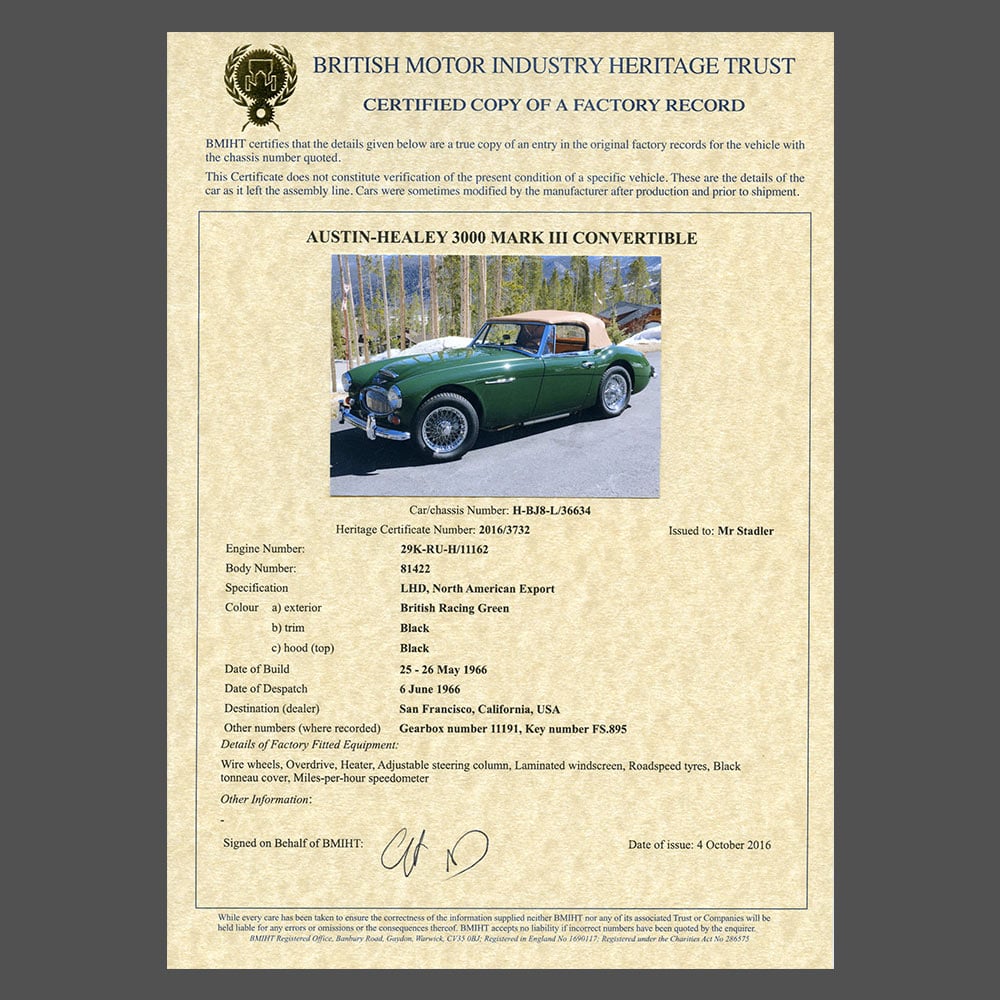 Premier Heritage Certificate
£60 plus p&p
Containing all of the details included in the standard Heritage Certificate, our Premier option offers the chance to make your Heritage Certificate even more special by uploading a favourite photo of your vehicle for inclusion.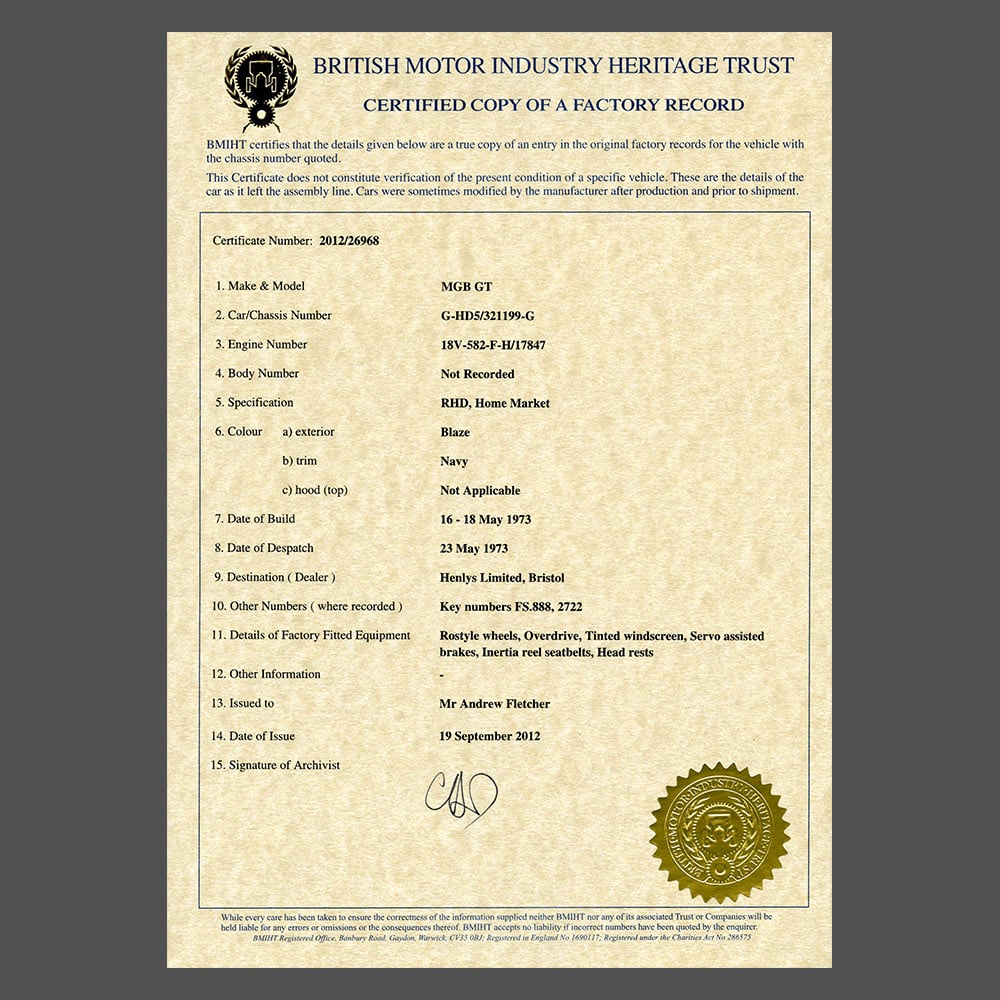 Certificate Re-issue
Heritage Certificate re-issue £30 plus p&p

Premier Certificate re-issue £42 plus p&p
If you are the proud owner of a classic car for which a Heritage Certificate has already been issued, then you can take advantage of our re-issue service.
Whether you're a new owner looking for a certificate in your name, or simply wanting to upgrade or update your document, provide us with the number of your current certificate and we will happily supply a new one at this special re-issue price.
Exclusive Extras
Delve deeper into the history of your classic car with a range of extras, available exclusively to customers also ordering a Heritage Certificate or Premier Heritage Certificate.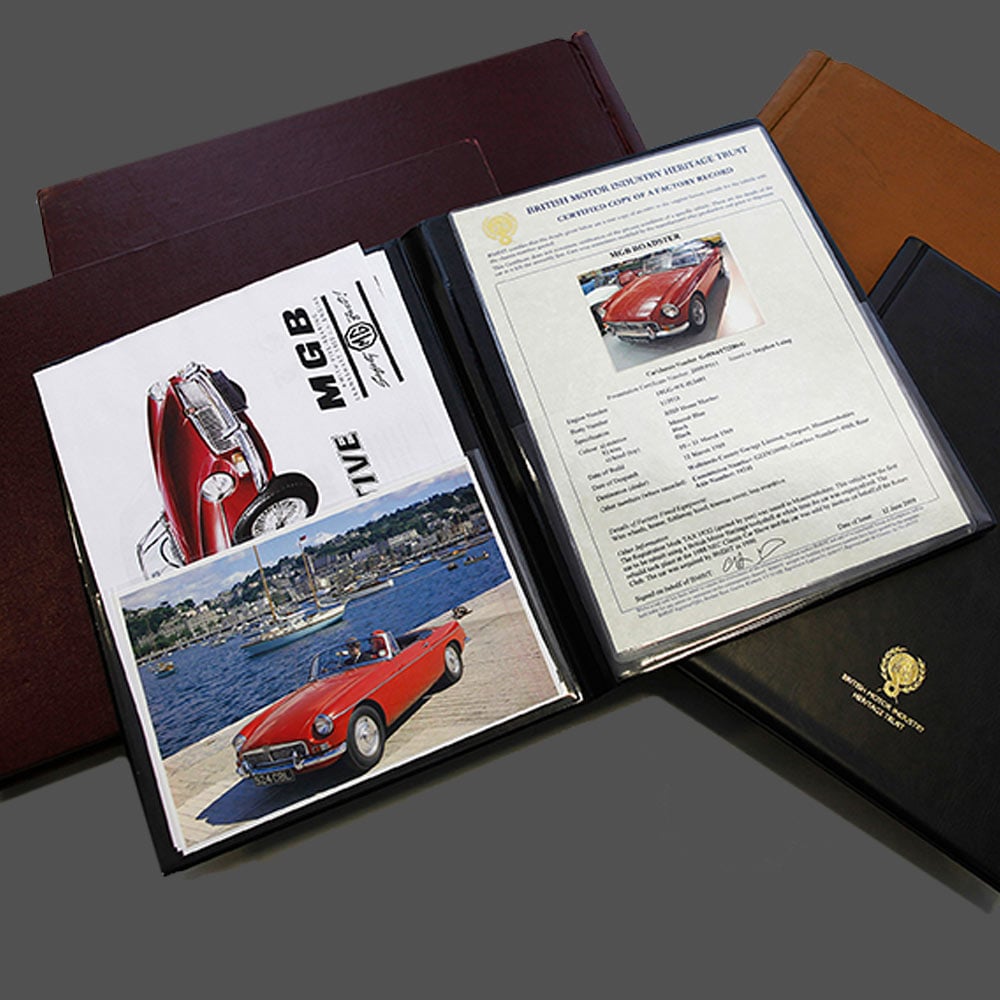 Heritage Document Wallet
£35
Keep your Heritage Certificate and other important documents safe and in style in a Heritage Document Wallet.
The Document Wallet includes:
Sales brochure facsimile, from the same period as your vehicle's production (loose leaf A4 colour laser copies)
Digital print of an original publicity image for your car model
Not available for Aston Martin owners – please see Aston Martin Folder below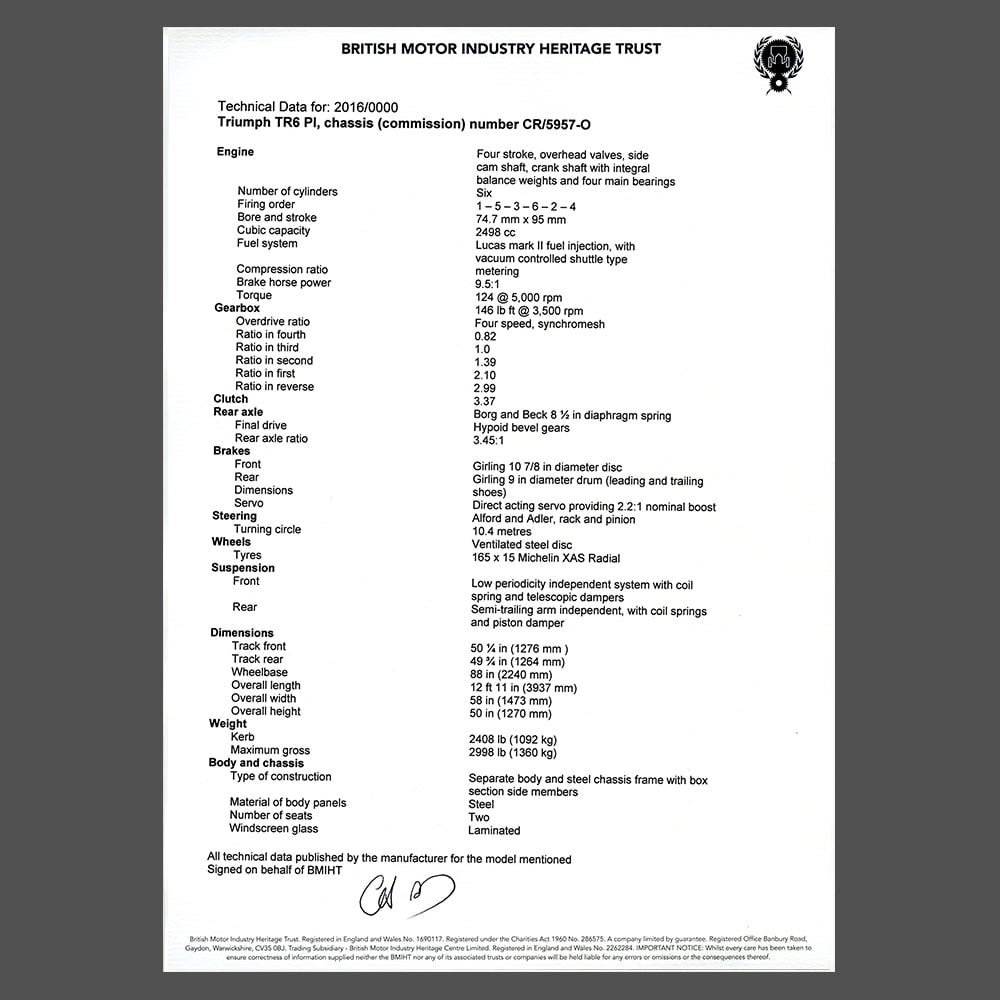 Technical Specification
£39
Discover extensive technical information tailored to your car's make and model, professionally presented on a British Motor Industry Heritage Trust letterhead.
The Technical Specification is great for help with licensing, registration and importation authorities. Complement your Heritage Certificate with extra details not found in the factory record, researched from our extensive technical archive.
Heritage Certificate Supporting Letter
£25
Whilst Heritage Certificates are usually accepted by the relevant authorities without question, occasionally an authority requires extra clarification in regard to the information being presented.
The Heritage Certificate Supporting Letter clearly lays out exactly where the information presented on the Heritage Certificate has come from, the background of the British Motor Industry Heritage Trust and why the Trust holds the factory build record for the vehicle in question.
This additional explanation can help to ease the way when presenting the Heritage Certificate for formal reasons, such as registration or a vehicle's entry to a new country.