PRESS & MEDIA ENQUIRIES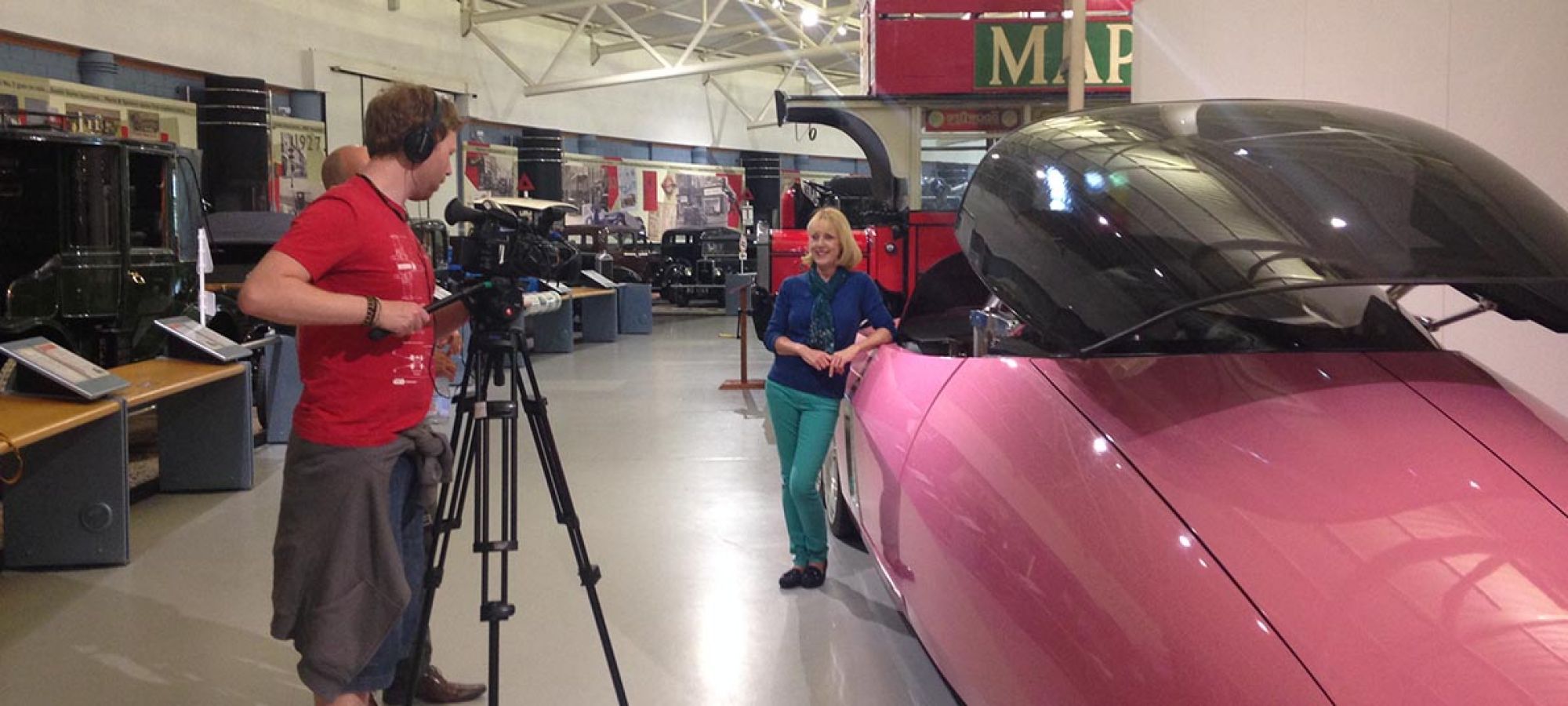 We are always happy to respond to any media enquiries relating to the Museum, the Trust, our Shows and Events, our Collections and Conference facilities. Spokespeople are available for interviews, television and radio broadcast on a range of subjects.
PHOTOS & PHOTOGRAPHY
All members of the public are very welcome to photograph the British Motor Museums collections as long as the photographs are for personal and non-commercial use.
The use of drones for filming or photography is not permitted anywhere on site.
All photography intended for commercial use must be coordinated through our Press Office.
The Press Office has a wide selection of photographs of the Museums available for journalists to use in related articles.
High resolution images are supplied via email. Some images can be supplied free of charge, others may incur a fee depending upon the intended use. Please note that all photos are available for press use under copyright and under the condition that the British Motor Museum or British Motor Industry Heritage Trust is credited. These photos should only be used editorially to promote the British Motor Museum and should not be stored or distributed to third parties.
ARCHIVE FILM & PICTURE LIBRARY
The Archive & Picture Library is a unique and comprehensive record of the British motor industry, consisting of over one million original negatives and transparencies, and 7000 film titles dating from the early 1900′s.
A small sample of the archive photographic collection is available to view at www.motorgraphs.com For more information on picture sales and copyright issues for publication please contact the Archive department on photo@britishmotormuseum.co.uk
Images are subject to copyright. Charges for reproduction apply and we reserves the right to refuse access.
DOCUMENTARY & COMMERCIAL FILMING & PHOTOGRAPHY
The British Motor Museum houses the world's largest collection of historic British cars and is set in 65 acres of Warwickshire countryside offering an attractive filming and photography location. It also has several architecturally interesting buildings, offering some unique interiors for unusual backgrounds. For more information please contact the Press Office.
The Museum welcomes filming/sound recording and photography by prior arrangement only. All proposed projects will be assessed in terms of their relevance to the Museum, their impact upon the museum's core activities and public duties and the availability of Press Office staff to supervise the work. At least 10 days notice is required to facilitate any request.
No filming/photography can take place until the Press Office has received and agreed full details of the proposed project, including signed copies of our terms and conditions, a risk assessment and a copy of your third party liability insurance. We recommend that you undertake a recce visit to familiarise yourself with the museum and ensure that we can fulfil your requirements.
The use of drones for filming or photography is not permitted anywhere on site.
Due to the large number of requests received, the Museum reserves the right to decline permission for filming/photography, to charge a fee and/or restrict the length of the filming/ photography. Fees/timing will be agreed on an individual project basis.
NEWS FILMING & INTERVIEWS
Our knowledgeable staff are available to share their expertise in the form of interview or consultancy services. For more information contact the Press Office.
VEHICLE HIRE
With its collection of 300 cars, the Trust has the widest selection of British motoring history anywhere in the world. If you are looking for a vehicle for your event, film or TV production, photo-shoot, exhibition, we may have the car for you.
The Trust can provide vehicles of every age from more than a century of motoring.
Many of the cars from the Trust's collection are available to hire, either as static exhibits or demonstrated in the hands of one our experienced drivers. The Trust also provides a complete delivery service and staff to be on hand to look after the car during your event. The Trust is not able to supply cars on a self-drive hire basis.
To discuss your requirements and to request a quote please speak to Paul Gilder our Workshop Manager e: paul.gilder@britishmotormuseum.co.uk
PRESS PASSES
The British Motor Museum is part of the British Motor Industry Heritage Trust - a charitable organisation and does not issue press passes. If you are a member of the press with a requirement to cover our collection, event or conference facilities please contact the Press Office.
BE THE FIRST TO HEAR OUR NEWS
We have a several e-newsletters that you can sign up to. These are sent out every few months so we won't bombard you. For more information please click here you can unsubscribe at any time.
If you would like to receive our regular Press Releases please contact our Press Consultant Tanya Aspinwall who will add you to the appropriate distribution list.