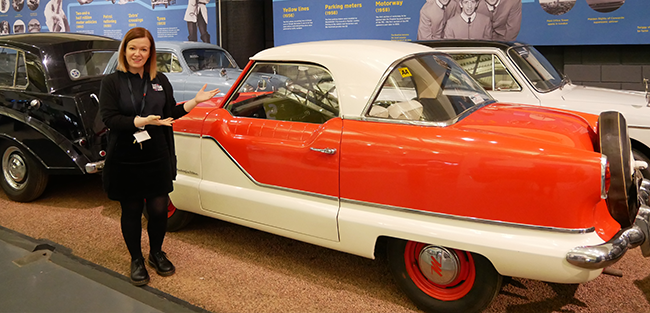 Bringing the Museum to you
Want to motivate your students and inspire them with our collection but you are not able to visit the Museum in person? If you are looking for some input into your STEM programmes without leaving the classroom, we've got you covered with our exciting and interactive Virtual Sessions.
Virtual Sessions delivered to your Classroom
Ready, Salt, Go!
KS3
Curriculum Link: STEM
Experience Ready, Salt, Go!, one of our most popular STEM Hands on Workshops, from the comfort of your classroom. Join our Professor to become scientists for the day in this interactive narrative immersion. Pupils will explore the electrifying science behind salt powered technology and build their own salt powered cars. Exciting hands on workshop suitable for KS3 students.
From £120 per group for the minimum 12 kits, includes postage of materials and a teacher's pack of accompanying resources.
Additional salt powered car kits £7.50 per pupil.
Please contact us for further details and to book your visit.
t: 01926 895295
e: bookings@britishmotormuseum.co.uk
Bespoke Virtual Museum Tours
KS3, KS4, & Further Education including apprentices
Curriculum Links: Art & Design, History, STEM
£60 per group with a maximum of 90 students per tour.
Join our friendly and knowledgeable Team who will guide your students on a 1 hour LIVE tour of the world's largest collection of classic British vehicles.

Chart the development of the motor car through the decades and take a behind the scenes look at the fascinating vehicles in our collection. Or travel along our award winning Time Road and meet characters from Britain's motoring history who can bring our collection to life.

These tours last approximately 45- 60 minutes with time for questions and can be tailored to the topic your students are studying. We are happy to discuss your preferred video conferencing platform and carry out a tech test on enquiry.
For more information please contact our Bookings Team
t: 01926 895295
e: bookings@britishmotormuseum.co.uk