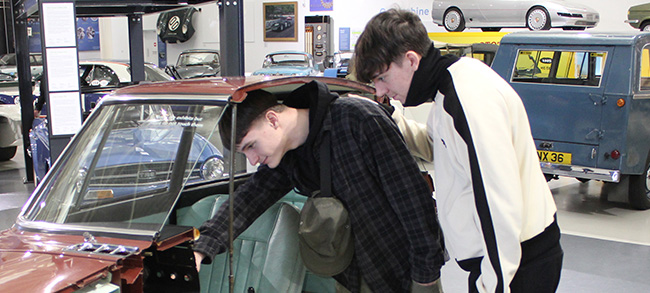 Whether your students are studying motor vehicle studies, D&T or humanities subjects, we have a session for you! Develop, consolidate and deepen your students' knowledge with a range of exciting hands-on STEM workshops and interactive Bespoke Museum Tours - all in a unique and inspiring environment.
Engineering Apprentices
KS3 & KS4 - From £9.50 per Student
Calling all future engineers... the Jaguar Daimler Heritage Trust racing team needs your skills!

Join us for a day at the British Motor Museum and discover the iconic Jaguar D-type racing car. Explore our collection with the Learning Team to see how cars have developed to become the racing cars they are today!

In teams, students will test their engineering skills with one of our exclusive scale model Jaguar D-type remote control racing cars. Our team will take students through the process in this workshop that encourages teamwork, thinking skills and expands Design and Technology, Engineering, Mathematics and Scientific knowledge and skills. Finish the day by racing your car on the British Motor Museum race track!
PSHE, STEM
Ready, Salt, Go!
KS3 - From £9.50 per Student
How can we power the car of the future? Students will join our Professor to become scientists for the day in this interactive narrative immersion centred around a fictional climate change conference. The scientists will undertake challenges to learn about alternative fuels and then explore the electrifying science behind salt powered technology. They will work in pairs to build salt powered cars to test on our 'as-salt' course and take back to school for further experimentation. Will the scientists find the right ratio of salt to water to make to make their cars ready, salt, go?!
Science - States of Matter, Circuits, Maths - Ratios
Bespoke Museum Tour - From £12.50 per Student
KS3, KS4, & Further Education including apprentices
Curriculum Links: Art & Design, History, STEM
£12.50 per student
Join our friendly and knowledgeable Team who will guide your students on a tour of the world's largest collection of classic British vehicles, which can be tailored to the topic your students are studying.
Look under bonnets and in through windows to chart the development of the motor car through the decades and take a behind the scenes look at the fascinating vehicles in our collection. Or travel along our award winning Time Road and meet characters from Britain's motoring history who can bring our collection to life.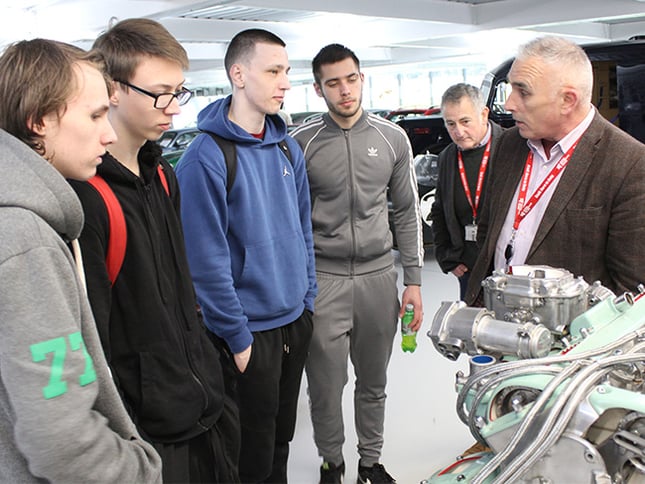 Please contact us for further details and to book your visit.
t: 01926 895295
e: bookings@britishmotormuseum.co.uk