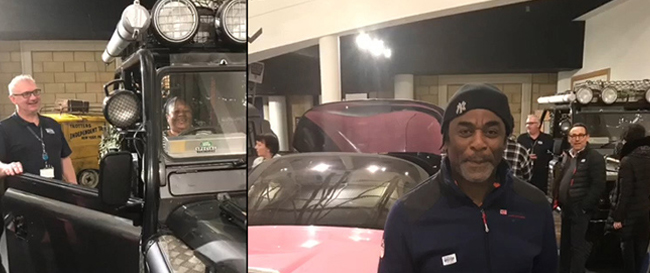 Our pre-booked visits, led by enthusiastic members of our team, will spark old memories and help to create new memories.
You will be able to enjoy a tour of the Museum and the Collections Centre. This will be adapted to meet the needs and interests of your group. Additionally, you can try one of our History Talks. To find out more please click here.
We also offer a range of refreshments from morning coffee to lunch or afternoon tea. Prices start from £4.75 per person for hot drinks and cake, £11 per person for lunch and £12.95 per person for afternoon tea. Enquire below for more details.
The cost of a community visit is £12.50 per adult and £9 per child. Accompanying carers go free. Subsidies are available towards your travel costs.
Scout and Girlguiding badge programme
For our younger enthusiasts why not try our badge programme for Scout and Girlguiding groups? Inspired by ingenious inventions from our collection and by meeting motoring mavericks from the past, they will work towards their 'Inventing' badge to design and make an invention of their own. Other badges are available. Prices start from £9 per child. 1 adult is free for every 6 children, and further adults are £12.50 each. Carers are free for any 1 to 1 needs.
Enquire now
If you are interested in booking or finding out more please contact the Bookings Team:

t: 01926 895295
e: bookings@britishmotormuseum.co.uk