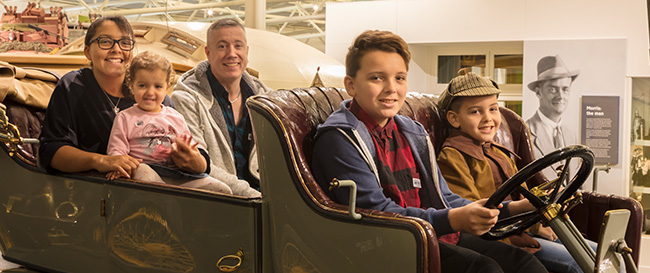 Our pre-booked visits, led by enthusiastic members of our team, will rekindle old memories and help to create new ones. We will work with you to create a bespoke visit adapted to meet the needs and interests of your group with a variety of suitable activities. We recommend one tour, an activity alongside lunch or afternoon tea, making it a full but relaxed day out at the Museum.
Tours
Museum - aided by our experienced Community team and led by our experienced tour guides, we work with you to devise a bespoke access tour of the Museum. Time 30 to 90 mins.

Collections Centre - very much like our main Museum tour, this is a bespoke tour devised just for your group and which offers a view of the workshop and takes in our reserve collection plus the impressive Jaguar Daimler Heritage collection. Time 30 to 60 minutes.
Activities
Making Memories - not all of our collection has to be experienced in the Museum as we also offer object handling sessions. Our boxes of handling objects may provoke memories and will certainly provoke dialogue - whether that is verbal or non-verbal. These sessions are delivered in one of our conference rooms and can be between 20 to 60 minutes.
The Art of Selling Immersive - these sessions take your group on the journey of buying a car assisted by the Community team and items from our Archive such as brochures and paint swatches. What colour will you choose for your new car? This session is delivered in our conference room and lasts for around 40 minutes.
Ride in a Classic - our 1960 Standard Ensign, lovingly restored by our volunteers, can take your group on a ride around the Museum site. Experience the sounds and smells of motoring in years gone by in this saloon from our collection. This session is best run in the Summer months. An additional fee of £60 is applicable to this activity.
History Talks - find out more about the British car industry through a 45 minute history talk with our team. With different talks focusing on specific cars and themes, there is something for everyone! Find out more.
Refreshments
There is a café onsite that you can use at your leisure or we can pre-book a range of refreshments from morning coffee to lunch or afternoon tea. Please enquire when booking.
Travel Support Fund
Subsidies are available towards travel costs for community groups. Please enquire when booking.
Enquire now
The cost of a community visit is £16 per adult and £9 per child. This includes one tour and one activity. No minimum numbers apply and accompanying carers go free.
If you'd like to find out more or speak to a member of the Community team call: 01926 895238.
If you are ready to book please contact the Bookings Team:
t: 01926 895295
e: bookings@britishmotormuseum.co.uk
What groups say about a visit to the Museum:
'All residents were from our dementia unit and really enjoyed being included in the tour and spoken to by name. Lots of conversations and happy smiles' BEN Town Thorns