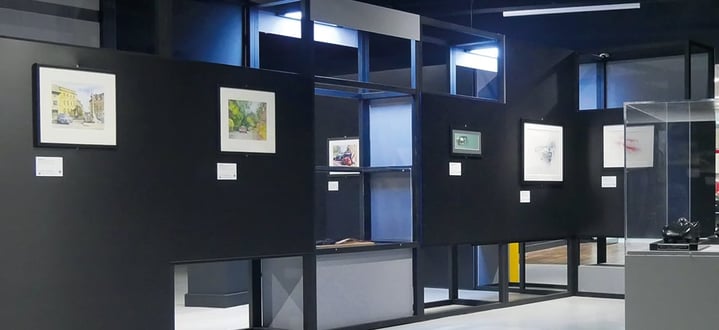 This exhibition allowed visitors to spend time soaking up automotive art, in the form of a collection of over 30 motoring-related pieces from some of the most talented artists in the country.
The community of artists in Britain taking inspiration from the automobile and motorsport has arguably never been stronger. There is such a wide array of styles and media, capturing the motorcar in almost every era and situation.

In a brand new collaboration with Historic Car Art, the British Motor Museum brought together a collection of work from seven of Britain's most creative automotive artists and sculptors for this exhibition.

The Gallery showcased five leading artists, Simon Britnell, Neil Collins, Adam Gompertz, John Ketchell and Andy Shore, who work with a variety of media including acrylics, oil, watercolour, pen and pastels. Alongside the evocative paintings, Jonny Ambrose and Gary Smith brought their eye-catching sculptures to the exhibition, artwork created in wood and in bronze.




Historic Car Art has been operating from its rural Derbyshire base since 2004. It has been built over time from a passion for art, cars, automotive history and the racing exploits of drivers and manufacturers combined with a great interest in how this has all been depicted over the years in both artwork and promotional advertising. This approach means that Historic Car Art is now a leader in the acquisition and supply of original automotive art and vintage posters, building collections for discerning private and corporate clients worldwide.

The Gallery was open every day, from 22 May until 30 June 2023.