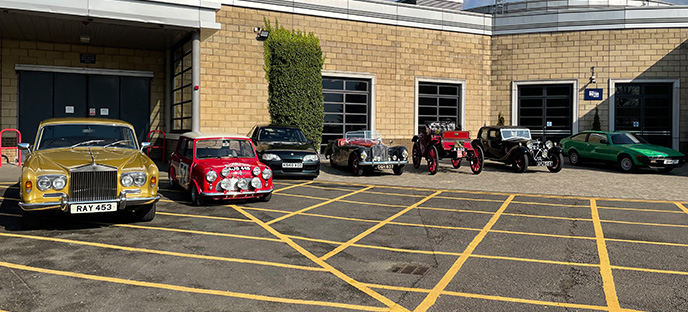 On a miraculously warm April evening, following a day of worryingly heavy downpours, around 40 of our Members joined us at the Museum to enjoy a handpicked selection of our cars as they took to the roads around the site. Our guests queued up for rides in the cars, given by our knowledgeable Museum and Workshop team, to get a taste of what it's like to be driven in these wonderful classic vehicles.

10 of our 350 historic British cars were on hand, from all eras and a variety of types - everything from a 1902 Albion Dog Cart to the 1993 Vauxhall Lotus Carlton. In the end, though, Members got an even greater choice as we'd added a few backup options in case the weather had stayed wet. These included the Riley RMA from 1952, whose elegant design proved popular with the Members.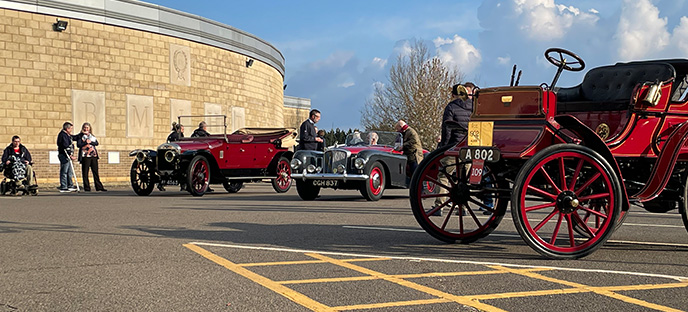 Amongst the line-up were several important motoring milestones, including a prototype Triumph Lynx from 1978 and the 1965 Monte Carlo Rally-winning Morris Mini-Cooper S. There were truly unique designs, such as the 1955 Rover Gas Turbine Base Unit and some newer additions to the collection, for example, a recently donated 1971 Rolls Royce Silver Shadow.

The most popular ride of the evening definitely went to the Mini Cooper, closely followed by the Lotus Carlton. All the cars travelling around the roads of the Museum made for quite a sight and quite a sound. The Mini, in particular, had an incredible noise, although it was outmatched by the screaming gas turbine engine of the Base Unit, likened by some to the sound of a plane taking off.


During the evening, there was plenty of opportunity to chat with the talented Workshop, Curatorial and Archive staff who look after our amazing collections, along with the Museum's Managing Director, Jeff Coope.

As the sun began to set and it was time to set off home, it seemed everyone had enjoyed their evening immensely and had a chance to ride in each of the cars they wanted. We're already looking forward to next year!
Additional pictures from the evening can be found in the Membership section of the website – click here.