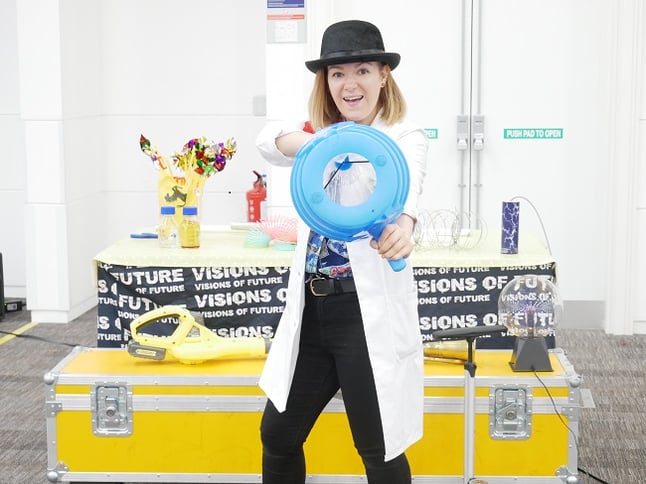 This October half-term the British Motor Museum is delighted to be participating in the national Where's Wally? Spooky Museum Search! Families will be able to hunt for Wally around the Museum to spell out a spooky phrase from hidden letters, and receive a special "I found Wally!" bookmark on completion of the search.
The activities are part of the national Where's Wally? Spooky Museum Search, organised by Kids in Museums and Walker Books, to celebrate the release of the new Where's Wally? book, 'Spooky Spotlight Search'. There will also be the chance to enter the Where's Wally? and Kids in Museums grand prize draw competition to win an ArtFund Family Membership and a bundle of Where's Wally? goodies.

Families can also enjoy Rocket Science with 'Professor Pickle and Doctor Pumpkin' every day at 11.30am, 12.30pm & 1.30pm except Wednesday 28 October. The 25 minute live scientific spectacular is full of cool, interactive demonstrations and rocket inspired science. Shows will take place in a large conference room with marked out spaces to allow for social distancing.

On Wednesday 28 October from 11am - 3pm there will be an outdoor Rocket Workshop delivered by the STEM ambassadors from MOD Kineton. Children can design and build their own Rocket and see how far it flies from the pneumatic rocket launcher. These activities are suitable for 5 years plus with adult supervision.

Emma Rawlinson, Life Long Learning Officer at the British Motor Museum said "We are delighted to be able to host a range of fun and COVID safe activities for visitors to enjoy over the October half term! In addition to Where's Wally? and Rocket Science there's also a family tour to help you explore the Museum via your mobile device and an activity bag to take home!"

The Museum will be opening daily for half-term from Friday 23 October to Monday 2 November. All visits must be pre-booked with no more than 6 in one party, in line with the 'Rule of 6'. Visitors must wear a face covering at all times and observe social distancing.

All activities are included in the Museum admission. Activities are suitable for 3+ years, unless otherwise specified. Activity bags are subject to availability. For more information about the half term activities please click here.