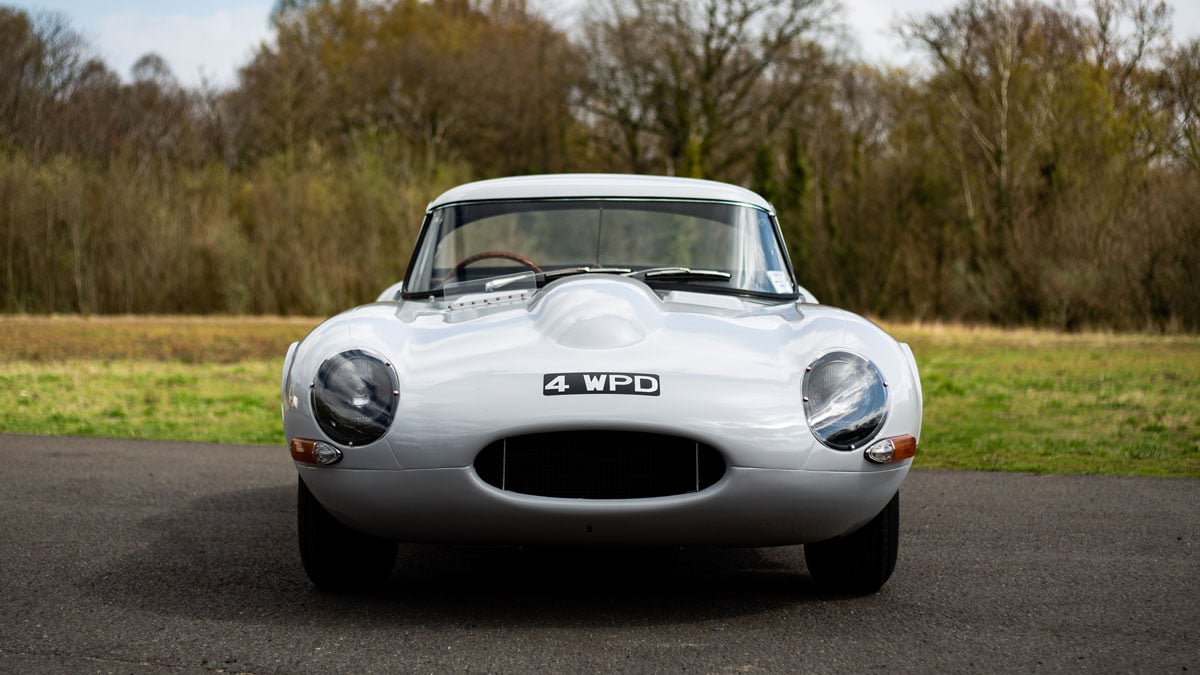 April's Jaguar Breakfast Club will feature a book launch and a chance to not only meet the men who built the Lightweight E-type but also view 4 WPD the first ever 'Lightweight' E-type.
Strictly No Admittance!, a major new book telling the story of Jaguar's Lightweight E-type, will be officially launched on Saturday, 2nd April at the Jaguar Breakfast Club meeting at British Motor Museum, Gaydon. Author Peter Wilson will be on hand to sign copies of the book, which will be offered at a special event price.

Peter Wilson was one of the small team of men who built the Lightweights in Jaguar's famed Competition Department – to which, as the book's title emphasises, there was indeed 'Strictly No Admittance' for most! So this is truly a story told 'from the inside', with Peter Wilson's remarkable ability to recall events of 60 years or more ago augmented by his meticulous research. The amazing documentation preserved in the Jaguar Daimler Heritage Trust's archives was crucial in this task, as was the input from a number of Peter's former colleagues at Jaguar.

Just 12 Lightweight E-types were produced, all in 1963, and they competed in major endurance races such as the Sebring 12-Hours, the Le Mans 24-Hours, the Goodwood Tourist Trophy and the Nürburgring 1000km. Drivers included Formula 1 World Champion Graham Hill, champion-to-be Jackie Stewart, Roy Salvadori and Jack Sears. The very first Lightweight, 4 WPD, will be on display at Gaydon.

With Peter Wilson at the Breakfast Meeting are expected to be some of his former colleagues in the Competition and Experimental Engines departments, allowing enthusiasts the rare chance for enthusiasts to meet the men who built 'Jaguar's dashing dozen'. They include:

Gerry Beddows

Joining Jaguar in 1948, Gerry was an extremely talented mathematician and engineer who made a very significant contribution to the design and development of Jaguar's engine programmes. He also carried out key design programmes on the C-type and D-type Jaguars. He became Jaguar's Chief Engine Development Engineer in the early 1970s before moving on to more senior positions in other areas of the industry

Frank Philpott

Starting as an apprentice in 1948, Frank continued his career as part of the Experimental Engines team right through to his retirement. He helped identify every single engine used by the works during the Lightweight E-type programme 1963-64.

Peter Jones

Stalwart member of the Competition Department from C-type era of 1953 through to the Competitions Department's eventual closure in 1968. He is described as one of the very best racing mechanics of his era. It was Peter who patched up the Cunningham/Grossman Lt Wt E-type when during the 1963 Le Mans Grossman found he had no brakes at the end of the Mulsanne Straight and hit the straw bales at 60-70mph! Peter cut off the front half of the bonnet from another of the Cunningham Lt Wts which had retired, and attached it to the rear half of the Cunningham/Grossman car's - plus straightened the front suspension and repaired the radiator. The car then finished 9th overall!

Brian Martin

The ever enthusiastic Experimental Department vehicle electrician who was responsible for all wiring and associated electrical work on the cars built by the Competition Department – not only the Lightweight E-type but also the one-off XJ13 Le Mans prototype.

The car to be present on 2nd April - Lightweight E-type No. 1, registration number 4 WPD, chassis no. 850006. Owner: Shaun Lynn

This was the car which started it all. An early production E-type, it was originally registered BUY 1 and was raced in 1961 by the Coombs team with factory support. It became Jaguar's main development car in 1962, re-registered 4 WPD. Prepared and raced by the Competitions Department, it was always entered in the Coombs name. Its main driver was Graham Hill who became Formula 1 World Champion that year.

For 1963, 4 WPD was rebuilt with an all-aluminium body and engine to become the first 'Lightweight' E-type. It continued to be driven by Graham Hill who notched up four victories in 1963, with Jack Sears achieving 4th place at the Goodwood TT meeting that year. By 1964 the Lightweight E-type was heading towards obsolescence and Jaguar's involvement in motor racing declined, but nevertheless Jackie Stewart won at Crystal Palace and came second at Brands Hatch.

At the end of 1964 the car was sold to Red Rose Motors, when it effectively launched the career of Brian Redman who achieved many victories in 4 WPD before moving on to Formula 5000, sports-racing cars and Formula 1 (Redman was spectacularly successful in sports-car racing, and he even drove the Group 44 XJR-5 to complete the Jaguar full circle).

Since 2008 4 WPD has been owned by Shaun Lynn for whom it was restored by CKL Engineering Ltd who continue to maintain this historic E-type. Peter Wilson and publisher Paul Skilleter are very grateful to both for arranging for this car to be at Gaydon on 2nd April.

For more details on Strictly No Admittance by Peter Wilson, please visit www.paulskilleterbooks.co.uk, tel: 01425 612669, e-mail jagworld1@aol.com
For me details on the Jaguar Breakfast meets, visit our what's on listings on the website.