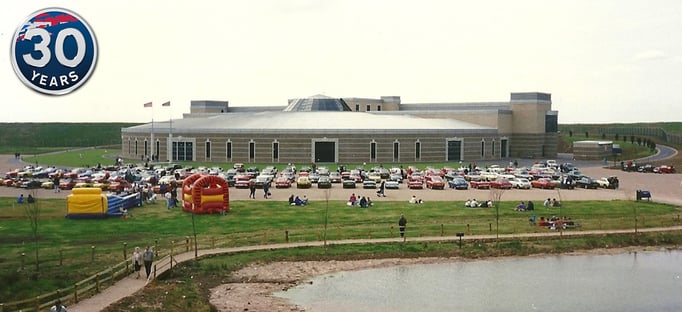 On 1 May 1993, the British Motor Museum, known at the time as the 'Heritage Motor Centre', opened its doors for the very first time. Purpose-built to hold the British Motor Industry Heritage Trust's collections, the Museum was created with one goal, to preserve the motoring history of Britain, now and into the future. A charity from the start, public support has helped the Museum collect, conserve and share the collections to inspire this generation and the next.

To celebrate this milestone anniversary, the British Motor Museum is hosting a 30th Anniversary Celebration week from 14-20 August, packed with activities and events featuring old favourites, and once-in-a-lifetime experiences. A Raffle, which will raise funds for the Museum's future plans, offers a rare opportunity to take a ride in one of five legendary vehicles from the collection, including Huey, the first pre-production Land Rover and the Ford Anglia from Harry Potter and the Chamber of Secrets. Tickets cost just £5.

A selection of the Museum's famous cars will be put through their paces around the Museum grounds from Monday to Friday in Cars on the Move, offering visitors the chance to glimpse them in action. On 14, 16 and 18 August, visitors will have the opportunity to ride in a range of vehicles driven by the Volunteer team, including the 1952 Riley RMA and the 1960 Standard Ensign.

For one week only, the Welcome Gallery in the Main Museum will be playing host to "Our Story – 30 Years of the British Motor Museum", a unique display featuring photos and materials from across its 30-year history. Bonnets Up, Doors Open will also take place every day, from 10:30 to 11:30 and from 14:30 to 15:30, when visitors can see inside the bonnets, boots and even doors of a selection of cars. The Volunteers will also be giving a selection of History Talks from Monday to Friday. In addition, there will be a special MG Centenary Tour, running on 17 and 19 August, to commemorate 100 years of MG, another significant motoring milestone for 2023.

The summer activities and family tours have a STEAM (Science, Technology, Engineering, Art and Maths) theme, and the popular Science Shows return for the anniversary event, running from 17-19 August. Children will learn and laugh along with the Museum's brainy scientists as their experiments explore friction, electricity and more!

A designated Access Day will take place on 16 August to provide a pleasant and enjoyable visitor experience for the widest possible audience. 'Quiet hours' will run from 9am to 10am and 5pm to 6pm, with lowered lighting levels and the audio-visuals turned off. Touch and Access Tours and Object Handling Workshops will also be held, allowing visitors to get hands-on with the cars and artefacts. Meanwhile, out on the Northern Arena, Young Driver will be offering accessible 15-minute taster sessions that visitors from 10 to 110 can enjoy – regardless of accessibility needs! Plus, there will be an air-drying clay activity in the Learning Space.

A 30th Anniversary Quiz Night will take place on the evening of Friday, 18 August, with a BBQ dinner and rounds covering general knowledge, music, movies and the last 30 years of the Museum's history, plus a cash prize for the winning team! Finally, in the tradition of the Gaydon Gatherings, there will be a 30th Anniversary Breakfast Meet on Sunday, 20 August. Anyone can turn up in any vehicle, car, bus, lorry, motorbike, scooter, tractor, etc. Delicious breakfast is available to buy inside the Museum's Junction 12 Café, or you can grab a light bite to eat outside.

Jeff Coope, Managing Director at the British Motor Museum, said, "Since that first day, 30 years have passed, the collections have grown dramatically, and millions have passed through our doors to discover the history of the motor industry in Britain, through over 400 historic British vehicles and our amazing archives. We're proud of how far we've come and excited about our plans for the future. There is a wide range of activities available for the Anniversary Week, and there's really something for everyone. We're looking forward to celebrating with you."
Click here to find out more or book tickets for our 30th Anniversary celebrations.