My name is Bryony, the Museum Learning and Engagement Trainee and this blog is going to give you an insight to what myself and the Learning team are up to and what I learn along the way. Hopefully inspiring future generations of Museum professionals. This blog will be monthly updates of what I've been up to!
November rolled around and with it came a second lockdown. My first thought was that it was time to slow down - but how wrong I was! November came with even more firsts, not just for me but for the Learning and Engagement team as a whole, and it was great to work through these new experiences together.
The big project of November was the relaunch of the online activities. I found this really exciting and such an amazing chance to learn about the collection in more depth as well as test myself by learning new skills. On top of my video editing skills, I can now add photo editing skills to the list after creating a 'Spot the Difference' task. It is definitely my favourite activity as it was challenging yet fun to do and used our fabulous archive.
Our online presence didn't stop there as we also had a chance to do two virtual schools sessions. We were able to do a virtual Ready, Salt, Go! session with our partnership school, Northleigh House Primary, which allowed us to evaluate our virtual offer and improve them for the future. It was also great to observe Claire teaching and how she engages the students.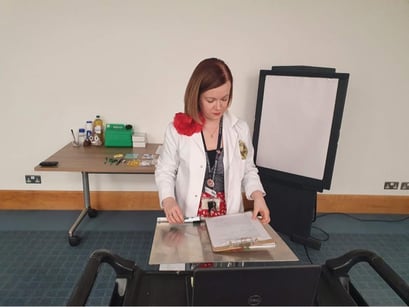 The highlight of November was another virtual session. However, this time it was to Universities across Europe. During half-term we were contacted to do a tour/talk on our approaches to accessibility and inclusivity. With such a short time frame, it was great to see what we could create as a team and it gave us a chance to reflect on our offer. We created an access tour, which included a tour of the Museum, a touch tour and talks about our approaches to accessibility and inclusivity. The icing on the cake was all the positive feedback we received from the universities and it really lifted our spirits and helped us regain confidence in our wider practice.
After all that, there were still our younger enthusiasts to think about with Mini Motorists. In November, I did a live Magic Story Box reading. As this was live but in person, there was no one other than Emma in the room and it was really hard to get in the zone of presenting to children - especially those under five. Not to mention the singing as well - very out of my comfort zone! Overall, I am very glad I did it and have gained some confidence from the experience as well as some tips from Mini Motorist specialists, Claire and Emma. But that was not all for Mini Motorists. We still had to film for our Christmas special, 'Can Bessie save Christmas?' Jim the bus driver and Mavis the Clippie came to life and donned some extra festive attire and we got going filming. It was a great day with lots of festive cheer and even some more singing. We are secretly hoping our lovely volunteer Graham can find a clip of someone else singing or at least use some auto-tune!