My name is Bryony, the Museum Learning and Engagement Trainee and this blog is going to give you an insight to what myself and the Learning team are up to and what I learn along the way. Hopefully inspiring future generations of Museum professionals. This blog will be monthly updates of what I've been up to!
March was a month of completing many long term projects and tasks whilst immersed with new learning opportunities.
We kicked off the month with a virtual tour to Gower College Swansea. It was great to see all the students engaged and asking loads of questions whilst enjoying a tour of the museum. Not having much chance to engage with schools due to the pandemic made this tour a great experience and I can't wait to put what I observed in practice when we are allowed to reopen. Being able to diversify our programmes for different audiences is something we are really proud of. It is great to learn from Jim and Claire about how to adapt to different audiences through presentation styles. Hopefully, in the future, I will be able to try my hand at writing and developing virtual tours for specific audiences looking at the context as opposed to the technology. The following day we did another virtual tour, this time to the Enthusiasts of British Motor Vehicles built before 1985. These tours gave us great feedback and allowed us to reflect and see where we could improve for the future. Critical self reflection is definitely a great skill that I have picked up during this traineeship.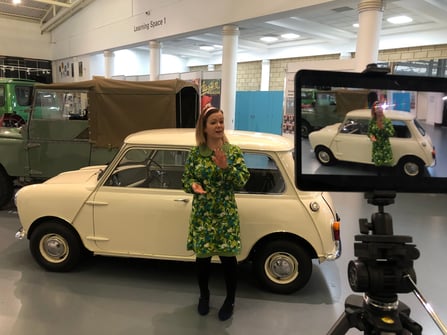 March also brought a well deserved break. After a hectic few weeks of virtual tours, it was great to relax, even though we couldn't go anywhere. When we got back, we picked up where we left off, which as usual, was busy. Continuing with our partnership with Warwick District Foodbank, a member of The Trussell Trust national foodbank charity, we have been busy creating and delivering more boxes to be handed out at the food bank. This time it was an Art based box that we sent out, with all the materials to make so car based art using different materials and methods. Some of which I got to test out myself! Again, this was such a rewarding experience and really boosted the Team morale.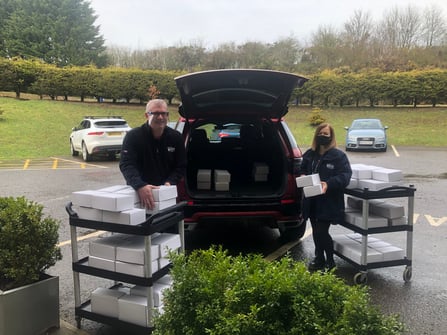 We also got stuck in filming for our online programmes. With lots of planning and hoping for a busy time come the 17th May, we eventually managed to film all the videos for our online programmes, including Mini Motorists and online activities. Filming one day a week is something that I am really going to miss now we have finished as it was always such a fun experience.
A new experience that happened in March came with the planning for the new exhibition due to launch in the summer. As I had covered curatorial practice in my studies it was great to be involved in conversations about the new exhibition and put everything I have learnt into the context of practice. This also gave me the opportunity to get involved in character development. Something which I really enjoyed as it was creative and allowed me to draw on social history knowledge from my history degree. Not wanting to divulge too much about the exhibition, I will leave it at that so it is a surprise when you visit!