My name is Bryony, the Museum Learning and Engagement Trainee and this blog is going to give you an insight to what myself and the Learning team are up to and what I learn along the way. Hopefully inspiring future generations of Museum professionals. This blog will be monthly updates of what I've been up to!
End of Half-Term, School visits, Community visits and a virtual tour meant June was a busy month!
We had a successful Half-Term handing out over 600 party bags to those who had come to celebrate the Jaguar E-type's 60th birthday party with us. This was slightly more than we were expecting, so there was some frantic bag stuffing one afternoon to carry us through the weekend but it was completely worth it! Everyone was so happy with their bags making Half-Term a success. With forward thinking in mind, June also meant the start of the Summer Holiday bags. This time the production line was sorted and we are looking forward to having our volunteers in to help make up the bag come July.
I finally got to help facilitate a school workshop! June was a great month for learning new skills with two school visits. For the first school I ran four 20 minute sessions on object handling. It was great to finally interact in a formal learning environment. I was really nervous and worried about captivating their attention but it went really well! The second visit was a bit different. I got to don a costume and became Mavis the Clippie working alongside Jim the Bus Driver. This gave me a chance to observe Jim then lead half of the 45 minute session myself. As the visit was with Key Stage 1 instead of Key Stage 2, I found I struggled more to keep their attention, which Jim did so well. Next time, having had the experience I did, I will know where to improve and how to handle the situation differently. At the end of the day, that is what this traineeship is all about!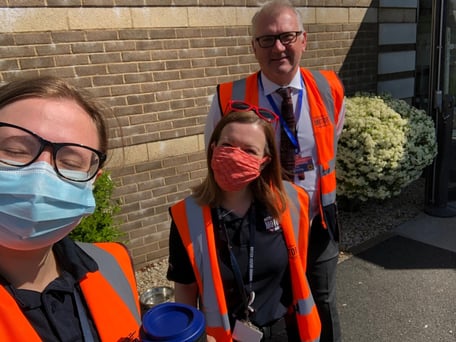 June also gave me the opportunity to engage with our community groups. This started with a call round local care homes who had visited us previously to get in touch and offer them a chance to visit the museum on our closed days. The call round even resulted in a booking which we welcomed to the Museum on the 29th June. To see everyones happy faces was amazing!
Not only did we have a community visit on the 29th but we also got to see a run through of one of our new History Talks. The volunteers have been working so hard this month on the talks following a new structure being put in place and it was great to see the outcome of their hard work. It was entertaining and informative, so much so I can't wait to see the rest. You will have to watch this space for one of our new talks, 'The Car's the Star'! I find working with volunteers so rewarding, it has helped me expand my people skills and engage with people I wouldn't usually. It is definitely a highlight of the job.
More engagement with our audiences came with another virtual tour. Again it was a pleasure to film Jim and Claire doing a great tour on the history of the motor industry looking at key developments in brands. It is really a lovely experience seeing everyone's faces of enjoyment during the tour and to mediate their questions and feedback. Virtual tours are definitely something I enjoy and I hope they are here to stay!
June has really made me realise how much goes on in the Learning team and how busy it can get once bookings start to roll in. Bring on July with lots of bookings and the summer holidays!