My name is Bryony, the Museum Learning and Engagement Trainee and this blog is going to give you an insight to what myself and the Learning team are up to and what I learn along the way. Hopefully inspiring future generations of Museum professionals. This blog will be monthly updates of what I've been up to!
August and September were very busy from school holidays to school visits to lots of planning! Having gained so many skills, knowledge and experiences over my time at the British Motor Museum, it was the right time to move on so in August I got a new job. Look back on the past 18 months with me as I reflect on my time as a trainee.
It seems so long ago since I started my traineeship. I was so eager to get going and that was quickly squashed by the beginning of the pandemic. Although not the ideal start to my traineeship, it played a vital role in making me so resilient. No school visits, no community visits and moving back in with my parents and working from the dining room table was not how I pictured my first museum job to go. However, being in the same boat as a supportive team allowed me to learn about the Museum and prepared me to get straight into delivery once we were allowed to re-open.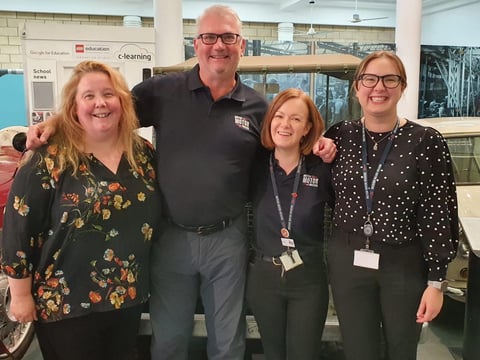 As soon as the Museum opened in summer, time seemed to flow by. I finally got to spend more than one week with my colleagues in person and started to build friendships to last a lifetime. My colleagues have not just been my friends but also my mentors. From learning how to deal with large groups of school children from Claire, to learning how to captivate an audience from Jim and finally all the day to day tasks crucial to the running of the department from Emma. Without this team around me I would not have learnt as much as I have in such a short space of time.
Not only have I met great people through my fellow colleagues but also the volunteers. Being surrounded by enthusiastic, passionate and skilled volunteers has really made working at the British Motor Museum even more enjoyable. The opportunity to engage with a variety of different personalities through the volunteers has really helped me grow as a person. A special thanks has to go to the History Talk volunteers who I have had the pleasure of working so closely with. They are the heart of the Museum and their knowledge is second to none. This along with their faith in me and my abilities has really made the work we have done on the History Talks a success.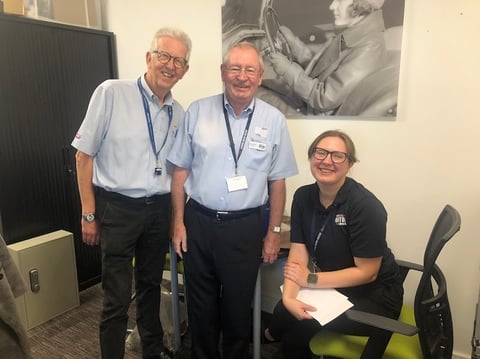 Let's not forget the visitors. Nothing brought me more joy than having a conversation with visitors, be it in costume, during science shows, a school or a community group. Bringing the collection to life, hearing people's memories and creating new ones is really what museums are all about and why I wanted to work in a museum in the first place. The traineeship has allowed me to engage with people I would never have met in my day to day life and each one has helped expand not only my communication skills but also my empathy.
If anything, what this experience has highlighted most to me is that with the right support and with people believing in you, you can achieve anything. I would like to think I have made an impact on the team over my traineeship; offering new perspectives and challenging the team to be the best they can (not to say they weren't already fabulous!).
Ultimately, being a trainee has provided me with lots of professional development, but it has also allowed me to grow as a person. I have become more confident, more organised and my communication skills have improved considerably, and let's not forget my new classic car knowledge! Not just this, I have made the most amazing friends who are so supportive and who I will really miss.
Here's to new experiences and challenges!