My name is Bryony, the Museum Learning and Engagement Trainee and this blog is going to give you an insight to what myself and the Learning team are up to and what I learn along the way. Hopefully inspiring future generations of Museum professionals. This blog will be monthly updates of what I've been up to!
February has definitely been my favourite month so far, if you don't include the months we were open. It is strange reflecting on this month realising that it is nearly a year since I started my traineeship. The experience has been different to what I expected but I wouldn't change it for the world. I have come so far, not only professionally but personally, too. February was again full of new experiences, from special projects to new programmes, and solidified my aim to have a career in museum learning.
As teased in my last blog, we have been working on an exciting project. You might have already seen it on social media, but if not, we have started a project in partnership with Warwick District Foodbank, a member of The Trussell Trust national foodbank charity. The Team and I have been busy planning, creating and delivering STEAM (Science, Technology, Engineering, Art and Maths) boxes to be handed out at the food bank. For February half-term we sent out our first boxes. These included all the basic craft materials as well as two activities with instructions and all the equipment required. It was such a rewarding experience seeing museums in action helping their local communities.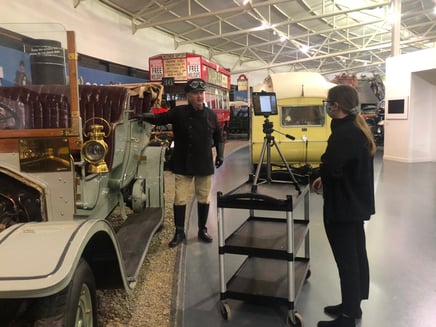 My favourite part of February has to be the virtual tours. This month, we delivered two tours, one to a Probus group and one to a care home. It was great to show people round the museum via Zoom and a makeshift camera dolly. As a new experience for all of us, it was great to work through it together to create meaningful experiences. Even though it has meant rescheduling some plans and being flexible, it was really worth it. With the help of amazing presenters, Jim and Claire, bringing the collection to life, it was touching to see the reactions of those watching whilst being behind the camera. It was inspiring to see the positive effects museums can have on their communities, especially in terms of wellbeing.
The virtual tours weren't the only time I was behind the camera this month. Filming continued for our online programmes including online activities and Mini Motorists. Days in the museum filming are always fun and it is satisfying to see the finished product. Obviously, with filming the more tedious task of subtitling but it is something that is really important in making our content accessible to everyone. If you haven't already make sure you check out our March online activities based on inspiring women in motoring. It was the month I have enjoyed researching most so far and I really hope you like the stories and activities as much as I do.
With all these new projects and planning for reopening I can't wait for March!