My name is Bryony, the Museum Learning and Engagement Trainee and this blog is going to give you an insight to what myself and the Learning team are up to and what I learn along the way. Hopefully inspiring future generations of museum professionals. This blog will be monthly updates of what I've been up to!
August meant some more firsts for me when I took on the role of Dr. Peach: Research Analyst for the Rt. Hon. Professor Pickle and Dr. Poppy Pumpkin in the British Motor Museum's science shows. Despite starting outside with gale force winds and thunderstorms, nothing got in the way of science! Proof of this can be seen in the picture of a rather soggy Dr. Peach in action during a thunderstorm.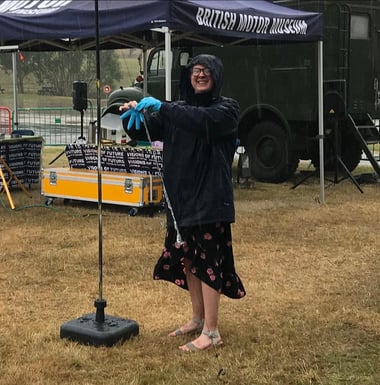 Lets just say, after this occurrence we all breathed a sigh of relief when Boris Johnson confirmed that we could move our secret lab inside. Taking over the Museum's massive conference suite for social distancing, we were able to see over 1200 people during the course of our science shows and can't wait to return in October for Rocket Science after a well deserved break. I never really expected the science shows to be such a big hit, especially in the current climate, but it was a great opportunity to see some level of normality return to our family offering and learn how the team dealt with so much going on.
When the science shows weren't on, we were inevitably adding to the family offer in another way - activity bags. As you might remember from my last blog, I mentioned the repetitive hours at the end of July which went into making activity bags. With the bags proving so popular, I found myself spending all my spare time making up more to replenish the ones that just seemed to be flying out of the Museum! Thankfully this was made easier due to the patience and friendliness of the front of house staff who helped make sure all 1500 activity bags went home with very happy children.