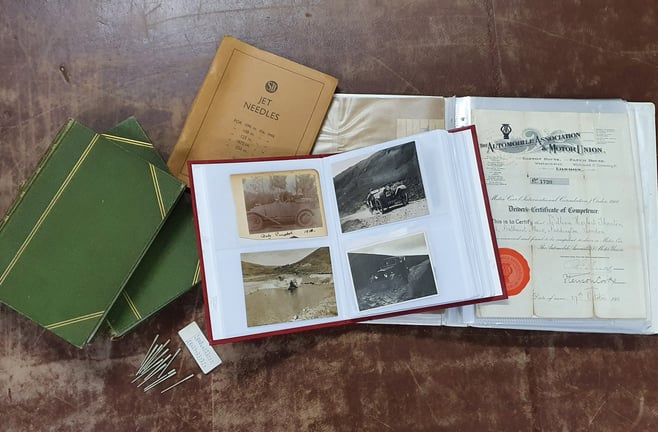 Whilst our Archive is based largely on material acquired directly from British car companies, our collection is always growing. This is often thanks to generous public donations. We are always grateful to anyone who gets in touch with potential items of interest. This is exactly what happened in August, as a visitor to the Museum popped in to discuss some items that he had brought with him.
After speaking with our visitor, it turns out that his donation was very interesting indeed! The material included personal items previously belonging to a Mr William H Thornton. Thornton worked for Morris initially between 1904 and 1906, when the company specialised in cycles and again from 1914 when it was producing cars. The donation contains an abundance of material including; licences, membership cards, certificates, newspaper cuttings, event invitations and photographs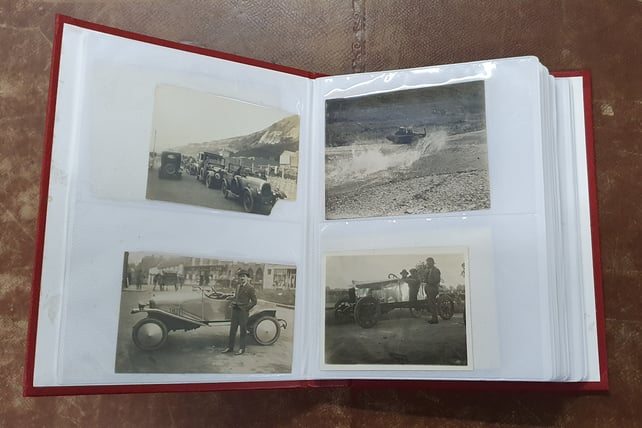 We have been given two volumes of The Automobile, published in 1905 and kept in pristine condition by Thornton. These books proclaimed themselves as 'a practical treatise on the construction of modern motor cars'. We also received a book on Jet Needles, indicating the varying diameters which would allow for different fuel flows in carburettors. This book is complemented by examples of the very jet needles that Thornton and Lord Nuffield would have used when travelling abroad with their cars.
The photographs ranged from shots of vehicles at events and tours around the continent, to Morris employee group pictures. We have a few images of Thornton himself as featured in his passport and in an International Travelling Pass, allowing us to put a face to the name.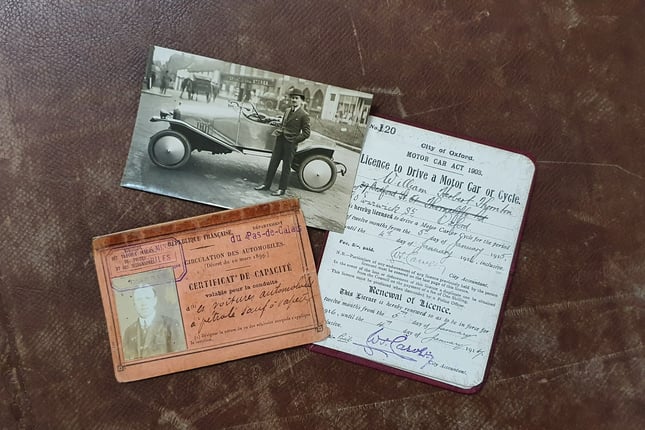 It does seem that Thornton had a close working relationship with Lord Nuffield. In the documentation donated, Thornton's job is listed as being in charge of Final Test Page 7 of Vehicles, which would have been a very important role in terms of safety and quality control. Notably, his signature is featured alongside Lord Nuffield's on a menu for a luncheon celebrating the millionth Morris in 1939. Further newspaper cuttings mention that Thornton's invitation to such a prestigious event was due to the fact that he, alongside only six of his colleagues, were those with the longest service in the company.
The donor of the material added that he believed that in Thornton's later years he was personal Financial Accountant to Lord Nuffield. This a great example of how archive material can be a valuable research tool. From this resource, there is definitely potential to look further into Thornton's career to understand how he may have contributed to the management of Lord Nuffield's finances as well as testing vehicles for Morris!
You can find out more about our archive department here: https://www.britishmotormuseum.co.uk/archive