My name is Lisa and I am the digitisation assistant in the archive. My job includes looking through our negatives and prints and printed media for images, during which I spotted these strange items:-
This first piece from the magazine The Motor from 1923 (A joke? let's hope so…)
Catching Careless Pedestrians! - An adaptation for the Cow-catcher
for use on Motorcars.
The device illustrated, which has recently been patented by Mr. H. Peterson, 37 Bryanston Street W1, aims at preventing pedestrians from being run over after they have been knocked down by a car. As soon as impact occurs between the jay walker and a bar fixed across the front of the car, pairs of telescopic arms shoot forth and spread a net ready to catch him as he fills backwards.
Normally, the telescopic arms are packed away at each side of the bonnet, internal springs being used to extend them when triggers are released by the bar. The device has not yet been tested. We suggest that some to the wordy gentlemen who inveigh against motorists in the daily papers should volunteer to give a personal trial to the apparatus, say, at 10 m.p.h. 20 m.p.h. and 30 m.p.h. Should anything untoward occur these gentlemen would not be missed!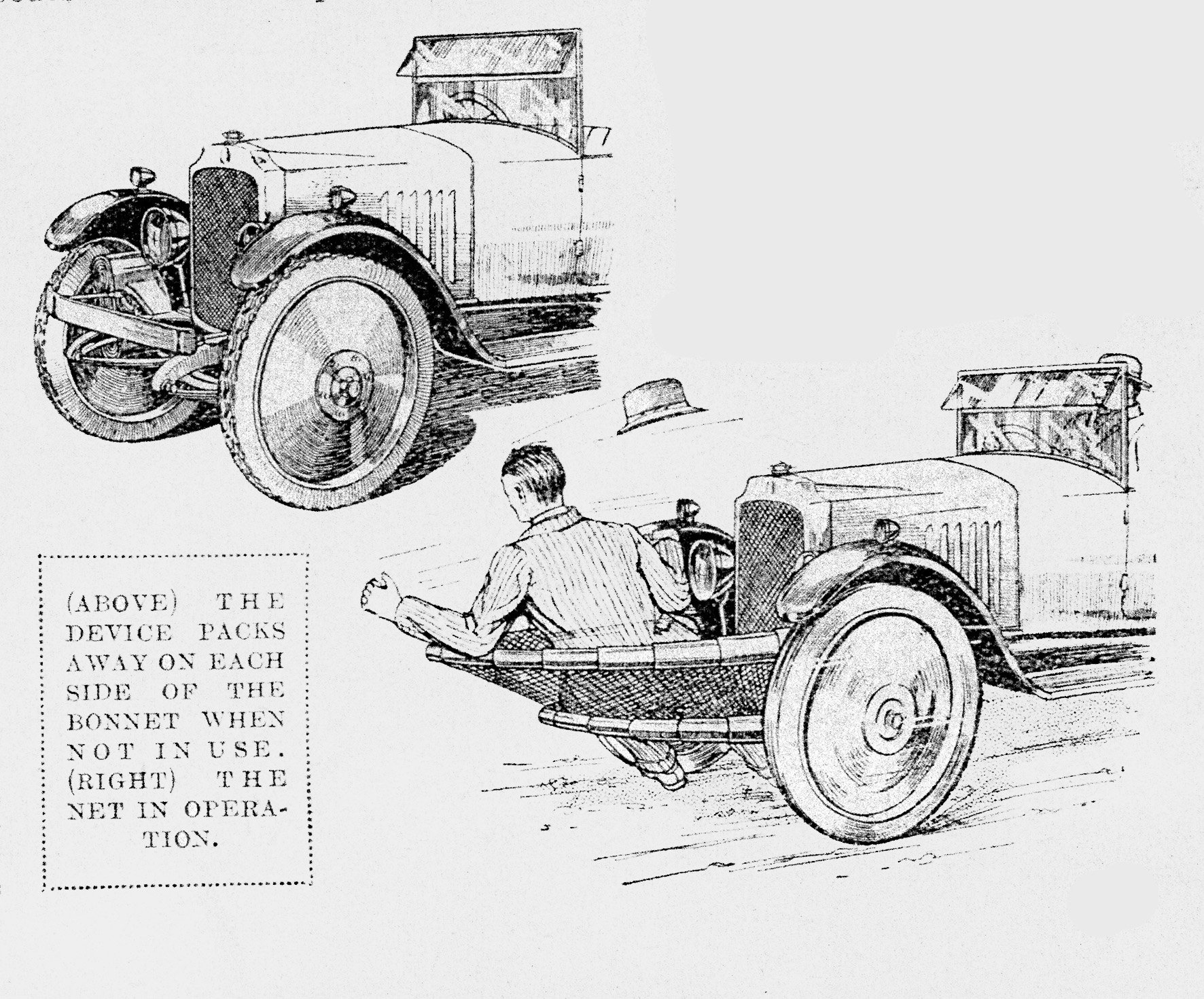 On the subject of unusual cars, we found this lantern slide in part of our Wolseley photographic collection: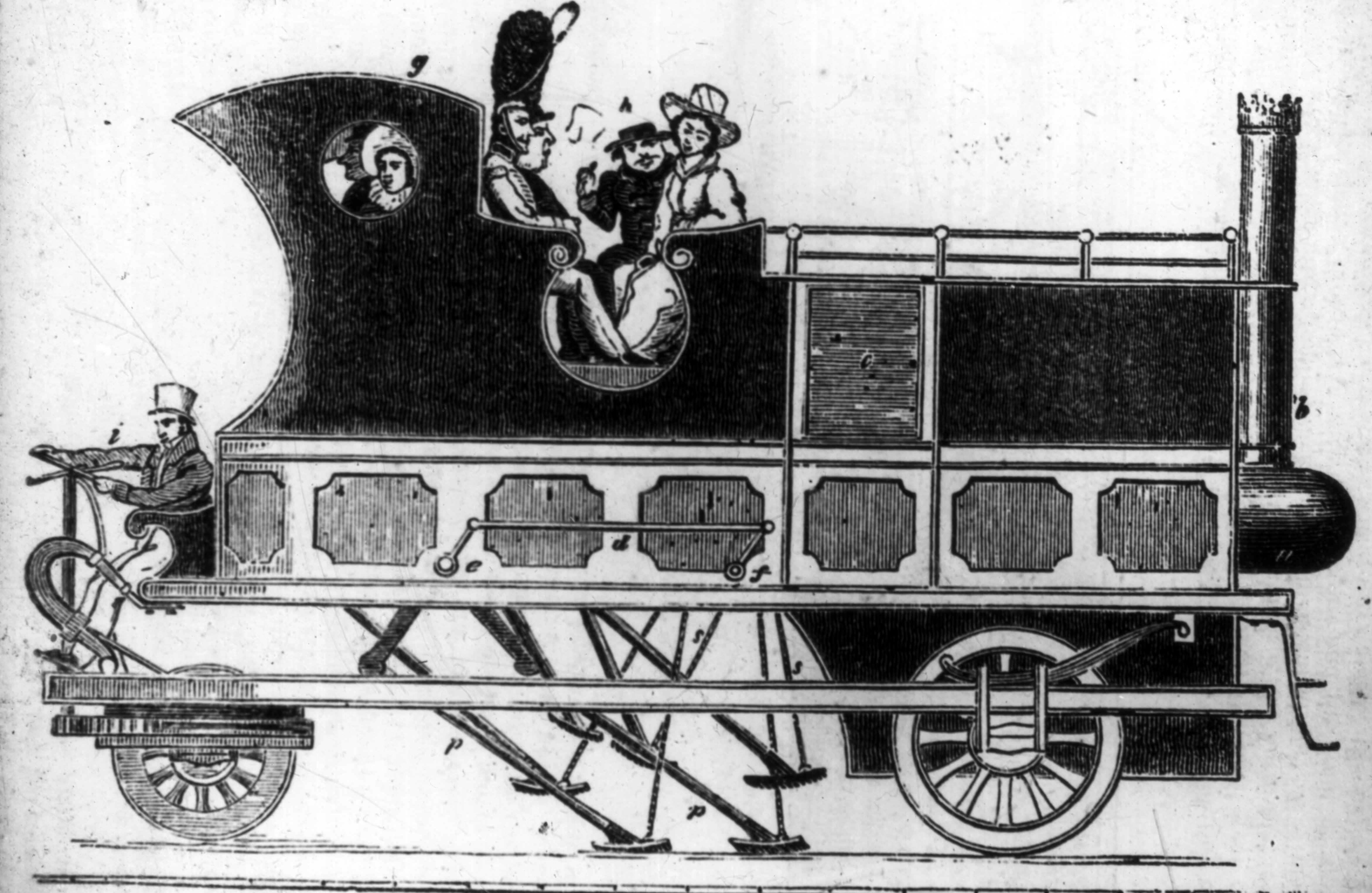 After some research we discovered that this is an example of 'steam carriage' by Scottish inventor David Gordon from his patent application in 1824. The spindly legs simulate horses hooves and push the vehicle along the ground. The vehicles three wheels (two at the front, one at the back) are not powered and rely on the feet to push them uphill. Needless to say the design was complicated and was rejected in favour of more efficient designs.
I also found this negative from the Cowley collection nestled between photographs of a Mini gearbox and sub-frame testing. The only information we have is that this is Harry Adams with Hand Knitted Poodle in the Executive Club in 1966.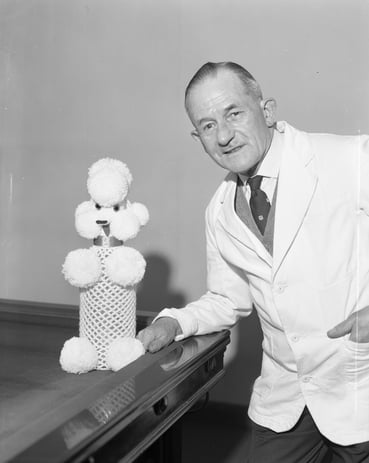 There are many questions: what was the purpose of the dog – is it for holding a bottle of wine as we first thought? Was it for a competition? Did Harry make the dog himself? We'd love to know!
On the subject of dogs, we also found a dog in strange clothing…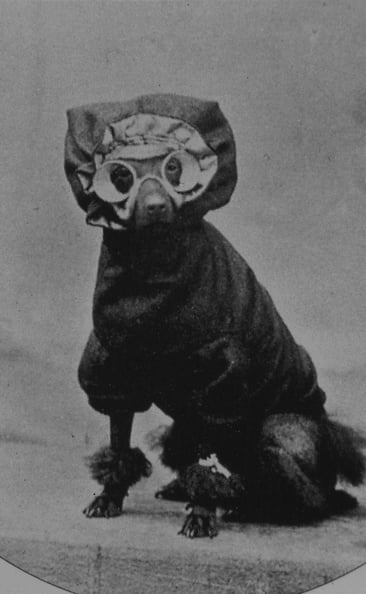 This photograph we know absolutely nothing about, other than it was found in the Wolseley collection. Our guess is that this was protective clothing so the dog could ride in a sidecar, even in the recent bad weather!
Without any context it can be hard to explain these images. Fortunately for us the majority of our collections are roughly catalogued with only a few unexplained mysteries.