Hear about how Nick did lots of work to keep his first car going!
We're looking to collect and share people's stories of their first car in our project, 'My First Car'. Each month we'll publish our favourite stories in our Museum blog. This month is all about Riley.
Riley had humble beginnings in the cycle industry when Riley Cycle Company was founded in 1896. Shortly after, Riley started to produce motorised tricycles in 1899 and eventually started to produce cars in 1905. In the 1930s, Riley ramped up its production, creating a wealth of new models with a variety of chassis, bodywork and engines. This included the Riley Falcon. Riley's popularity in the motor industry was greatly helped by their victories in motorsport; as seen with the Brooklands 9. The Coventry firm of Riley was bought by Morris Motors in 1938, but Riley cars were to retain a separate identity for many years until 1969 when the last Riley badged car was produced.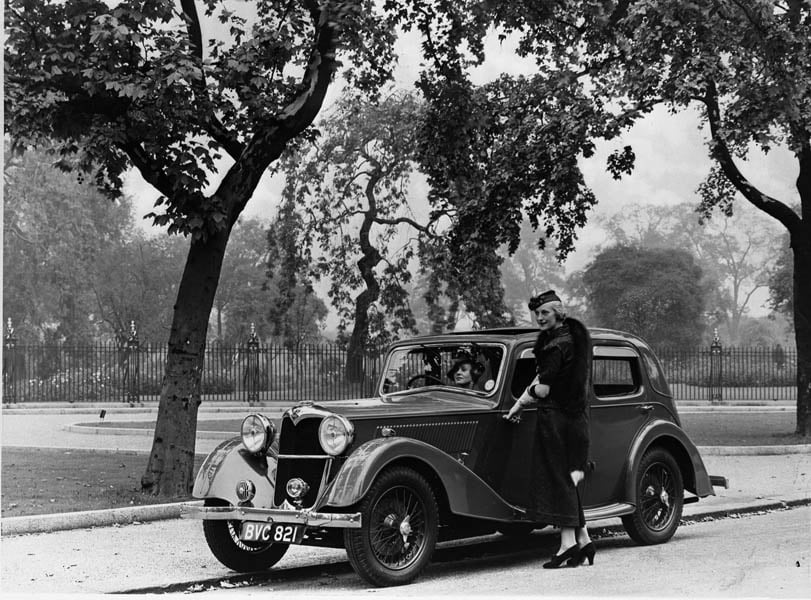 Dick, Riley 12 Falcon

, Black
My wife and I purchased our First Car in 1963. It was a black 1936 Riley 12 Falcon with a 1.5 litre engine. It cost us £25 which would have been about one month's wages then. It was a luxury sports saloon with all the latest equipment including Wilson Preselector gearbox, automatic central lubrication system, built-in jacks, retractable windscreen, sliding roof, balloon seats and wire wheels with knock-on hubcaps. The body was aluminium on an ash frame mounted on a steel chassis and the interior smelt of oil and leather. My wife passed her driving test in it and it was a very pleasant car to drive. We owned this car for 2 years.
The first winter we drove overnight to Edinburgh to celebrate Hogmanay. At one of the all-night parties, I won a Clootie dumpling for reciting 'On Ilkley Moor Bar Tat'. The roads were deserted then and petrol cost £1 for 4 gallons of Jet. On the way back home unfortunately a half-shaft broke in Rugeley so we left the car and hitch-hiked the rest of the way back to Coventry. Sometime later a work colleague insisted on towing the Riley back behind his tiny French registered Renault 4 in the middle of a foggy night. All winter nights were foggy in those days. When we got the car home the Clootie dumpling was still on the back seat and it kept us fed for a week.
We replaced the half-shaft in the street in Coventry. It involved removal of the petrol tank, the huge battery and the differential. I don't think the local police were too happy with this and they insisted the car have side lights on while parked in the street. Fortunately parts were readily available through the Riley Register. The Riley engine did suffer from oil starvation and a couple of times during the 2 years, we had to strip down the engine and get the big-end bearings remetalled.
One whitsun holiday we went to the fair on Hearsall Common where we bought a roll of lino which I put through the sliding roof. With 4 passengers on board I couldn't start the car so I handcranked it then it picked up revs and drove off without me, the driver! Luckily one of the passengers put the handbrake on without stalling the engine.
After the 2 years I got a job which required a more reliable car owing to the long journey to work every day, so unfortunately we had to trade the old Riley in for a modern Hillman Minx 3A.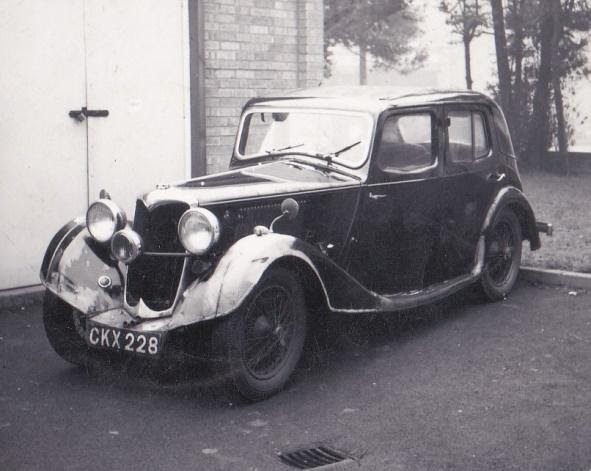 Get in touch
Do you remember the first car you owned or the first one you drove? Do you have fond memories or a story about it you'd like to tell? We'd like to hear about cars of all ages!
Your story should be no longer than 500 words. We'd love to see some pictures of your first car too! To get involved and share your story or for further information, email community@britishmotormuseum.co.uk with the subject 'My First Car'. We may not be able to publish everyone's stories but we will certainly enjoy reading them all!