Do you remember the first car you owned or the first one you drove? Do you have fond memories or a story about it you'd like to tell? We'd like to hear about cars of all ages!
We're looking to collect and share people's stories of their first car in our new project, 'My First Car'. Each month we'll give you a theme and then we'll publish our favourite stories every two weeks in our Museum blog.
Your story should be no longer than 500 words. We'd love to see some pictures of your first car too! To get involved and share your story or for further information, email community@britishmotormuseum.co.uk with the subject 'My First Car'. We may not be able to publish everyone's stories but we will certainly enjoy reading them all!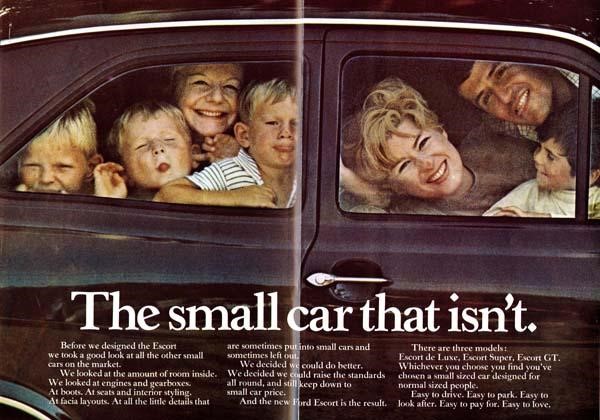 This month's theme is 'Fabulous Fords' and seeks to highlight why Ford was, and still is, one of the best loved British car manufacturers, having maintained its title in 2019 of the best-selling car brand in Britain.
Jim, 16, Daytona Yellow Ford Escort Mk I 1.3GT
Like most people's first car, my first car has now become a sought-after classic. However, before I show it to you, can I please share its story?
I actually purchased the car in 1982, not long after my 16th birthday, using birthday money and some money that came available from a life insurance policy. I had left school as soon as it was legal to and landed a job at my dream garage in the nearest large town from where I lived. The town is Bridgnorth in Shropshire and the garage was located below the famous Severn Valley Railway. It was my dream garage because it sold Audi, VW, Quattro and Porsche - all prestigious brands. The flamboyant Italian owner also stocked other second-hand models such as Jags, Ferraris and Mercedes.
The job I had landed was in the body shop repairing and restoring cars. It was a trainee position for 6 months only, but it came with a promise of a full-time contract if I could prove my worth. The job was on a YTS scheme that only paid £25 a week, but I was doing a job I loved and didn't care about the money.
Another new starter named Tim was a trainee in car sales. As Tim was a similar age, we soon became good mates and during our lunch times we talked cars, cars and more cars. Tim was a big Mini fan, but I preferred Fords as I was a fan of rallying. All my heroes drove Escorts, such as Roger Clark, Russell Brooks and Malcom Wilson. Towards the end of my initial YTS, Tim came in to tell me some exciting news: the garage had taken in a Ford Escort as part exchange against a new VW Golf.
"It's perfect for you!" Tim said.

"10 years old, one owner, low mileage… But it does need some paint work doing."

My first question was, "What colour?" and my second question was, "How much?"

The answers came: Daytona Yellow and the owner got £300. "I witnessed the deal", said Tim, "So don't pay any more than that. Oh, and you didn't hear it from me."
The Escort was parked up by the trade area ready for auction the next week so I rushed out to see it. I couldn't believe it. Not only was it a Mk1 Ford Escort but it was a 1.3GT and in Daytona Yellow (the best colour). Yes, it needed new wings, new rear arches and a total respray but I wanted it badly.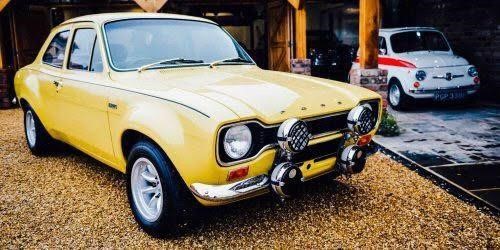 The following day, I went straight to the Managing Sales Director with exactly £300 burning a hole in my pocket. He advised me that the car was a bit tatty and needed money spending on it - was I aware? I explained that I had already costed the new panels and paint and I would do the work myself. "What about the insurance? It's a high group and you haven't taken a test yet," cautioned the Managing Sales Director. This was true and early estimates were quoting around £1k for fully comp insurance, but I was determined, and my mind was made up.
Then came the bad news. A local trader had already made an offer of £325 and was I prepared to match it? I agreed instantly and left my £300 as deposit, promising to bring in the rest the next day. And that was that. The car was mine. I can remember the details clearly even though it was nearly 40 years ago.
Last Owner: Mr Morgan
Mileage: 38,000
Registration: DUJ322L
Colour: Daytona Yellow with black interior.
Usual selling price for good condition models: £500-£750
I replaced the wings, front panel and rear arches and my uncle welded them on for me at no cost. I prepared the body work for respray by working late into the evenings and at weekends and I replaced the tyres, front seats and suspension. After my 17th birthday, I took driving lessons and passed my driving test a month later in my gleaming, freshly repaired and painted pride and joy. As finishing touches I fitted a Blaupunkt radio/cassette and some Cibie spotlights. Purchase respray and parts topped out at just under £1000 and I paid an additional £600 for just Third Party, Fire and Theft insurance.
I can remember my first car experience as if it was yesterday.
Get in touch
If you enjoyed this 'My First Car' story then why not share the story of your car too? We'd love to hear it! And don't forget your photos.