Hear from Chris whose passion for cars from a young age has led him to volunteer at the Museum.
William Morris's first dream was to become a doctor, instead, he started a cycle repair business operating out of his mother's front room before founding Morris Motors in 1919. Responsible for the creation of many iconic British cars, such as the Morris Minor and the Morris Oxford, Morris Motors merged with Austin in 1952 to become the British Motor Corporation. This in turn became a part of British Leyland in 1968.
In 1934, the Morris Eight was launched as an alternative to the Ford Model Y or Austin Seven, being superior to both due to its hydraulic brakes and better suspension. Replacing the Minor, it featured a new chassis and a bigger engine. It was so popular that nearly 300,000 were produced in just five years.
Chris, Morris 8 Sport Tourer, Maroon and Black
Right up to my seventeenth birthday I was a keen cyclist but, on that day, I applied for my driving test and two weeks later, having passed, I sold my racing bike and was looking for my first car. I don't remember a lot about the buying process, it was nearly 60 years ago but I do remember I paid seventeen quid for it. It was a 1935 Morris 8 sports tourer, BPO 75, in maroon and black.
The most difficult thing was getting it insured. My Father said I was on my own, he didn't approve. I tried about 60 insurance companies before I eventually got cover with Fire, Auto, Marine (who went bust a few years later just as I made my first claim, having crashed my Alvis). That's another story for the next article, My Best Car.
The Morris was a 2 + 2 seater, three speed box, hydraulic brakes, no sidescreens and a shower-proof hood. Once the hood was wet and it was still raining, it was better to fold it back and drive faster to let the windscreen do its stuff.
I brush painted "Ermintrude", as my Mother christened her, in bright red (Valspar I think). The checkered flag effect on the radiator grill was a period craze, which I carried over onto my second car, the 1932 MG J2 that I spotted in the middle of a field in the wilds of Shropshire.
As I had over 50 cars before my 21st birthday, I hope you'll forgive me straying to my second car, which I bought only 3 weeks or so after the Morris and which was far more interesting. The MG was, as I said, in the middle of a farmer's field with cows and chickens grazing around it. I braved the cows and went to have a closer look to find that nettles and brambles were growing through the floor and the engine compartment and it was in a sorry state. I gave the farmer eight quid for it and went home to get a tow rope and a friend.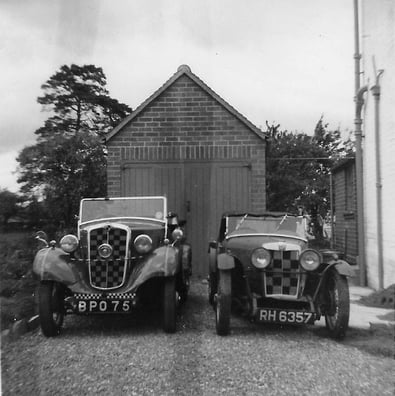 We went back to fetch her, rigged up a can of petrol with a gravity feed to the carburetors, put Ermintrude's battery on her and, amazingly, she started straight away. I remember driving her around the field three times, through a stream and a ditch onto the road, where Ermintrude waited, as the tow-car. We towed the little J2 home, and, having dismantled the front of the engine because the vertical dynamo, which worked as the timing mechanism between the camshaft and crank, was defunct due to oil getting in and reassembling it, we couldn't get her running again. I then learned that the J2 had a two bearing crankshaft and was very fragile, so, when I was offered 25 quid for her by a chap I didn't like very much, I snatched his hand off and bought a 1932 Austin 7, I'd had my eye on, for a fiver.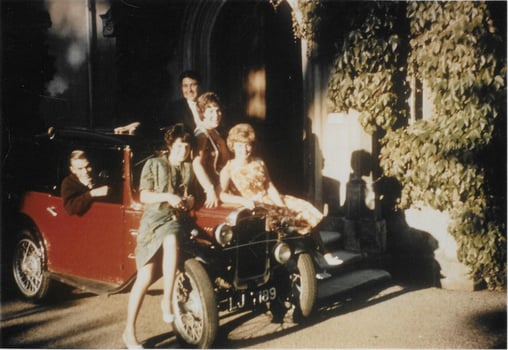 As you can see from the photo, even "Cleo", as she became, was quite a babe-magnet and took me all over Britain before she was joined by an open version, a 1930 Chummy.
So, not just my first car, but the first two months of car ownership and before leaving school. Every time I bought another car, my Father went ballistic and, eventually, banned me from bringing any more into his garden. I did have seven at the time so I suppose he did have a point. My Mother did tell me that he secretly admired my ability to find, maintain and run them on a shoestring, but he would never let me know that. Those were the days!
I always tell people that I have loved old cars, even as a young man, but, thinking about it, I suppose it was all I could afford in those days. Nevertheless, it quickly developed into a passion, which has stayed with me all my life and explains why I get so much pleasure from volunteering at The British Motor Museum.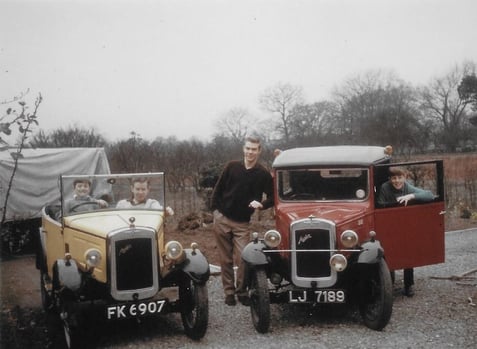 Get in touch
Do you remember the first car you owned or the first one you drove? Do you have fond memories or a story about it you'd like to tell? We'd like to hear about cars of all ages!
Your story should be no longer than 500 words. We'd love to see some pictures of your first car too! To get involved and share your story or for further information, email community@britishmotormuseum.co.uk with the subject 'My First Car'. We may not be able to publish everyone's stories but we will certainly enjoy reading them all!