Read Roger's story about one of the most iconic British cars.
The Morris Minor was seen as the most successful small British car until the emergence of the Mini. It was the first car in Britain to sell 1 million units and after 23 years production ceased at 1,288,000 units. The Morris Minor, designed by Alec Issignonis, was made at Cowley and initially was only an export car. Once available in Britain it cost £359 from new. It was so popular many different versions were made including the tourer (convertible) and the traveller.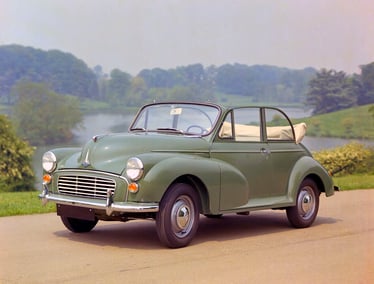 Roger, 74, 1950 Morris Minor Tourer, Green
Trying to remember exactly when I had my first car is now a little difficult, but I reckon I was about 19 at the time, so that would make it sometime in 1965. Again, I can't fully remember all the details, but I'm fairly sure my parents bought the car for me. You see at the time I was a very lowly paid articled clerk, working for a Bristol based company of surveyors and estate agents, studying for professional exams and qualifications. What's more, I was commuting every day from the family home in Weston-super-Mare to the company's Nailsea branch, first on a 50cc NSU Quickly moped and then on one of the new Honda C50 motorbikes. This was a round trip of around 36 miles, endured in all weather conditions.
I really needed a car, both for my own safety and comfort and to ease the minds of my worrying parents. By chance, an over-the-fence conversation with our next door neighbours revealed they wanted to sell their second car – a Morris Minor Tourer. I've no idea what we paid for it, but they were lovely people, so I'm sure it was a good deal.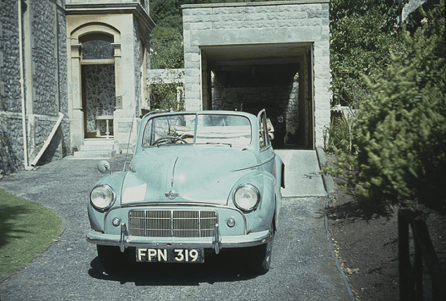 1950 Morris Minor Tourer as bought
The car itself was showing its age a bit, with faded paintwork, quite a few scratches and really in need of a new folding roof, but otherwise it was in good working order. The main thing was, I just loved it and to have a convertible as your first car was so cool. I never gave it a name though.
Early Series 1 Minors went through quite a few changes and mine featured the styling improvement of headlights in the front wings. It still had the split front windscreen. The engine was the 917cc side valve unit, with a quoted top speed of 58.7mph.
My other good fortune was that Martin, one of my best friends at the time, was an apprentice mechanic and couldn't wait to help me check the car out and give it a service. One of the first things we decided to do was smarten it with a hand repaint. The Lotus Cortina was my dream car at the time and I loved their black grills, so I added that to the Minor. We were also fortunate in sourcing a refurbished roof quite easily, which was very easy to fit. Seat belts weren't yet compulsory, but we fitted one of the first retro-fit inertia reel seat belts, just to the driver's seat.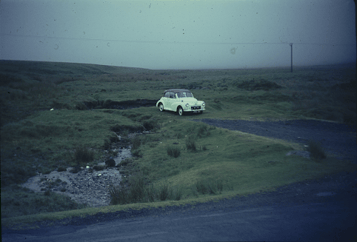 The repainted Minor parked on Dartmoor during a camping holiday trip with my brother
I still hadn't passed my car driving test at this stage and my father was teaching me to drive in his Wolesley 15/60 Farina. I really struggled with that car, it seemed so big and cumbersome. The Minor though was great and gave me much needed confidence, so I applied for my test almost straight away. I failed of course, as I totally ignored the speed limit along the open and deserted Weston Promenade. Thankfully though, I succeeded on my second attempt.
Looking back now it was such a great little car and gave me hours of pleasure, as well as a safe, dry and comfy ride to work in Nailsea. I always had the roof down whenever possible, often driving on cold bright winter days well wrapped up with a hat and heater fully on.
I had my first accident in the Minor. Nothing serious, just a lack of concentration when I ran into the back of a Rover P4. The big sturdy Rover was hardly damaged, but some home panel beating and a fresh lick of paint was required to a bent front wing.
When I passed my surveying exams, I changed jobs and with it came a company car – a nearly new Austin 1100. So reluctantly, the Minor had to go. Looking back now I can't remember who I sold it to and for how much, but I so wish it was parked on my drive now.
Get in touch
Do you remember the first car you owned or the first one you drove? Do you have fond memories or a story about it you'd like to tell? We'd like to hear about cars of all ages!
Your story should be no longer than 500 words. We'd love to see some pictures of your first car too! To get involved and share your story or for further information, email community@britishmotormuseum.co.uk with the subject 'My First Car'. We may not be able to publish everyone's stories but we will certainly enjoy reading them all!