In this entry, Ang shares the story of her Mk 1 Ford Fiesta in light metallic blue.
We're looking to collect and share people's stories of their first car in our new project, 'My First Car'. Each month we'll give you a theme and then we'll publish our favourite stories every two weeks in our Museum blog.
This month's theme is 'Fabulous Fords' and seeks to highlight why Ford was, and still is, one of the best-loved British car manufacturers, having maintained its title in 2019 of the best-selling car brand in Britain.
The first-generation Ford Fiesta was released in the UK in 1977 and was priced at £1,856 for the 950cc model. The majority of these cars were produced in the Valencia Ford factory, but they were also produced in the British Dagenham branch. By 1982, the Fiesta was named the best-selling car in Britain with over 2 million sold and even became a part of the motability scheme in 1978, available to disabled motorists across Britain. The Fiesta is still a popular car to this day with Ford releasing the seventh generation in 2017 and it has retained its best-selling title since 2009.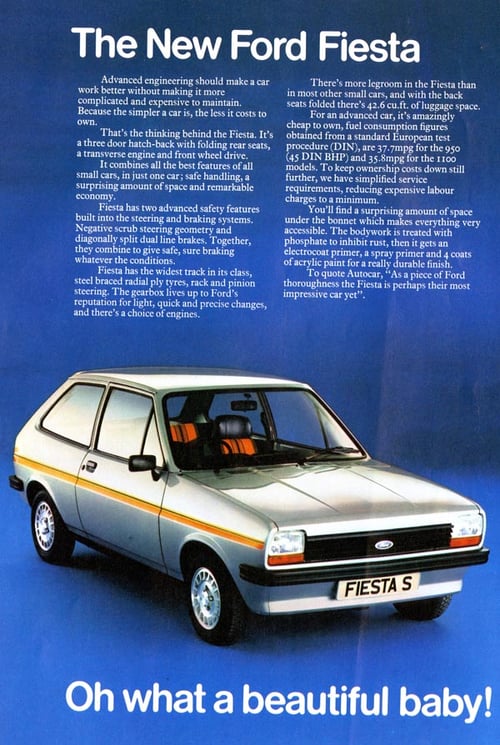 Ang, 17, Mk 1 Ford Fiesta 1.0L, Light Metallic Blue
I grew up in the middle of rural Norfolk – the nearest bus stop was a mile and a half away and there were very limited services so I was always going to pass my test as quickly as I could and get my first car.
This was in 1986 – plans for building the Channel Tunnel had been announced, Prince Andrew and Fergie got married and the M25 opened (not that a motorway interested me much – we still don't have any in Norfolk!). The Ford Escort was the most popular new car but I knew mine had to be second hand and I preferred something smaller. As luck would have it, the sister of my Mum's boss was selling her Ford Fiesta. She had had it as the family run around for several years so we knew the history. It also gave me my first appreciation of what you could actually fit in the back of a Fiesta as her son was a rising UK tennis professional and the car was used to cart a tennis umpire's chair (and all the other paraphernalia needed) to various tournaments.
I loved that car. My best friend (who had a Vauxhall Nova) and I would take it in turns to drive on a Friday and Saturday night, either going to the local town or to Norwich. We would end the night with a Little Colonel's Meal from Kentucky Fried Chicken, sitting in the car on Mousehold Heath overlooking the bright lights of the city, listening to Wham!, Duran Duran and Whitney Houston on the cassette player. We knew how to party!
It didn't take me long to have my first bump – reversing into another car in a pub car park and breaking a rear light. I was mortified but luckily there was no damage to the other car and my Dad was able to fit the new light quickly and relatively cheaply. He also came to the rescue on New Year's Eve when the water pump had broken, getting the new part and spending two hours in the car park at my place of work fixing it so I could get home and out for the celebration later. That was one of the great things about the MK1 Fiesta: parts were cheap and easy to fit (or so Dad told me!).
In the years since 1986, I have had several cars but the ones I have loved the most have been Ford Fiestas. I have only changed them out of necessity and my current car, a new Ford Fiesta ST-Line with every possible added extra, is my perfect car.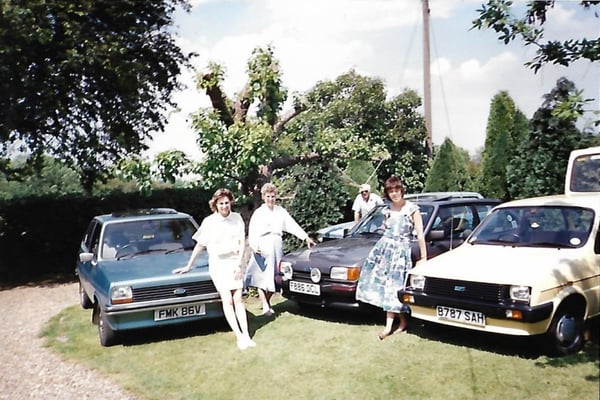 Get in touch
Do you remember the first car you owned or the first one you drove? Do you have fond memories or a story about it you'd like to tell? We'd like to hear about cars of all ages!
Your story should be no longer than 500 words. We'd love to see some pictures of your first car too! To get involved and share your story or for further information, email community@britishmotormuseum.co.uk with the subject 'My First Car'. We may not be able to publish everyone's stories but we will certainly enjoy reading them all!