Learn about one of the UK's best selling cars through the memories of an owner.
Designed by Alec Issigonis, the 1100 was created as a medium family sized vehicle and was the first new car to feature Hydrolastic suspension. Badged as a Morris, MG, Vanden Plas, Wolseley, Riley and Austin, the Austin model, launched in 1963. It was the UK's best selling car from 1964-1971, except in 1967 when the Ford Cortina took the accolade. In contrast to the Mark I, the Austin 1100 Mark II had a nippy 1275cc engine.
Ian, 17, Austin 1100 Mk2, Beige
Despite it being an 11 year old Ford Cortina (Mk3 2000 GT), my dad's car was his pride and joy. It was only the third he had ever owned, and there was no way he was going to let his 17 year old son loose with it.
Hence, if I wanted to learn to drive I would have to save up for my own car.
A variety of Saturday and evening jobs, mainly focused around pumping petrol, allowed me to save enough to start scouring the columns of the weekly Bucks Herald in search of my first car, just before I turned 17. Within a week or so … I had wheels!
I was the proud owner of a 1971 Austin 1100 Mk2. All £370's worth and just the kind of car that motoring journalists have harangued for years. It was British, with beige paintwork, brown vinyl upholstery, brown carpet and full-length brown vinyl sunroof. I didn't care – it was mine. It also became part of the family with my mum immediately christening it 'Tilley' – saying (as only mothers can) that was what its exhaust sounded like on its slightly uneven tickover.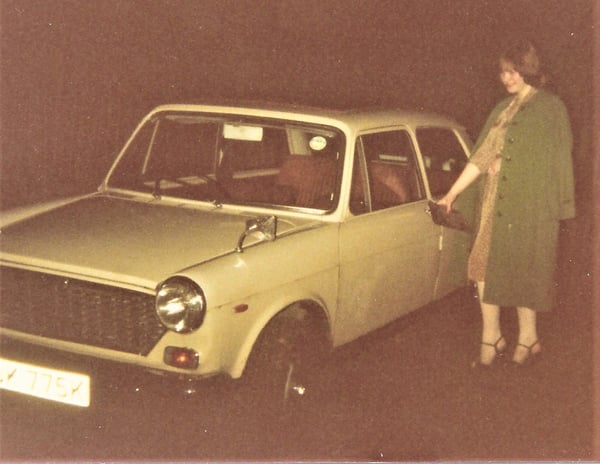 I swiftly set about learning to drive and thankfully was through my test (first time!) in just over a couple of months and the real adventure could now begin.
There were lows (such as an impending sense of doom at the mere sight of an MOT testing station) and an alarming tendency to blow fuses, plunging everything into silent darkness without notice. But there were also highs, such as when the little Austin was buried in a snowdrift that stretched across the front garden for over a week, only to fire first time and slowly haul itself up the slight incline that was our drive.
I can also remember taking all but the driver's seat out so that I could take all my worldly goods to university. A couple of bolts just about did it. The rear seat wasn't even fixed to the floor...
It was also the same car that took me to London for the New Year's Eve celebrations that saw myself and some mates in the fountains in Trafalgar Square. I was designated driver, but the others were all reasonably well-oiled as we made our journey back to Bucks in nothing but our sodden underpants, dreading the thought of having to explain ourselves if we were stopped.
Tilley saw me through the end of school and most of university before finally succumbing to rust. Being able to see daylight through the floor in the front, the back and the boot was just too much. It was terminal. However, it wasn't before she had taken me around much of the country and had frequented many a pub car park.
The attached picture was taken in just such a car park. I had arrived with a young lady (also in the picture) at a pub we had never tried before, up in the Chilterns. It was only once I had visited the bar and returned with our drinks that we noticed that despite it being busy, there were no other women in the entire place. We were made to feel very welcome, but I was never forgiven, so it wasn't only the Austin that was doomed, but that particular relationship!
Get in touch
Do you remember the first car you owned or the first one you drove? Do you have fond memories or a story about it you'd like to tell? We'd like to hear about cars of all ages!
Your story should be no longer than 500 words. We'd love to see some pictures of your first car too! To get involved and share your story or for further information, email community@britishmotormuseum.co.uk with the subject 'My First Car'. We may not be able to publish everyone's stories but we will certainly enjoy reading them all!