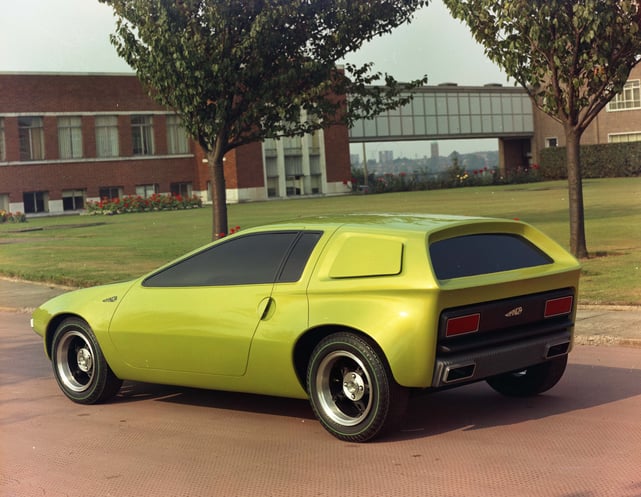 I've walked past the diminutive Zanda concept model thousands of times during my time at the Museum. It was one of stylist Harris Mann's first wedge shaped designs and it signified, to borrow from another British Leyland advert, the shape of things to come. Zanda was revolutionary at its 1969 reveal, intended to show that the newly formed Austin-Morris design studio was up there with the world's best.

Earlier in the year I got a call from friend of the Museum, Adam Gompertz, to ask if we could provide something suitable for his REVS Limiter display at a Bicester Scramble, on the theme of 'The Thin End of the Wedge.' What better than the original BL slope shaper?!
Green strip still visible on the original tyres.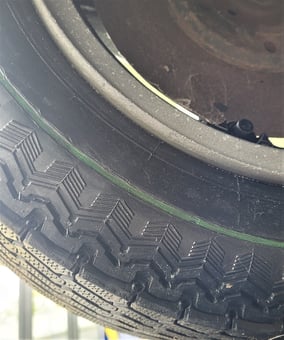 Zanda rarely leaves the Museum so it was great to see it in a different context. It may be small, but up against a TR7, Lotus Esprit, Aston Martin Lagonda and even Lamborghini Countach, the pioneering wedge held its own judging by the interest in it – truly unique.
New settings always reinvigorate interest and, naturally, curiosity got the better of me. A dabble in our amazing Archive liberated some early colour photos of Zanda outside the then-new design office at Longbridge. The photos show that its first colour scheme is not what it carries today but, in 1969, it was turned out in a zesty green paint, with wedge-shaped Zanda graphics to match and the tyres finished off with a lime-coloured stripe. According to Harris Mann, the livery was inspired by Bertone's striking Alfa Romeo Carabo concept, which had made its debut just a year before Zanda.
So what of the less eye-catching gold scheme that now adorns the concept? It seems that BL continued to roll out Zanda as 'the future' for another ten years, repainting it in the process and eventually renaming it Midiam in case anyone noticed that it was a child of the late '60s!
Up on the ramp, glimpses of green are revealed!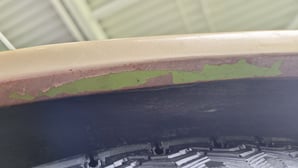 That's not the end of the story. Once back in the Museum, Zanda was put on the ramp in our Workshop to see if we could reveal any more of its past. Lo and behold, where the odd piece of gold had flaked off, the zing of green showed through. We even discovered that the tyres had simply been turned around to hide the green stripe.

"Every day is a school day" as they say and creates another conundrum for the team. Should Zanda be returned to its original colour scheme as the designer intended? The thin end of the wedge, indeed!