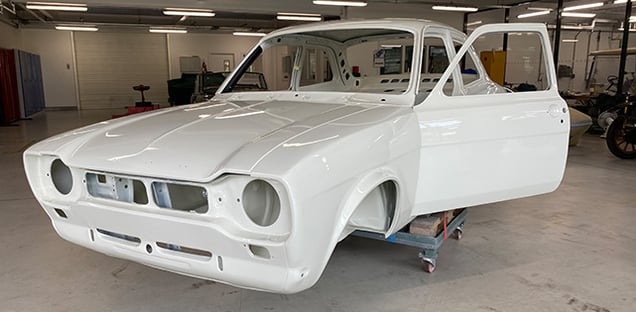 Our Ford Escort RS1600 project reached an important milestone this summer. The bodyshell of the unrestored 1972 RS1600 that was donated in 2019 is now back in our Workshop after being stripped, chemically dipped and resprayed, ready to begin a long-term project to piece it back together to its original specification.

The Escort RS was donated to the Museum by Roger Coslett after he realised that he would not be able to complete an intended restoration project on his beloved car. After picking up the RS1600 from Wales, the team from our Restoration Workshop stripped, assessed and recorded every inch of the car and its components.
The bodyshell was sent to a specialist to be chemically dipped; this removed all of the previous paintwork, filler and rust to reveal a bare metal bodyshell where areas for restoration and repair could be identified more easily.
Back at our Workshop, the team crossbraced the shell to retain its shape and then repaired various body and floor panels. It was then sent back to be chemically dipped for a second time and to be treated with an electrophoretic coating. This statically charged coating gets into all the shell's nooks and crannies, giving it a better chance to withstand any rust and degradation in the future.
The bodyshell was then delivered to a specialist body shop to be sprayed in its original colour, Ermine White. While it was away, the Workshop team started to refurbish many of the car's components, which total about 30,000 individual parts, including the Cosworth BDA engine.
This summer, the finished bodyshell returned to the Workshop in all its former glory. The next steps include continuing the component refurbishment and working on the sub- assemblies to prepare the first parts that will be fitted back into the car.
We hope you will follow the Ford Escort RS1600's restoration journey on our social media channels.