I am Assistant Archivist Paramjit Sehmi and for May's Document of the Month I'm going to tell you a story.
You might have already seen this month's Archive display case which is focusing on the Calvert Centenary Expedition (psst – if you haven't, then do check it out on your next visit!). So naturally our Document of the month is the star feature of that display, namely the Land Rover Press Pack for the 1996 Australia expedition. It is a fascinatingly comprehensive set of material featuring photos, maps, and details of the centenary journey as well as the expedition that inspired it.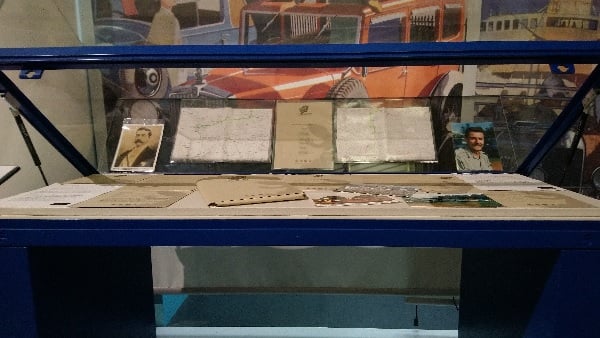 The original expedition was sponsored by Albert Calvert, an English explorer who had previously led expeditions in north-west Australia in 1890 and again in 1892. The fascination with Australia was due to large aspects of the continent being untouched by western travellers. The Press Pack document actually notes that, at the time, the several 'blank' areas covered around 260,000 square miles of unexplored land. Calvert himself believed he would be able to locate native gold in these previously untapped areas.
The 1896 exploration was led by Lawrence Wells (known as Australia's last great explorer) and funded by the Royal Geographical Society of South Australia due to the scientific interest of the site dubbed 'blank C'. The expedition set off on its journey on 24th May from Adelaide by ship. Transportation was indeed the first port of call once the team arrived in Geraldton. They acquired 19 pack-camels and one riding-camel.
This is a sharp contrast to the 1996 centenary journey which was led by Ian Glover, Public Affairs Manager for Rover Australia, across the same route. However, this attempt was done by car – and not just any car; Land Rover sponsored the expedition, showing off the capabilities of eight of their luxury Range Rovers to tackle even the most extreme environments. The company made a point of issuing vehicles with only minor alterations to give a true reflection of what the everyday customer could expect from their vehicles. Certainly not every car company could say their vehicles had survived travelling over 4 Australian deserts!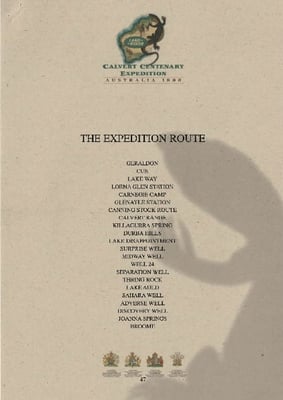 The Range Rovers were well-tested in the Australian conditions but perhaps not as tested as the travellers in 1896. On Wells's trek, there were some notable adversities. For example, on 29th July, some of the party's camels were poisoned by an unfamiliar plant and had to be nursed back to health with castor oil, and an injection of soap and water. In August, Wells separated part of the team for an excursion and travelled in a north-easterly direction, despite the local people warning against this route. He found it to be an increasingly inhospitable environment which yielded no water.
At the end of August, Wells wrote that 'everything seems against us – sandridges, porcupines, poison plant, sore eyes and no water discoveries'. Luckily the explorers eventually found reprieve by following birds to green tea trees, and then digging a well to find water. They re-joined the main expedition team just as the summer heat was beginning its onset. By the end of September, day temperatures were 35˚c in the shade and freezing at night.
When you realise that this 1896 journey lasted 5 months in such uncomfortable conditions you can truly appreciate how much of a brave feat it was to endure. The 1996 expedition did not face these kinds of issues, as they were able to carry plenty of water and food with them in their vehicles and could undertake the journey in a fraction of the time. In fact, opposed to the 5-month journey which ran into the sweltering Australian summer, the 1996 expedition was completed in only 5 weeks!
The 1896 explorers had to plan ahead for prospects such as how to carry their resources without tiring their parched camels. They set off with 6 pairs of 25-gallon water kegs, 1 pair of 5-gallon water kegs, and various stores and instruments. In regards to sustenance, the travellers had tinned meat, flour (which was mixed with water to make a kind of bread called 'damper') and tea. At some points they were able to hunt ducks and eat from native peach trees, but at the low points of the journey the dehydration meant that the people and their camels found it difficult to eat at all.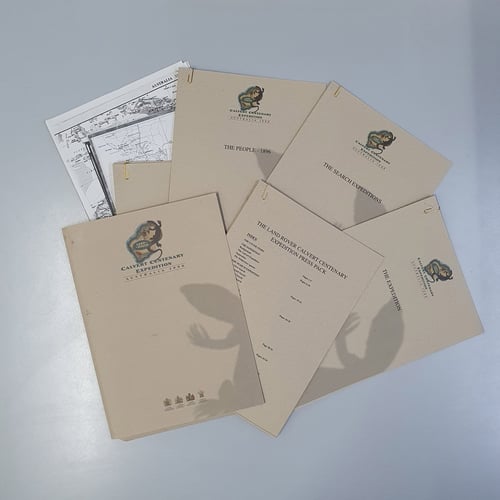 On top of all this was perhaps the most fateful decision of all during the 1896 journey. In October, Wells decided that his cousin Charles Wells and George Jones should carry out a separate expedition with both teams parting at Separation Well and meeting back up again near Joanna Springs. With temperatures reaching 60˚C, they travelled through the nights to avoid the heat during the day. Wells's party truly struggled to reach Joanna Springs, with several camels dying along the journey.
Wells was also worried for Charles and Jones and set out to search for them on his own, travelling 12 miles in the desert heat before having to turn back. Wells and his team eventually reached Fitzroy River, north of Joanna Springs, on 6th November. On arrival, his cousin Charles and colleague Jones sadly were not there. It took 4 separate expeditions from October 1896 to May 1897, covering over 3,400 miles, until the remains of the two men were found.
The struggles of this journey were certainly not ones to be repeated, which is why the 1996 centenary expedition remained as one collective group on their travels. They also benefitted greatly from use of the state of the art Optus Mobile Sat which allowed the explorers to have reliable communications at all times. It provided mobile telephone, fax and data service coverage across Australia and 124 miles out to sea. In fact, it was the world's first domestic land mobile satellite telephone service, making it quite the technological feat. This substantially reduced the risk to the explorers. Further to this, the explorers also had their very own chef in tow. Specialist outback caterers and celebrated Bushfood chef Jean-Paul Bruneteau accompanied the team, making desert banquets using kangaroo, crocodile and barramundi. A far more lavish experience than the previous explorers had.
Despite the struggles in 1896, both expeditions resulted in various successes in terms of scientific, geographical and zoological progress. In 1896, they identified several birds and botanical specimen, including the plant which poisoned their camels. The Calvert expedition also made a rare discovery of the Night Parrot, which was previously feared to be extinct. Adding to these accomplishments, according to a press release issued after the completion of the 1996 expedition, scientists identified 85 species of birds, 37 types of lizards, 10 mammals, 3 snakes and 2 frogs.
So it seems that both journeys did have their merits. Although, it is amazing to think how the car, something we take for granted in our everyday lives, made such a substantial difference to what was previously such a perilous journey. The aim of the 1996 journey was not only to showcase the Range Rovers, or to contribute to research on Australia, but most importantly to highlight the achievements and bravery of the original 1896 Calvert expedition. Overall both expeditions achieved so much and uncovered a lot of previously unknown land, territory, and species of animals and plant life. I hope you will find, as I have, that this story was one worth exploring.
Check out this 1996 Land Rover Press Pack (Ref. TE-AE-BL-LAN-13) on display in the Museum until the end of May in the blue cabinet near the shop! To research documents in the Archive collection more closely, please contact history@britishmotormuseum.co.uk