Our Art of Selling project, funded by a grant from 'Archives Revealed', is now well over half-way. This month our Project Archivist, Katie Finn, tells us about one of her many fascinating discoveries.
Trying to narrow down the number of interesting items that I have come across during the Art of Selling project has been extremely difficult. One of the documents that particularly grabbed my attention while cataloguing is the July 1938 edition of Advance! - a journal of progress for Wolseley dealers.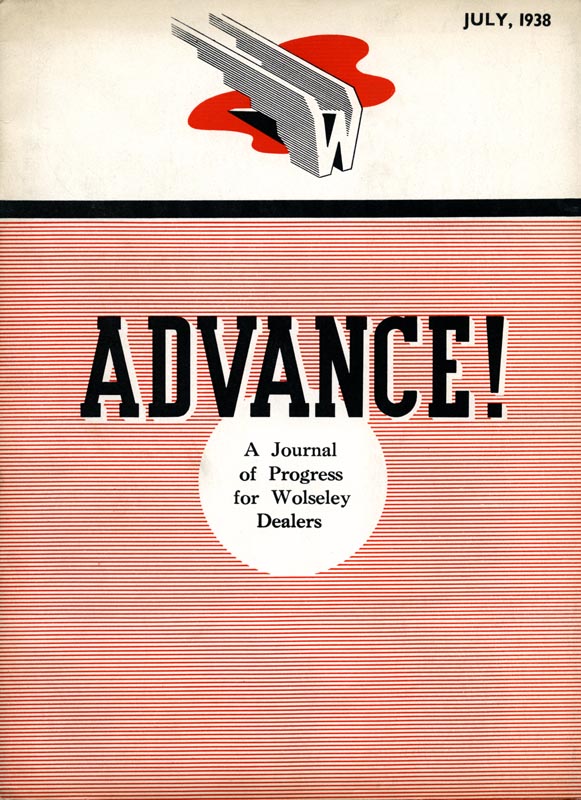 Why this document?
I chose this document as it represents what is great about the Press and Sales Collection overall; an insight into both the social history of Britain and the history of the motor industry. Advance! is a monthly journal that was distributed to Wolseley dealers in the 1930s. It contains a wealth of information that would be of interest to Wolseley dealers at the time. The journal has a mix of marketing suggestions, technical updates and commentary on current events.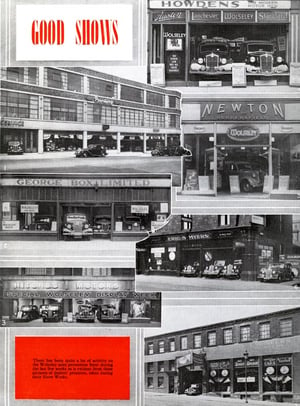 The main purpose of the journal is to provide examples of how dealerships are marketing Wolseleys across the country. This is to inspire dealers to promote their business through similar events or displays. 'Good Shows' includes pictures of dealer premises that have created displays for Wolseley show week. Additionally, the 'News' section contains successful marketing ventures that have been sent in by dealers. Some used 'aerial publicity' to publicise their used car shows. R Cripps and Company from Northampton were called 'enterprising dealers' as they loaned a 14/56 Wolseley to a local reporter who then wrote review which was a 'veritable boutique'. Samples of press advertisements are also included to inform staff of the national campaign.
Guidance on dealing with complaints is issued in this edition. Like today, handling customer complaints is seen as delicate balance of addressing the concern and ensuring that the complaint is valid. The importance of handling complaints in a timely and professional manner is emphasized as a factor in encouraging continued customer goodwill. As such, it is suggested that the Sales Executive handle complaints instead of passing it to a junior member of staff. Retail workers will sympathise with their suggestion that the common belief of 'the customer is always right', is not always the case. If this is 'overdone' it warns, 'a wrong conception of the efficiency of the firm is created'.
This document also gives insight into aspects of social history that would not be expected in a journal for dealers. The 'News' section announces that the 'Wolseley holidays-with-pay scheme' was to be extended to those who hadn't worked a full year at their factory. Employees with over five years of experience would be given two weeks fully paid holiday, while those with less received one week. This was introduced under their policy of 'progressive improvement in the conditions under which our employees work'. This is a year before the introduction of Holidays with Pay Act which gave the right for employees to have one week of paid leave. The Trades Union Congress had been campaigning for these rights since 1911, and by the time the act was introduced in 1939 they had already been implemented by many employers, including Wolseley.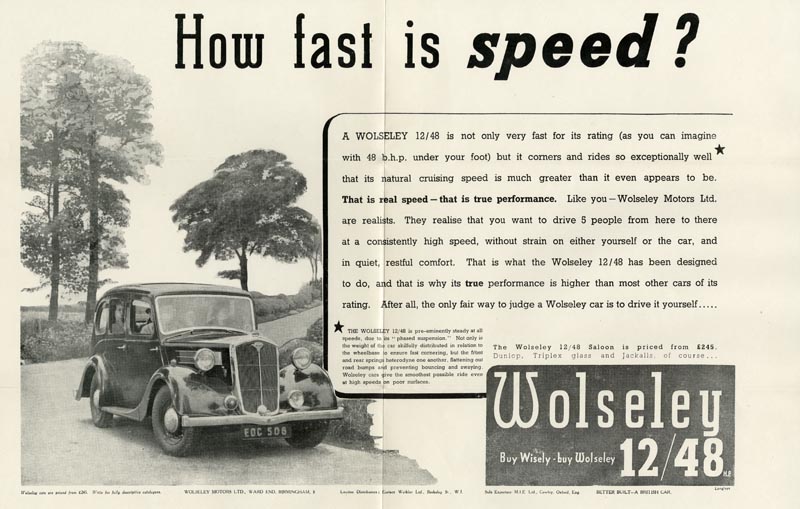 Additionally, the journal provides an insight into some of the major events in the twentieth century. In 1938, the United Kingdom was still feeling the effects of the Great Depression, and employment rates had not recovered. There were grumblings of the beginnings of the Second World War as Germany was rearming and had annexed Austria in March, and newspapers were full of tales of the Spanish Civil War. This is addressed in the editorial piece, 'But the lion still wags his tail!' The aim of the article was to reassure the Wolseley dealers that recent developments such as; 'bombs blowing babies to bits in Barcelona… British ships being sunk in cold blood and Spanish waters' and reports of; 'increased unemployment, or stories of what spineless, inadequate chumps are the men that this Nation has elected to govern itself' were played up by the press to ensure sales of their newspapers. It is optimistic that recent developments such as the building of aerodromes in Germany suggest that there will be war with, Russia, not Britain. The RAF and their new planes are praised, as they 'would simply hate to be the pilot of a Bomber trying to drop a little dirt on England'. They end the article by stating; 'it does seem as though we have passed the worst and that the pendulum is on the swing in the other direction'. How wrong were they!
There are many more documents that illuminate the social and economic history of Britain in the Sales and Press collection. The Art of Selling project aims to make these more accessible to everyone.