This month's document is chosen by Archivist Gillian Bardsley.
An Archive is not a dusty room full of out-of-date documents as so many people still believe. It's always growing and developing, not only because we are constantly taking in new donations, but also because in the course of organising and preserving what we already have, we still keep uncovering fresh items which intrigue us. This week my colleagues Charlie and Mollie have been searching for material to use for a talk at Cowley history week, and they came across an item which is so intriguing it was an obvious choice for this month.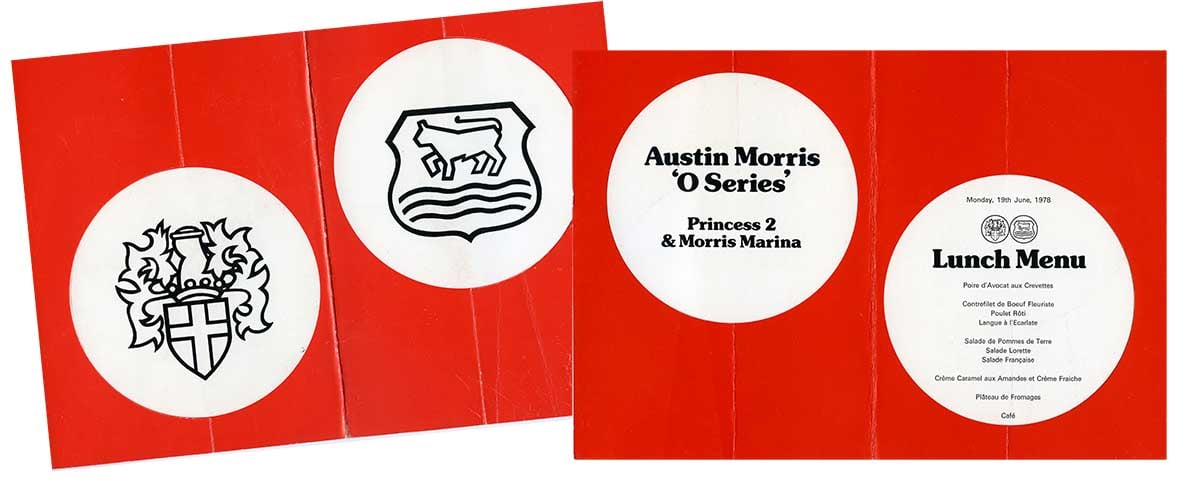 Why this document?
The document is a rather plain lunch menu which is both straightforward and puzzling. The cover is decorated with the Austin shield and the Morris Ox. Inside we have the words Austin Morris 'O-Series' – the company's latest engine design – and 'Princess 2 & Morris Marina' which were the first cars to carry this power unit. There is also a date, 19 June 1978. Here is the first surprise, because while I've seen many menus for special meals and events, they are usually celebrating something like a car launch, a landmark anniversary or the retirement of someone important. Never before have I seen one for the launch of an engine.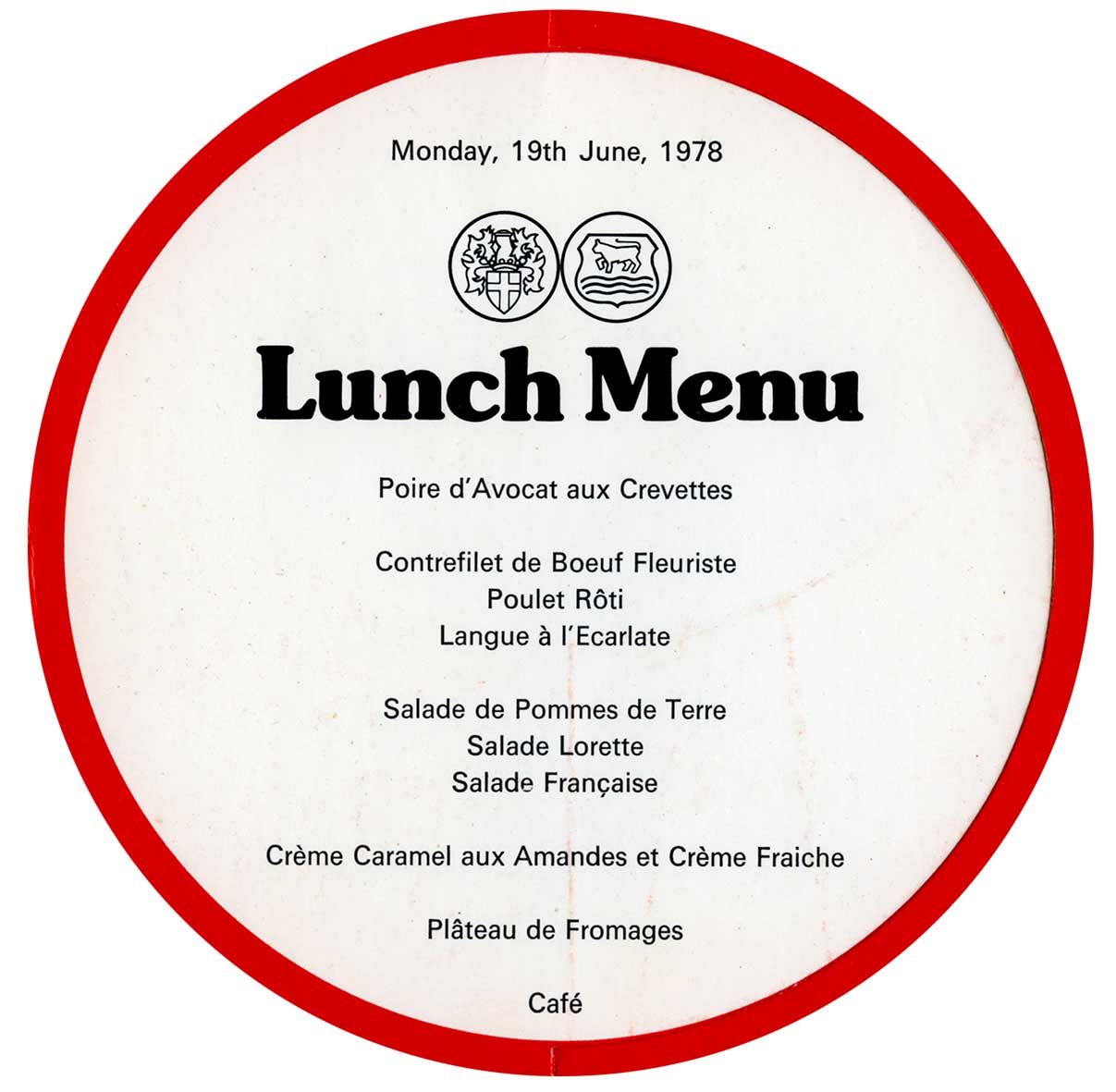 So who was invited? We don't know. The appearance of the menu is fairly ordinary, as is the list of dishes, which have been translated into French perhaps to make them sound more exciting. The starter is pear and avocado with shrimps which is a bit adventurous, but the main course is a choice of beef and veg, roast chicken, or tongue accompanied by various simple salads, followed by either cheese or caramel cream with almonds and fresh cream. There is no alcohol available, only coffee, so it's unlikely that the attendees included management or members of the press.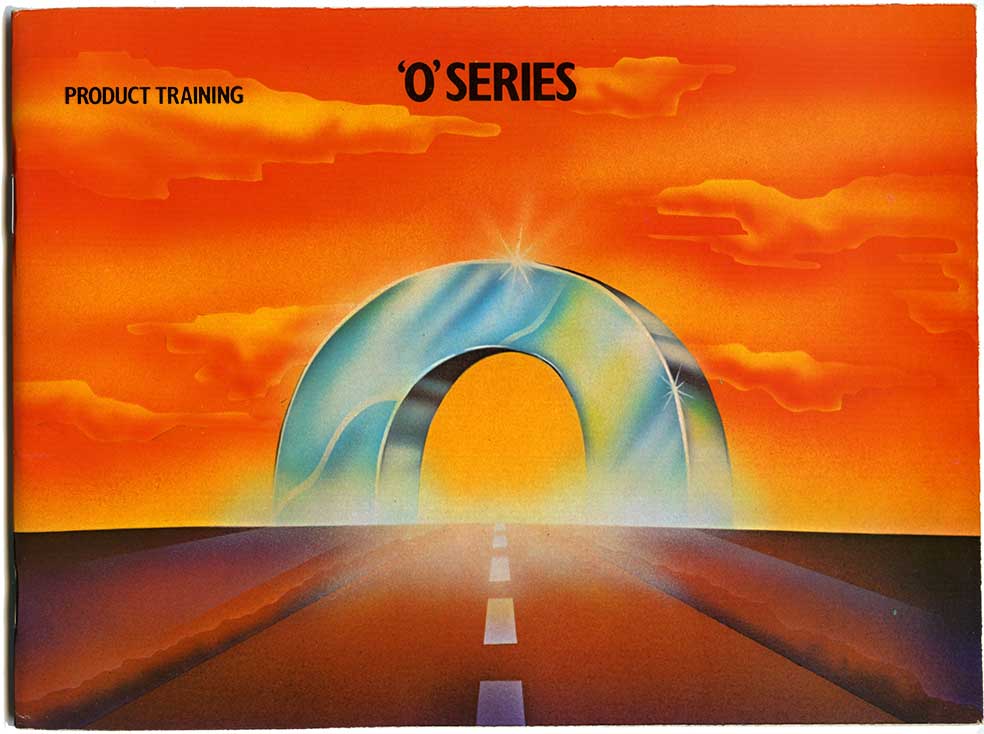 The only clue we have is a product training guide about the same engine which was found nearby. This also carries the date June 1978, so perhaps it was a lunch for salesmen and the guests were handed a copy of this glossy booklet for their entertainment as they ate. In contrast to the menu, this is a masterpiece of design, making a very dull, 30-page booklet look quite enticing. It assaults the eye with a vivid orange cover, depicting a shiny 'O' rising over the highway and filling the sky with the light of a new dawn (though a less charitable interpretation could see it as sinking over the horizon for one last sunset). The booklet praises the performance, economy and refinement of the engine, going into great detail about how it works and the manufacturing process. Finally the reader is told: 'Engines have a longer product life than the car they power. So they have to be designed with a longer look to the future – as well as a regard for the achievements of the past'.
I'm not sure what the dealer was supposed to do with this information. It seems unlikely that the average customer would care. Their main hope would be that their new car would run so reliably that they would never need to know what was going on under the bonnet.
If you were at this lunch, please let us know – we'd love to find out if you enjoyed the food or still have the booklet!