My name is Cath Bovenizer and I am the conservator here in the archive at the British Motor Museum.
While searching through the archive on the hunt for a brochure, I came across an absolute gem and felt that I really needed to include it in one of our 'Document of the Month' blogs. I found this document really engaging and I really hope it will make people smile in these strange times.
The document that I have chosen is entitled 'Austin Rover – The Individual Choice', and showcases a large range of items specifically targeted at the discerning MG/Rover/Austin owner. Most car companies over the years, but especially in the 1970s and 1980s, offered a range of branded merchandise for owners to purchase. This was a way for car owners to demonstrate their love of their vehicles and also provide a useful platform for company advertising.
The first thing that hit me when I opened the leaflet was its stylised nature and the fact that it appeared very dated; this instantly put a smile on my face being a child of the 80s! The next thing I noted were the different sections, all aimed at the type of vehicle and the type of person the company assumed would be driving them. Although there are some cross overs in the types of items, the style and quality very much represent the product they are associated with. The range and style of the items vary depending on what type of vehicle you might own; for example, the sensible Austin owner might be interested in buying some golf balls for the weekend's activities, with a matching umbrella and sensible stylish jacket. However, the sportier MG driver, may need a super cool jacket and sports watch to enhance their look whilst cruising in the latest MG model.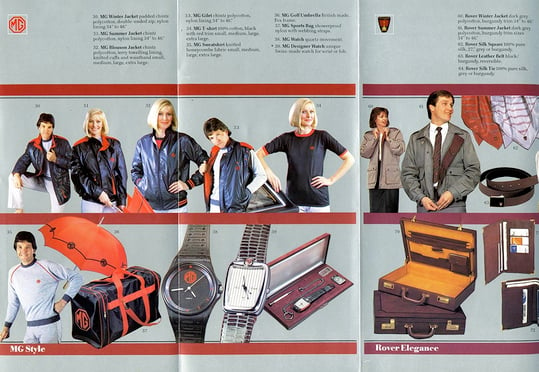 The very stylish Rover owner on the other hand seems to have a 'top range' selection of items, including golf balls again, with ash trays, key holders, ties and briefcases for the executive businessman.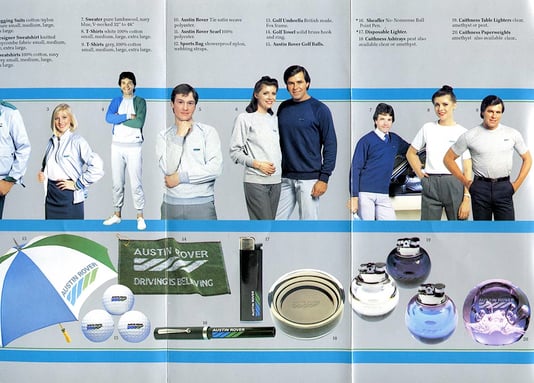 It seems that not many car companies produce large amounts of related merchandise anymore; the ones that still do, only provide access to it through their websites. Failing that, online auction sites are the next best option. Unfortunately too, in this age of digital technology, very few pamphlets are produced for promotion; another reason why is so important to protect examples such as this by preserving them properly.
I hope this little step back to the 80s has put a smile on your faces. There's one thing for sure, there must have been some exceptionally stylish Austin Rover customers driving round back then!