Work has been continuing in the Archive throughout lock-down and we have had some really interesting enquiries over the last few months. At the beginning of June we were approached by Kathy who had found a document relating to her yacht Glala in our catalogue (hosted by The National Archives – https://discovery.nationalarchives.gov.uk/)
It turns out this yacht, for which we still hold the bill of sale, was in the possession of AEC (Associated Equipment Company) from 1938 until it was requisitioned for the war effort. Kathy very kindly provided us with a history of the ship...
Built by A.R. Luke as a yacht for a wealthy Argentinian diplomat, Glala was originally scheduled to be launched in 1914 but was actually launched in 1915 under different ownership. By the early 1920s she was owned by Camper & Nicholsons who modernised her.
Through the 1920s and 30s she was owned by a series of prominent people including industrialists such as Sir William Verdon-Smith, chairman of the Bristol Aeroplane Company, and the aviation pioneer Sir Alan Cobham. In 1939 she was bought from Thomas Needham FCS, JP by the engineering company AEC who modernised her. This is original bill of sale that we hold in our archives…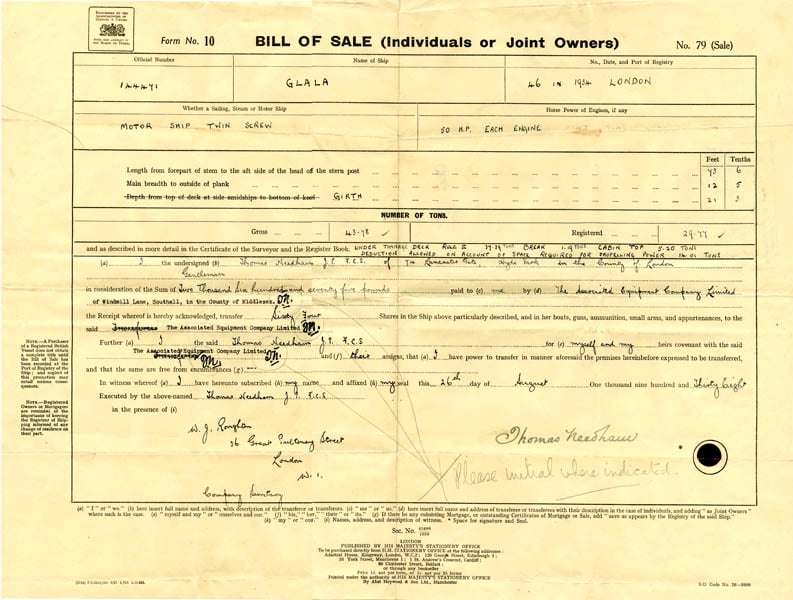 An article in the August 1939 edition of the AEC Gazette shows that AEC had replaced Glala's original paraffin engines with two of their oil engines and added a funnel. AEC planned to use her to demonstrate their marine engines and to train Port of London Authority employees on the Thames. But, before they could put her to use, she was requisitioned by the Royal Navy. Requisitioned meant that she was effectively being hired and, until the Ministry of War Transport compulsorily acquired her in 1943, they were paying AEC £54.10.0 a month (about £2000 in today's money).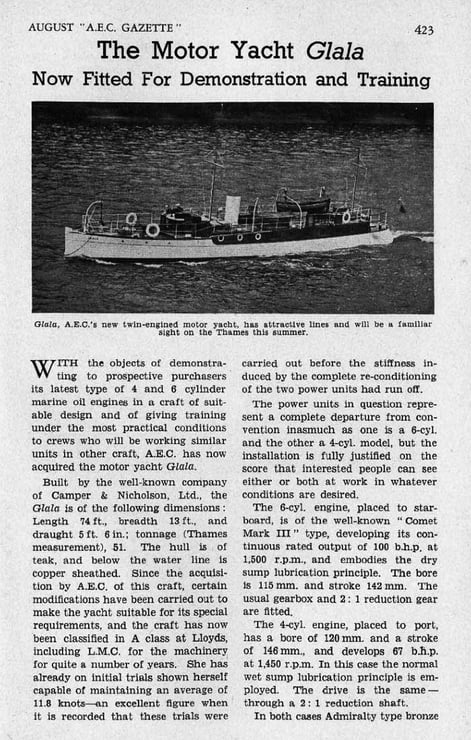 Like many other vessels, Glala's moment came during Operation Dynamo - the evacuation of Dunkirk. She was commanded by Sub-Lieutenant John Alexander Dow. Glala set out at 0800 on 31st May 1940. She arrived in Dunkirk Roads at 11:30 and towed two whalers full of soldiers to the requisitioned paddle steamer HMS Golden Eagle. She was damaged several times in air raids and after returning for repairs in Sheerness she served again as an anti-submarine vessel patrolling the Thames estuary.
In 1941 she was retired from the Navy and used as a hospital tender in Belfast before joining the National Fire Service in Liverpool in 1943. Glala was severely damaged by an explosion around 1945, she was rebuilt and sold off in 1947. She returned to her former existence as a yacht and spent the 1950s on the Thames and on the coast around Southampton. In the 1960s she was cruising in the Mediterranean. She was renovated in 1990 after being a houseboat for many years, and continued to be lived on.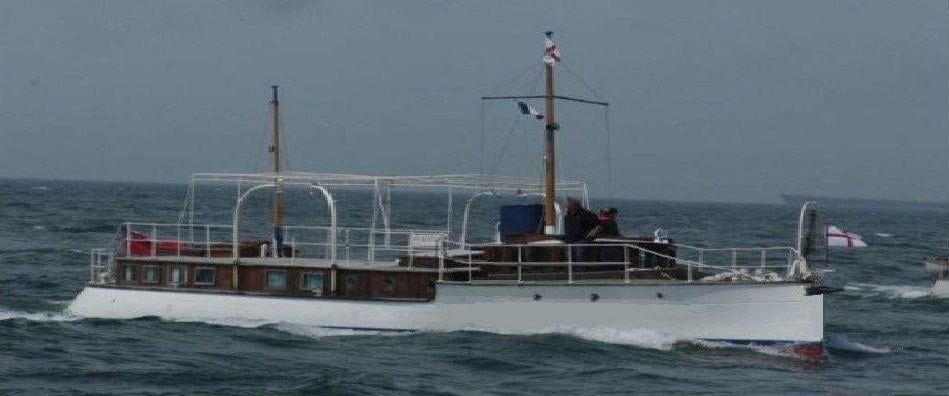 Kathy finishes saying that the opportunity to own a beautiful and unique Edwardian motor yacht, a vessel in the National Historic Fleet and one of the largest of the Dunkirk little ships, was too good to pass up. We bought Glala in 2017 when she was in a sorry state. Although a lot of work had been done her restoration/rebuild had stalled and she had been abandoned with hatches open to the weather. She is still under restoration - the hull has been repaired, she has new solid-teak decks, most of the superstructure is restored, the engines have been rebuilt. But there is still a lot more to do!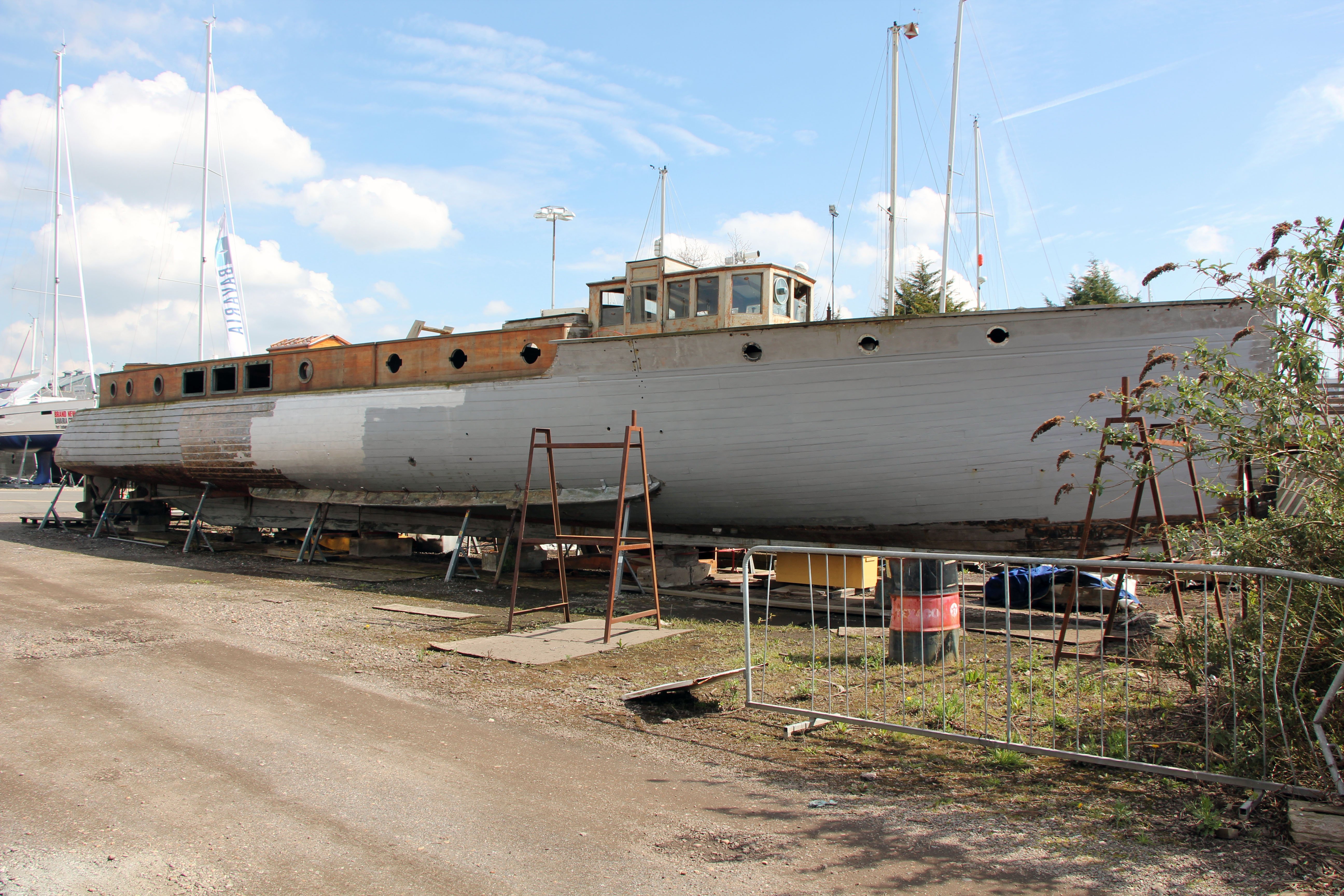 Our initial goal is to get her back in the water early next year with her engine systems installed, hull re-caulked, painted and watertight with a view to making the crossing to Dunkirk in May 2020 (due to Covid-19 now delayed until 2021). She will be a bare-bones boat at that point with no interior fit out, save for a heads. Once afloat other top sides work can be addressed in an ongoing conservation program.
If you would like to read more about Glala you can visit her website here: http://glala.uk/
It just goes to show, in the depths of a motoring museum, you can find small documents relating to an extraordinary, non-motoring related history.