This month's Archive News is about the progress of a large donation we received at the end of 2019.
As we have mentioned in previous blogs, the process of assessing, collecting and preparing a donation for life in the archive is often long and time consuming. While most donations can be brought to the Museum in the back of a car, sometimes, when a collection has been amassed over many years, it requires a very big van and a bit of elbow grease!
We were approached by avid collector Mr. Dante in mid-2019 to see if we would be interested in receiving his life's collection as a donation to our archive. Mr. Dante had been collecting automobilia/motoring sales brochures from an early age. This interest grew to such an extent that additional suitcases had to be purchased when travelling abroad just so extra sales material could be brought back to the UK!
As an accountant Mr Dante prepared annual accounts for several garages in the Leeds area. One of the most interesting additions to his collection came when one of his clients, the former Peugeot dealership Garnetts of Guiseley Ltd of Leeds Road Rawdon contacted him in 1981 when they were closing down. They had found under the floorboards of their offices, pre-war Morris Cars brochures dating from the 1930's, mostly in perfect condition. These had been left there by Ernest Lawson Limited, Car and Light Commercial Vehicle Stockists, who had traded from that site over 50 years earlier.
After an initial assessment we decided that while the collection contained overseas marques, there was not only a substantial amount that was British (and not just from British Leyland) but that a lot of Mr Dante's collection represented a type of material that was never usually kept for posterity. Documents such as price lists, 'special offers' newspaper cuttings and magazines are usually disposed of at the end of their sales life, so finding so many examples in one collection is quite rare.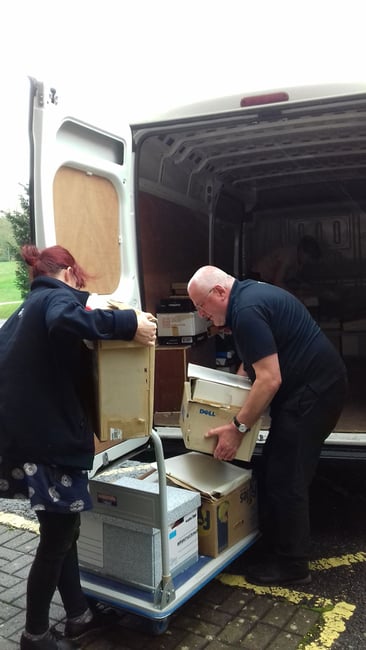 The collection took two days in total in order to pack the brochures into boxes and we had to hire a large van to bring everything from Leeds back to Gaydon. Luckily we had help loading from Mr Dante himself and his friend David. The collection was then driven back down to the museum for its initial sort into categories.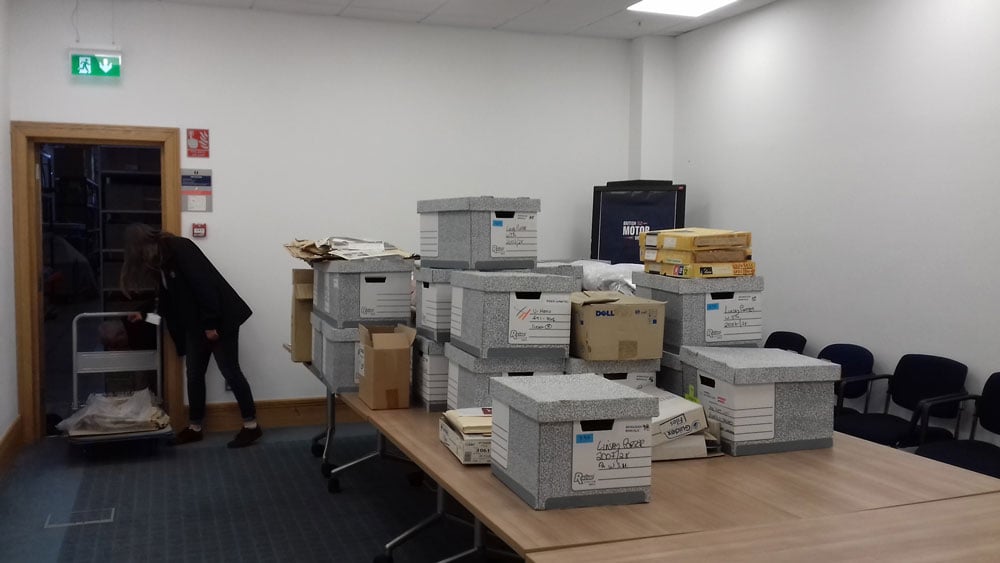 As you can see from the photographs we were supplied with an entire room for this purpose! One all the boxes were safely moved in the long process of sorting could finally begin.
Our first task was the define the types of documents we had – these generally fell into categories such as sales brochures, adverts, newspaper articles, colour and trim guides and price lists. These were then sorted further according to where they were from – overseas or UK and then a final sort by marque. Because the collection was so eclectic ,some times several marques fit in a box. Other marques such as Ford are so prolific they have to be split down again into model types.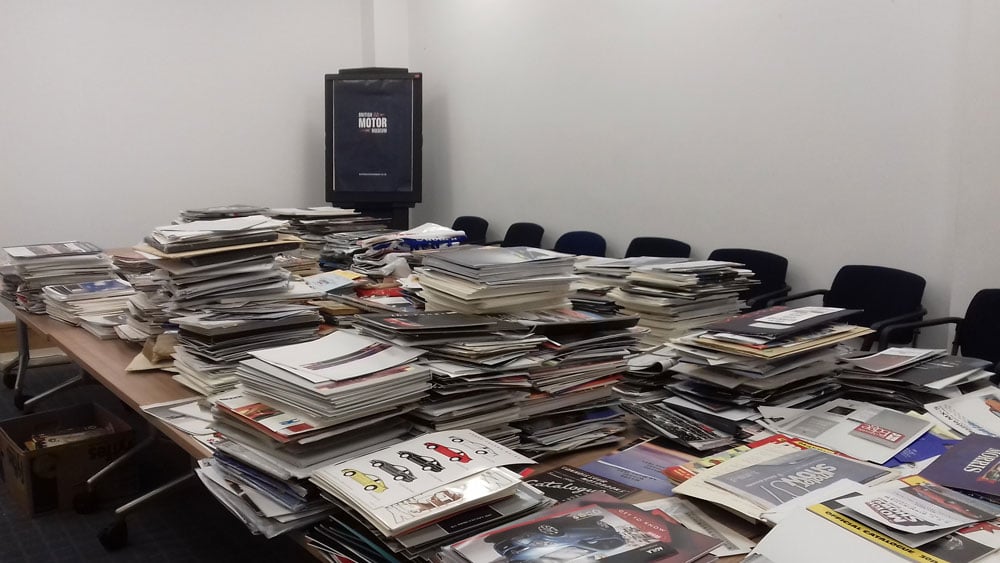 Above is what the collection looked like after its initial sort. After three months of sorting and boxing, the table looked like this...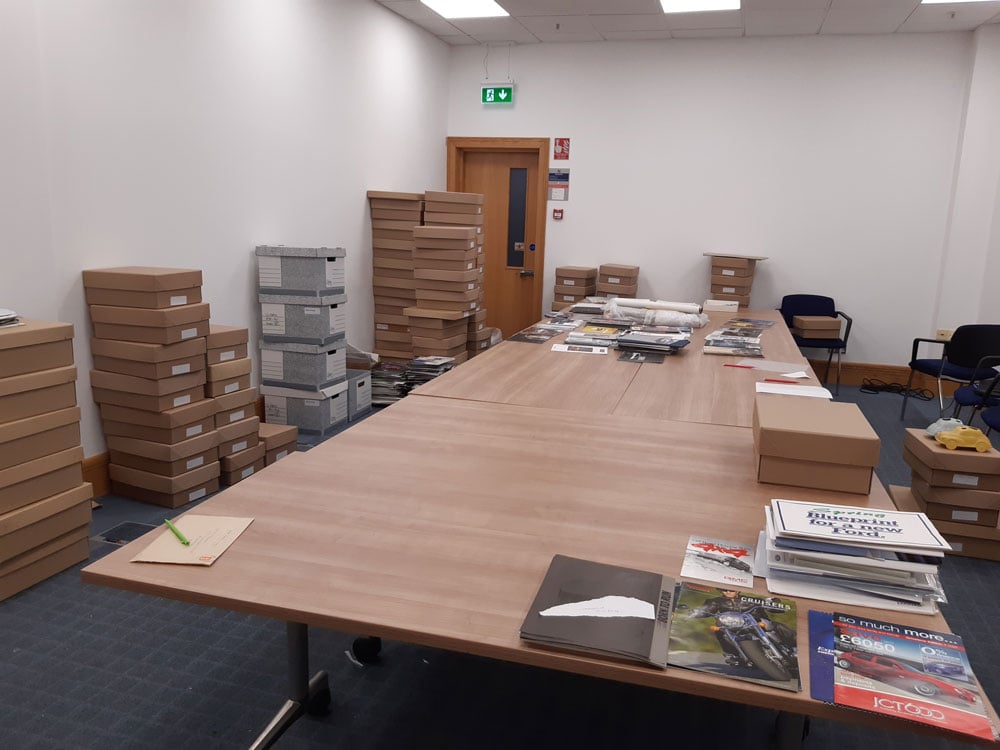 One of the most interesting types of document were the newspaper articles. The majority of these are from the 1960's and again cover a wide range of vehicles, but also cover motoring news and events. They also contain a wide range of adverts and not only for cars – sometimes on the backs of the articles there promotions for all sorts of products, including everybody's favourite -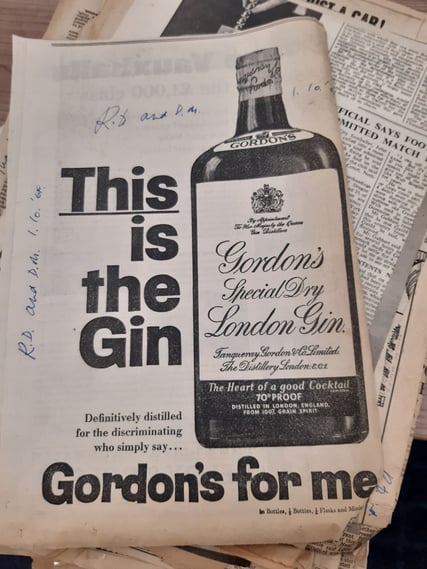 However, my favourite automotive advert has to be this one for the automatic BMC Austin/Morris J2 and J4 vans.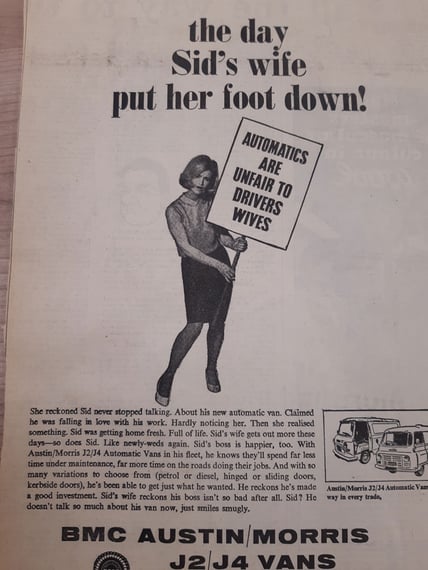 The text reads as follows:
"She reckoned Sid never stopped talking. About his new automatic van. Claimed he was falling in love with his work. Hardly noticing her. Then she realised something. Sid was getting home fresh. Full of life. Sid's wife gets out more these days – so does Sid. Like newly-weds again. Sid's boss is happier, too. With Austin/Morris J2/J4 Automatic Vans in his fleet, he knows he'll spend far less time under maintenance. Far more time on the roads doing their jobs. And with so many variations to choose from (petrol or diesel, hinged or sliding doors, kerbside doors), he's been able to get just want he wanted. He reckons he's made a good investment. Sid's wife reckons his boss isn't so bad after all. Sid? He doesn't talk so much about his van now, just smiles smugly."
The collection is now almost entirely boxed will be housed in the archive soon! The next stage will be to list every item in each box and eventually upload the whole catalogue online. In the meantime items from now is now termed the 'Dante Collection' will be used in future Archive talks and displays, either in the museum or out and about!