Happy new year from the Archive Team! This month we have been going through some of the new items and donations which are being added to our collections. This means that we get to look at a wide range of material, most of which, despite being created decades ago, has links to the motoring world of today.
A recent collection of documents we accessioned is almost an entire motoring career of Miss Dorothy Lammin of Folkestone, Kent as seen through her vehicle paperwork. The collection spans from 1921 to 1972 and includes her 1930's driving licence, her insurance paperwork, membership correspondence from both the RAC and the AA and, of course, correspondence relating to the maintenance and fuelling of her car. During the Second World War, the basics of car care became increasingly difficult and sometimes even political: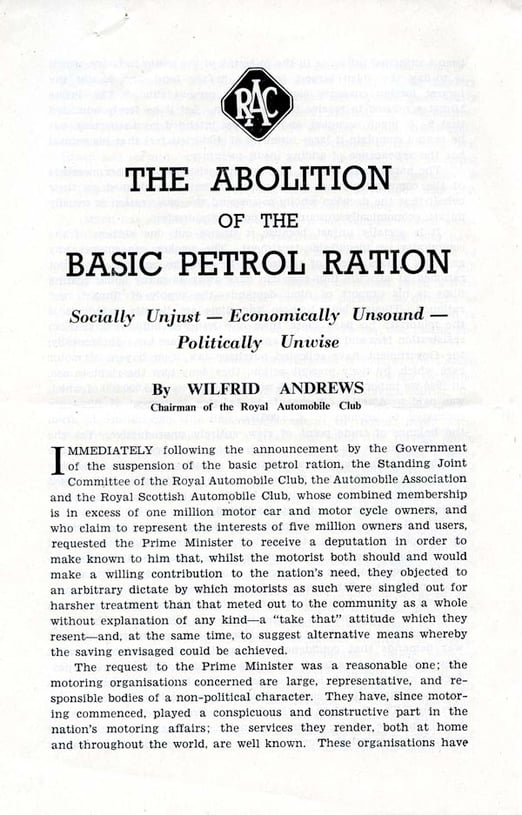 The subject of powering motor vehicles has been in the news a great deal recently, from the search for renewable energy to the recent commitment to ban petrol and diesel cars from Britain's roads by 2040. The documents accumulated by Miss Lammin are connected with the history of motor fuel and its impact on society, not only during the war, but the fight to regain motorists rights afterwards.
When the Second World War was declared on the 3rd September 1939, the Government quickly sprang into action organising the war effort both abroad and at home. The week after war was declared coupons were already well into production, ready for when rationing began on the 16th September. Rationing didn't just include food – clothing, fuel and even furniture were all restricted. For petrol (or 'Motor Spirit' as it was termed at the time), coupons and ration books were collected from the local Post Office upon production of an owners car registration book. The owner was then issued with two ration books – "First month" and "Second month". These contained the number of ration coupons (usually one gallon per coupon) allowed them according to the rating of the car as shown in the registration book:
1-9hp (or up to 1,100cc) 6 gallons a month
10-13hp (1,101cc-1,600cc) 7.5 gallons a month
14-19hp (1,601cc-2,400cc) 9.5 gallons a month
20hp and over (2,401cc or more) 10.5 gallons a month
Unfortunately Miss Lammin did not keep the date or name of the newspaper from which these figures comes from. However, it must have been around the 8th September 1939 when the first fuel ration coupons were being produced.
The coupons themselves looked like this: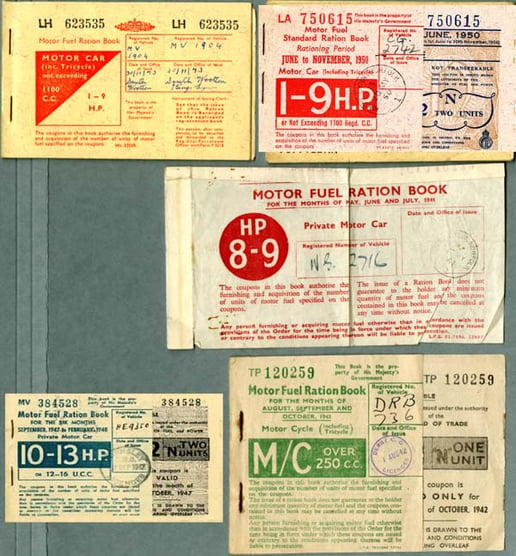 Finding left over fuel coupons from the war period is extremely rare as they were generally all used and Miss Lammin was no exception. However the covers of her ration book from 1939 and 1940 have survived, along with coupons from after the war when fuel was less scarce. The examples pictured range from 1941 to 1950.
Petrol was only to be used for business and work purposes. Priority was for military, agricultural and industrial purposes. When the war ended in 1945, petrol rationing remained in place although petrol for private in the form of a basic petrol ration use did become available. In 1947 this ration was abolished, sparking outrage amongst motorists. A national petition was organised by the committee of the RAC and sent to the Government to restore the basic petrol allowance. Pamphlets like my document of the month were widely distributed to all RAC members – approximately five million owners and users of automobiles.
The first million signatures were presented at the House of Commons on the 29th October, the second million in December. The following year while the demands for petrol continued, the Motor Spirit (Regulation) Act 1948 was passed enforcing the use of red dye to be put in petrol designated for commercial vehicles. A private car driver would lose his licence if red petrol was found in his car. Likewise, any petrol station selling red petrol to a private car driver could be shut down. On the 26th May 1950 fuel rationing was finally abolished, largely due to American companies agreeing to supply oil in exchange for British goods.
The history of petrol rationing has continued since – it was re-introduced in 1956, a mere six years on for a number of months as a result of the Suez crisis. It was almost brought back in 1973 during an oil crisis (to the extent that the government even produced the coupons, examples of which we also have in our Archive). It also created a large amount of advertising within British Leyland, who in a campaign to save fuel began producing posters such as these:

While we don't know a large amount about Miss Dorothy Lammin, her passion for her cars is obvious from the care she took over her motoring paperwork. From the insurance and maintenance papers we can tell that she owned several Austin's during her lifetime, a Wolseley 14 de Luxe Saloon, a Rover '90' Saloon and her last car before retiring from driving – a Jaguar 3.4 Mark II.