"Are you leaving school? To decide what to do when leaving school is difficult but it may be that industry offers the best prospects for your talents."
With February 8-14th marking National Apprenticeship week across the UK, in this months' Archive News we thought we would examine the role of Apprenticeships in the automotive industry throughout the 20th century.
Apprenticeships in the UK can be traced back to medieval craft guilds where parents would send their children to live with host families in order to learn a specific skill. By the Tudor period, although it was still an unusual practice, it was generally seen as an acceptable type of training. The popularity of Apprenticeships steadily increased, even more so with the advent of the Industrial Revolution and the later two World Wars, breaking into new types of work such as engineering, mechanics, plumbing and electronics. It is roughly estimated that by the 1960s a third of boys were leaving school to become apprentices.
With the Midlands being at the heart of industry, apprenticeships were a popular option for young adults leaving school, especially with the wide array of different factories to choose from. The larger automotive factories included Austin at Longbridge, Wolseley at Adderley Park and Riley, Standard, Rover, Humber and Singer in Coventry. There were also smaller automotive companies and factories exclusively for car parts such as Lucas and Fisher & Ludlow.
There were a multitude of types of apprenticeship within the factory which were often divided into two types. Firstly 'Craft' or 'Engineering' apprenticeships which covered the basic engineering trades before the apprentice specialised in a particular area (e.g. Toolmaker, Template Maker, Maintenance Welder, Trim Worker etc) The second was 'Trade' or 'Commercial' apprenticeships which focused on full training for positions such as shorthand typist, copy typist, comptometer operator, accounting machine operator, general clerical staff. The typist school where young women destined for the office undertook training in shorthand and typing.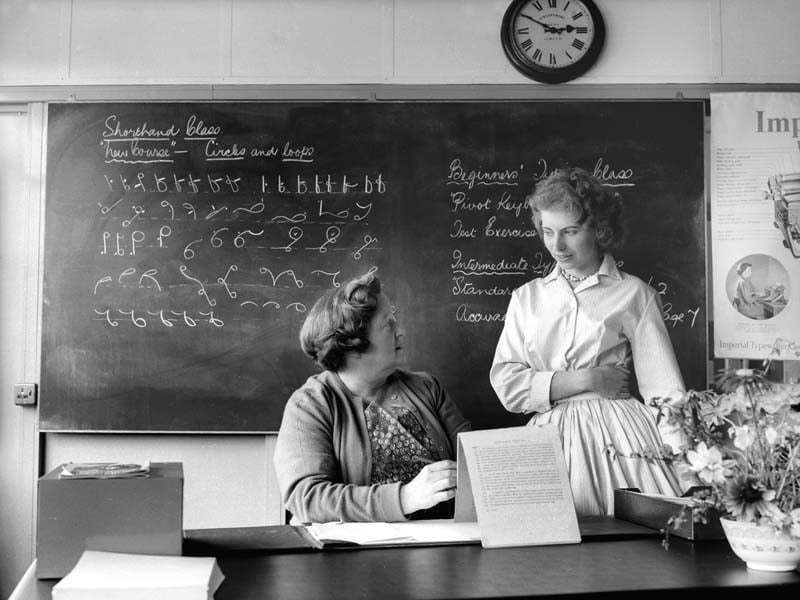 These positions, the Craft and Engineering ones in particular, were marketed towards young men whereas young women were offered separate training schemes for shorthand typing, clerical, filing, accounting machines and secretarial work. There were also apprenticeships for both sexes (although predominately aimed at women) for 'behind the scenes' work in industrial canteens, with roles such as restaurant assistants, tea trolley assistants, waitresses and cooks.
In the words of the Lucas Apprentice booklet: 'A good education should not be wasted! If you are interested, please discuss it with your parents…' In order to become an apprentice in a company such as Austin or Wolseley a Deed of Apprenticeship was signed stating the terms of employment, not only by the apprentice but also by a parent or legal guardian. All letters regarding the apprenticeship were sent to the apprentices parents including any increase (or decrease) in pay and quarterly reports on their child's behaviour, attention to work, progress and timekeeping.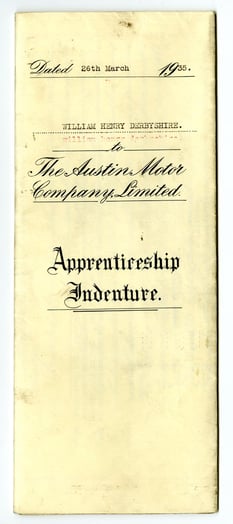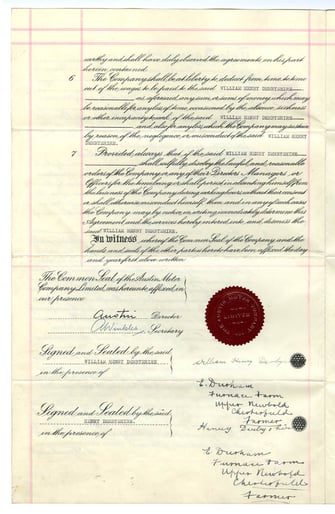 Upon arrival new apprentices (and a legal guardian – usually the father) would sign an indenture stating the terms and conditions of his employment. This is the indenture of William Henry Derbyshire who in 1935 stated work for the Austin Motor Company
Apprenticeships were beneficial for young men and women for many reasons. For many it was the opportunity to learn a practical skill which they could turn into a living. For others it was the social side – apprentices could take part in sports teams, leisure activities and factory outings. In 1965 some MG apprentices took to the streets of Abingdon dressed as Daleks (possibly in aid of RAG week).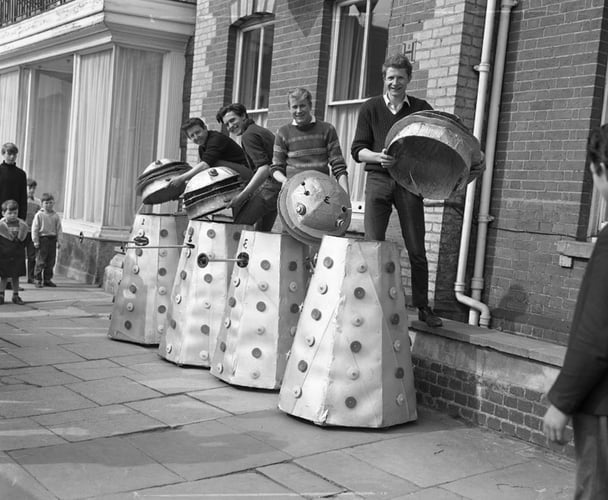 There was also access to medical and dental facilities, a canteen (although in some factories you had to bring your own mug and cutlery) and a pension scheme from the age of 20. The Austin Company in particular focused on fostering an 'espirit de corps' which they viewed as essential to the success of their Apprentices. The Austin Ex-Apprentices club still meet to this day.
With an ever increasing need for technicians, apprenticeships are more popular today than ever. In 2018/19, there were 219,800 apprenticeships in England alone. Today, the objectives of National Apprentice Week are to increase awareness of apprenticeships, promoting them as a 'ladder of opportunity' and celebrating the benefits that they bring to young people and employers alike.