In this edition, Andrew tells us about the blood, sweat and tears he put in to restore his first ever car, a Mini Clubman Estate.
We're looking to collect and share people's stories of their first car in our new project, 'My First Car'. Each month we'll give you a theme and then we'll publish our favourite stories every two weeks in our Museum blog.
This month's theme is Mini Madness and it explores two great stories about these iconic British cars!
The Mini Clubman, originally designed to be a hatchback, was born from the need for a top end car at a low end cost for BMC. As a replacement for the Riley Elf and Wolseley Hornet, it filled this requirement. Being longer in the nose than the original Mini it allowed for better engine access. Ultimately it was a style change to keep up with other companies such as Ford whilst keeping the costs down.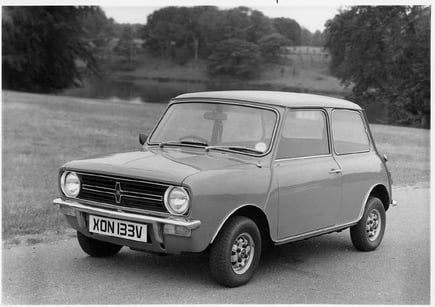 Andrew, 17, Mini Clubman Estate, Green
Way back in Summer 1978, a 16 year old 'me' had secured a holiday job on a local farm. Already I was a budding Petrol Head desperate to drive and run my own car, and this role was the perfect opportunity. To cut a long story short, within 2 weeks of starting I was entrusted (let lose!) on tractors and the farm's trusty Series III short wheelbase Land Rover. All self-taught on the land with minimal mishaps and many a crash gear change! But I mastered it and loved it.
Roll forward to my 17th birthday and the best present from Mum and Dad – a set of BSM driving lessons. £6 a shot in those days, using Triumph Dolomites. I have very fond memories of those stylish cars, and how I long for a classic Dolomite Sprint today. But 8 lessons / 3 months thereafter, ably supported by Dad outside lessons, I had passed my test first time. So, I needed that first car, but at 50 pence per hour remuneration from life on the farm, this was to prove a tough order!
Solution – a small contribution from myself, augmented by good old Dad (on the promise I wouldn't get tempted by the much cheaper alternative of motorbikes!). Henceforth, here entered the aforementioned Mini Clubman Estate. It was MOT failed and more than a little tatty, but we were assured it was salvageable. Of the various repairs needed, it was the rear subframe replacement that posed the most the challenging. But I was up for it. I loved the mechanics aspect too, and the workshop manual said it was a straightforward task! Lift and support car / remove wheels, suspension, brakes etc / undo the 8 bolts securing the frame / install new and refit the rest in reverse order. Simple, what could go wrong!?
Its fair to say my knowledge, tool kit, use of Isopon, and pain threshold leapt forward exponentially. This was to be a 'once only' experience, never to be repeated!
But success it was, and that car became my pride and joy for the next 3 years (green colour aside). Like many, I added numerous aftermarket accessories – a radio, long whip aerial, silvered wheels (I couldn't afford alloys), seat covers, sport steering wheel and gear knob, fluffy dice. The list went on...
What has struck me the most as I reflect, was the alarming pace of rust and mechanical unreliability that beset so many of those 70s cars. After all, it was only 8/9 years old, but considered at the time as near end of life. I contrast this with my wife's 10 year old Mini One today, which is sweet running and unblemished. Gosh how technology, manufacturing processes, galvanised steel and aluminium have truly revolutionised the motor industry. But with fond memories I still love the iconic Classic Mini. The irony today of course is I simply can't afford a good one!
Thank goodness the British Motor Museum has so many beautiful examples we can all enjoy.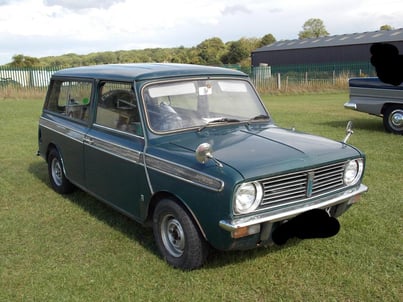 Get in touch
Do you remember the first car you owned or the first one you drove? Do you have fond memories or a story about it you'd like to tell? We'd like to hear about cars of all ages!
Your story should be no longer than 500 words. We'd love to see some pictures of your first car too! To get involved and share your story or for further information, email community@britishmotormuseum.co.uk with the subject 'My First Car'. We may not be able to publish everyone's stories but we will certainly enjoy reading them all!