Another car with a nickname! In this edition, Michael tells us about his Flossie who he found again 30 years later.
We're looking to collect and share people's stories of their first car in our new project, 'My First Car'. Each month we'll give you a theme and then we'll publish our favourite stories every two weeks in our Museum blog.
This month's theme is Cars with Names and it shows how cars are our trusty companions, so much so that we give them names!
William Morris started Morris in 1913 and in 1919 Morris Motors was founded. Morris is responsible for the creation of many British iconic cars such as the Morris Minor and Morris Oxford. In 1952, Morris joined Austin to become the British Motor Company. This then became a part of British Leyland in 1968. The company was so successful it was the first British manufacturer to produce a million cars in 1939. In 1934, the Morris Eight was launched as an alternative to the Ford Model Y or Austin Seven, being superior to both due to its hydraulic brakes and better suspension. Replacing the Minor, it featured a new chassis and a bigger engine. The last Morris badged car, an Ital, was built in 1984.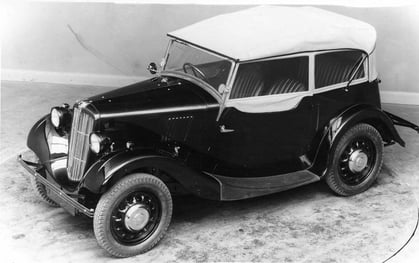 Michael, Morris 8
Say "Hello" to Flossie. She was a 1937 Morris 8 and my dad bought her for me in 1962. She was an MOT failure and cost £13 10s. I have a very happy memory of my dad driving me home from school one Friday, opening the garage door, and seeing Flossie for the first time waiting for me. My first car. No work was needed to make her driveable so next morning I was up early and spent all day getting used to her. This was a special thrill because before I was 14 and prior to Flossie I had only driven our family car along with my parents and that was after dark along quiet country lanes on the way home from the pub whilst keeping a wary eye open for the local bobby out on his bike at closing time.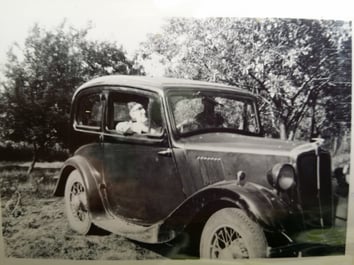 In those days my family were living near Worcester and we had an orchard attached to our house. So, what better way could there be to cut my teeth at the wheel of a car and on my own than by enjoying endless summer days racing around between fruit trees, practising slides on corners in the mud and perfecting clutch-less gear changes. I was not always alone on these adventures. You can just make out our golden Labrador, Major, sitting beside me in the car on one of those fun-filled idyllic holidays. However, my enthusiasm for speed led Flossie to come to a sticky end. One Sunday afternoon I assembled a party of family and friends to witness my high-speed wizardry but overconfidence led me to misjudge the final turn of my circuit and an apple tree appeared where it should not have been. The collision severely bent the steering rack, so Flossie had to be pushed with mournful ceremony to the bottom of the orchard and abandoned. Life moved on and Flossie was soon forgotten because she was quickly superseded by "Calamity", which I believed was a 1935 Hillman Tourer (unless anyone can identify her differently). But that is another story.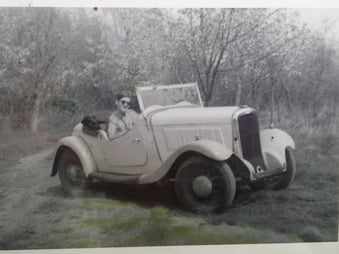 However, that was not to be the complete end of Flossie. One afternoon in the late 1990s my wife and I were cruising around my old driving haunts when we passed the old house. Seeing a gentleman in the front garden we stopped to say hello and I told him about my childhood fun with Flossie. "It's still there!" he told us, and he led us into the orchard, and there she was. Just the shell of her was left and most of it had somehow sunk into the ground, but there were some familiar features which enabled me to identify her as my old friend of long ago.


Get in touch
Do you remember the first car you owned or the first one you drove? Do you have fond memories or a story about it you'd like to tell? We'd like to hear about cars of all ages!
Your story should be no longer than 500 words. We'd love to see some pictures of your first car too! To get involved and share your story or for further information, email community@britishmotormuseum.co.uk with the subject 'My First Car'. We may not be able to publish everyone's stories but we will certainly enjoy reading them all!