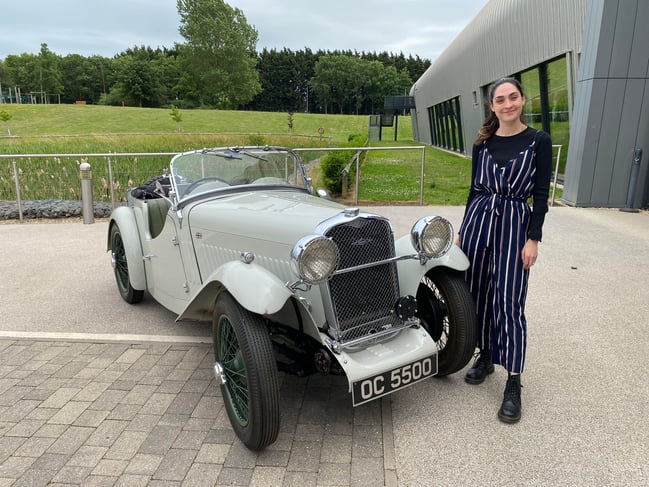 The British Motor Museum is delighted to be welcoming a new car into its collection – a Singer Le Mans. Not only is this car an ideal fit for the Trust's collection, it is also a fabulous gift to the Museum in its 30th Anniversary year - and marks the launch of an exciting new partnership with The Patrick Foundation.

This new working relationship between the two charitable trusts is meant to be. Both charities can trace their roots directly to the car-building heritage of the Midlands, and both are dedicated to preserving the legacy of the motor industry in Britain.

Stephen Laing, Head of Collections at the British Motor Museum, says: "We're absolutely delighted that The Patrick Foundation has chosen to donate the Singer Le Mans to the Trust. Inspired by Singer's success at the great race, the nippy Le Mans model, with its trim styling, looked the part. Embodying the spirit of the 1930s small British sports car, it's a perfect fit for our collection. However, this Singer is more than just that. Its fantastic backstory, part of the Patrick family for so many years since first campaigned by J. A. M. Patrick, gives the car great provenance, just right for the Museum."

Julian Pritchard, the grandson of the original owner, Joseph Patrick, and one of the trustees of The Patrick Foundation today, said, "To see my grandfather's car, Chassis Number 1, which he so successfully competed in during the 1930s, being displayed within the fantastic surroundings of the British Motor Museum, is a real treat and something, as a family, we're immensely proud to be able to facilitate. The trustees are delighted to begin this exciting collaboration with the British Motor Museum as the two organisations are so well-suited to each other. In its new home, the Singer Le Mans can be viewed and appreciated by countless visitors, keeping its spirit alive."

The Singer Le Mans will be on display in the Museum from Monday 3 July 2023. In addition to the gift of the car itself, The Patrick Foundation has pledged significant funding for a number of upcoming projects, for which the Museum is extremely grateful. Further details will be announced in due course.