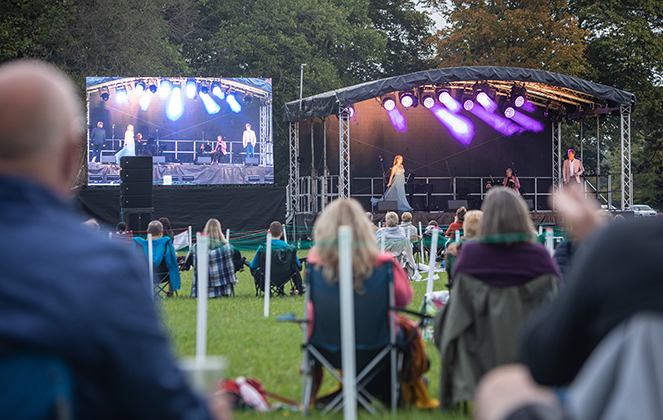 With less than two weeks to go until the British Motor Museum hosts a new innovative production 'Voices of the West End', the organisers are keen to stress how COVID safe and secure the event will be. The outdoor event will take place in the grounds of the Museum on 25, 26 & 27 September and showcase music from the West End's greatest musicals.
2,000 people recently watched the performance at Broadlands in Hampshire. Audiences greeted West End stars John Owen-Jones, Earl Carpenter, Kerry Ellis, and Katie Hall with a rapturous reception as they delivered a succession of hit numbers from favourite musicals including Chess, The Phantom of the Opera and Les Misérables. The audience praised not only the incredible performances but also the safe and secure organisation of the event.

Earl Carpenter, performer and producer said "From the outset we wanted people to feel entirely safe. Every group of up to 4 guests occupies their own 3m square marked out socially distanced plot, with metres of space between each one. But that did not dampen the atmosphere and enthusiasm one bit. Everyone was incredibly excited to hear a live performance and, as four performers, we loved singing for an audience again".

Along with an option of a 4-person pitch from no more than two households or support bubbles there is now also the option of a two-person picnic or car pitch. The performances are 90 minutes long with no interval and will take place on Friday 25 September at 7pm, Saturday 26 September, when there are two performances at 2pm and 7pm and on Sunday 27 September at 6pm. Gates open 2 hours beforehand.

The box office for the concert is managed by Birmingham Hippodrome and tickets can only be booked via their website at www.birminghamhippodrome.com. Roped pitches are from £59 for a 3 square metre pitch and car pitches are from £96.50, where performances can be watched from inside the car or set up next to it.

The chefs at the British Motor Museum are making luxury picnics and hampers which can be pre-ordered along with a selection of wines to enjoy in style. Picnics are £16 per person and the luxury hampers £21 per person. These must be pre-ordered via the Museum's website and orders close on the evening of Sunday 20 September. On the event day there will also be a small food and drink area serving gourmet burgers with vegetarian/vegan options, coffee/teas, ice creams etc. and a bar selling alcoholic and soft drinks along with a Pinnock's Artisan Gin Bar.

For more information about the event please click here. The Museum and event organisers will continue to monitor the Government advice and keep visitors informed of any changes.