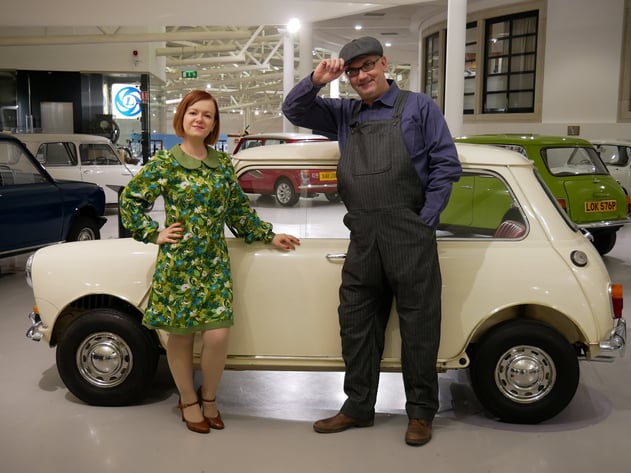 'Mini Madness' returns to the British Motor Museum this Easter from 4 – 26 April with a host of Mini themed family activities.
Visitors can join the Mini Factory costumed characters on a family tour, design and make a Mini, or explore the Museum with the Fix It Family Trail. On Thursday 9 & 16 April, visitors can also join the STEM ambassadors to take part in a Mini Egg Rover Challenge. Then, over the Easter Weekend from 10 - 13 April, children can enjoy a traditional Easter Egg hunt with a Mini twist!
The Fix It Family Trail takes place daily from 10am – 5pm for visitors to explore the Museum and find pieces of the puzzle needed to fix the car. Will it be a car of the past, present or future - or a unique hybrid? Make a Mini takes place every day from 10am to 3pm, offering children the chance to get hands-on with air drying clay to design and build their own Mini. The Mini Family Tour, daily at 1.30pm, sees the Mini factory characters take visitors on a fun and informative tour of the Museum and regale them with stories of life in the 1960's.
The Mini Egg Rover Challenge takes place on Thursday 9 & 16 April from 11am until 3pm. STEM Ambassadors from MOD Kineton will be on hand to help children programme a Sphero RVR Robot to complete a challenging assault course whilst trying to keep their chocolate mini eggs safe! This activity is suitable for 5 years plus with adult supervision.
Emma Rawlinson, Life Long Learning Officer at the British Motor Museum said "We have plenty of egg-citing activities for all the family to enjoy over the Easter holidays! Our friendly costumed characters 'Patsy & Victor' will bring the Museum to life with their stories and are always popular with our younger visitors! Add to this our fabulous collection of historic British cars and you'll find there's something for everyone to enjoy!"
All activities are included in the Museum admission and are suitable for 3 years plus with adult supervision. During busy periods family activities may move to a timed ticket basis so, to avoid disappointment, please check on arrival at the Family Station. Museum entry is £14.50 for adults, £12.50 for concessions, £9 for children (5-16 years) and under 5s are FREE. There is also the option to Gift Aid or donate your entry fee and get an Annual Pass in return, at no extra cost.
To find out more visit our Easter Holiday web page