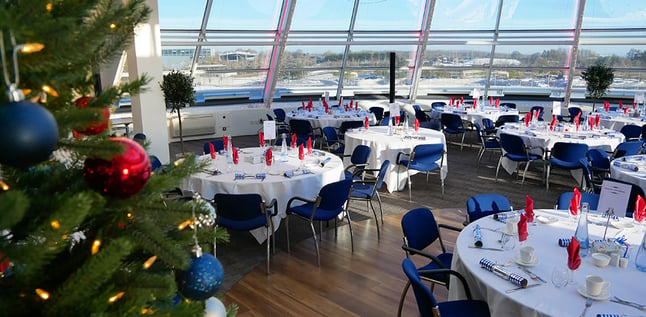 The British Motor Museum has launched a range of festive lunches and dinners, served in the roof-top Sky Suite this Christmas.

The Museum offers a unique sense of occasion for any event during the festive period, whether it's for a corporate Christmas party or a shared table with family and friends. The stunning Sky Suite, with views over the Warwickshire countryside, provides the perfect backdrop for an exclusive party or shared event so guests can enjoy a festive dining experience to remember.
The Museum offers a seasonal private dining package, with the opportunity for drinks to be enjoyed amongst the car collection, followed by a delicious three-course festive dinner in the Sky Suite. A minimum of 80 diners is required, with costs from £37.95 per person.
Christmas lunches are also available from 12pm – 2pm on 8, 11, 12, 13 and 14 December, and are open to visitors, local companies, Members, car clubs and community groups. Visitors can enjoy a seasonal two-course or three-course lunch with all the trimmings, glass of wine or soft drink and crackers for just £29.95 for two courses or £34.95 for three courses. (Member discounts apply). Entry to the Museum is also included that day.
All lunches and dinners must be pre-booked. To find out more, please click here.