My name is Bryony, the Museum Learning and Engagement Trainee and this blog is going to give you an insight to what myself and the Learning team are up to and what I learn along the way. Hopefully inspiring future generations of museum professionals. This blog will be monthly updates of what I've been up to!
Like many of my colleagues, I was glad to get back into the museum and return to a new sense of normality. I knew from the get go that July would be the month where I learnt the most, finally being surrounded by the vast collection and being able to engage with visitors.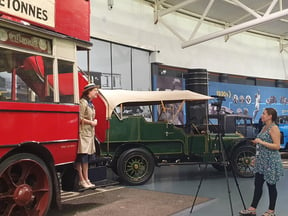 It didn't take long until I was in costume. My first experience of costumed interpretation was when we filmed for our general tour which is sent virtually to those who have booked to visit us. Jim and Claire on the Learning Team started me off small and provided a comprehensive script as well as lots of support and encouragement which made it a much more relaxing experience.
Although I was originally quite nervous about facing the public, after this positive experience I finally braved the costumed interpretation after delaying it till the end of July. Being with Jim allowed me to gain confidence in the explaining role and allowed me to bounce off him if I got nervous or forgot some of the knowledge about the collection (and with lots to learn, naturally I sometimes missed some key bits out)! But it wasn't long before I was back in front, and this time behind, the camera! Another tour needed to be filmed so Jim, Claire and I geared up into our Designer costumes and set off on filming a family colour tour. Having watched Marketing film our first taster we had a go at filming ourselves. Another skill was under the belt, one that I thought I would never learn whilst working in a Museum!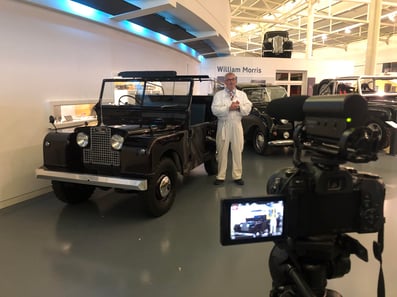 With costumed interpretation under my belt it was time to learn science. The Museum always runs a science show as part of their holiday activities. This led to more filming! Taking the role of observer/prop changer/technical assistant I started to learn some science. Not only was it educational, after realising I had forgotten half the science I learnt in school, it was also so much fun. You will have to stay tuned for the Taster Science Show and hopefully some outtakes on our YouTube channel, I can guarantee it will make you laugh!
However, it wasn't just all costumes, science and filming. July also saw a huge load of work go into our summer offerings. As we could not offer in-house activities we decided to create activity bags that children could take home with them. This meant many repetitive hours were spent making up the bags which was made a lot more bearable with music.
July was such a busy month but it was great to be able to interact with the public and adapt our offering so we can still provide the same amazing experience.