My name is Bryony, the Museum Learning and Engagement Trainee and this blog is going to give you an insight into what myself and the Learning team are up to and what I learn along the way, hopefully inspiring future generations of Museum professionals. Due to lockdown, this first post will cover working from home and the following posts will be monthly updates of my activities!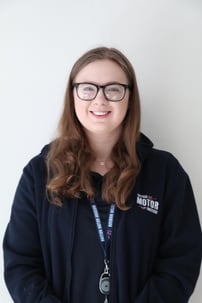 Starting my new job was strange to say the least. I had to get to know my colleagues virtually after only being on site for a week prior to closure. This was made so easy through the warmth, friendliness and support of my colleagues and it wasn't long before we all had to get stuck in and learn a new way of working.
When I started, March was looking at being the best ever month for the Museum's schools and community bookings. Although I am sad I couldn't take part in this success, lockdown really helped me to build up my knowledge of our current school offerings, help the team update them and even create some new programmes and initiatives which we hope to introduce in the next academic year!
The first main challenge of lockdown was finding a way to engage our audiences and with the help of the Marketing department we set out to make monthly activity pages. We were straight into making word searches, puzzles, craft activities and science videos. Having not created family activities before (especially online ones) this was great knowledge to develop and allowed us to trial new ways of engaging with our audiences. As a team, not only did we make online activities for the website, we have tried to keep the social media buzzing with content such as Science Sundays and an online Mini Motorists (for our young enthusiasts aged 5 and under).
Another social media project I was personally involved with was the national 'Kids in Museums Digital Takeover Day'. With the help from the Marketing, Archive and Collections teams we were able to create a variety of content aimed at getting young people more involved in Museums. This involved career stories, an emoji quiz and some memes and we are all pleased with the engagement we received on these posts - which you can still check out on our Facebook page.
Even though we were super busy with engaging families and young people, the project that took up most of my time whilst working from home was 'My First Car'. Seeing this project through from a concept to a regular blog has been a highlight! Not only did I get an insight into how projects were run and developed but it also allowed me to learn more about the community involved with the British Motor Museum. It's a project I am really passionate about which is helped by the fact so many interesting stories have already been sent in! You can check out the 'My First Car' project on the Museum blog where posts are uploaded bi-weekly.
I think I speak for the whole team when I say working in lockdown has really allowed us (especially me) to gel as a team whilst also proving our resilience and adaptability. Despite this massive learning curve, I am looking forward to continuing my learning whilst welcoming visitors back to the Museum, having a hand in costumed interpretation and continuing the many projects we have already established during lockdown.