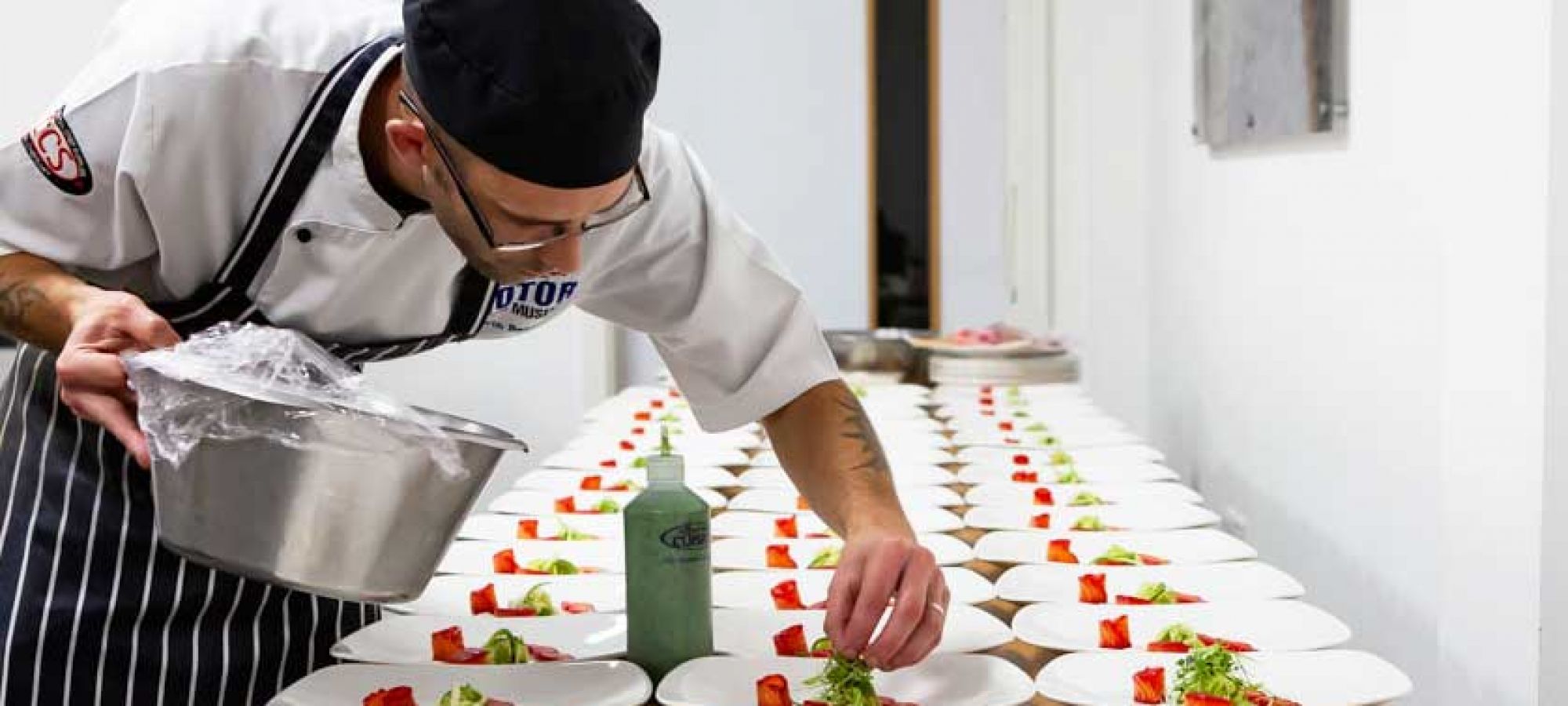 Our Chefs have created a range of Dinner Menus starting from £35 (+VAT) per person which include a three course dinner followed by Tea, Coffee and Homemade Chocolates.
Why not begin your evening with a drinks reception in the British Motor Museum exploring over 200 British cars, followed by a dining experience in our Conference and Exhibition Suite or our rooftop Sky Suite. The Conference and Exhibition Suite can accommodate up to 450 dinner guests and the Sky Suite seats 100 to 200 dinner guests.
A Drinks Reception in the Museum starts from £4.15 per person (+VAT).
Get in touch with our friendly bookings team for more information about our Dinner Menus, or to book, call 01926 649649 or
e-mail bookings@britishmotormuseum.co.uk
Dinner Menu
See our sample dinner menus below or download a sample menu here.
Dinner Menu £35 per person (+VAT)
Starters
- Prosciutto with Bocconcini, Plum Tomato & Basil Salad, Aged Balsamic & Olive Oil (GF)
- Twice Baked Goats Cheese & Red Onion Souffle with Caramelised Apple & Walnut Salad (V)
- Thai Sweet Potato & Basil Soup with Vermicelli Noodles (V)
- Chicken & Baby Leek Terrine wrapped in Prosciutto,
- Red Pepper & Chilli Jelly (GF)
- Goats Cheese & Sun Dried Tomato Cheesecake with Watercress Salad & Sweet Pepper Dressing (V)
- Smoked Chicken, Plum Tomato & Avocado Tian with Crispy Palma
- Ham & Basil Dressing (GF)
Main Courses
- Maize Fed Chicken Ballotine with Sage & Pancetta in a Porcini Mushroom Jus (GF)
- Slow Roasted Belly Pork, with Crackling & a Cider & Honey Sauce (GF)
- Rosemary & Garlic Braised Shoulder of Lamb with a Minted Pea Puree & Rich Redcurrant Jus (GF)
- Slow Cooked Feather Blade of Beef in a Rich Burgundy Sauce, Baby Onions, Mushrooms and Smoked Bacon (GF)
- Pan Fried Duck Breast, Orange & Grand Marnier Glaze (GF)
- Roast Seabass Fillet, Crushed Sweet Potato, Lemon & Saffron Beurre Blanc (GF)
Vegetarian Main Courses
- Butternut Squash Tortellini with a Lemon, Sage Beurre Blanc & Deep Fried Leeks (V)
- Caramelised Shallot, Goats Cheese & Thyme Tartlet with a Rocket Salad & Balsamic Reduction (V)
- Chargrilled Mediterranean Vegetable Stack with Sweet Pepper Dressing (V) (GF)
- Chargrilled Mediterranean Vegetables & Halloumi with a Sweet Pepper Dressing (V)
- Baked Sweet Pepper filled with Thai Style Vegetables with a Honey, Lemon & Soy Reduction & Jasmine Rice (V) (GF)
Desserts
- Rich Chocolate Tart, Salted Caramel Ice Cream & a Roasted Pistachio Crème Anglaise
- White Chocolate & Berry Cheesecake with Berry Compote
- Passion Fruit & Vanilla Panna Cotta with Honeycomb
- Sticky Toffee Pudding & Toffee Sauce with Caramelised Bananas
- Tiramisu & Biscotti
Tea, Coffee & Homemade Chocolates
Menu additions
Chef has devised a number of additional menu options that you may like to choose to personalise your menu. Please note that these alternatives come with a per person supplement cost that is in addition to the £35 dinner menu cost.
All prices quoted are exclusive of VAT
Additional Starter Options
- Crispy Duck Salad with Oriental Dressing & Toasted Pine Nuts (N) (GF) - £3
- Beetroot Cured Gravlax, Horseradish Cream & Herb Salad (GF) - £3.25
- Jerk Tiger Prawns, Mango & Pineapple Salad with Sweet Potato Crisps (GF) - £3.25
- Carpaccio of Beef, Parmesan Shavings, Aged Balsamic & Truffle Oil (GF) - £3.25
Additional Main Course Options
- Rump of English Lamb, Stuffed with Wild Mushroom & Rosemary, Red Current Jus (GF) - £3
- Roast Sirloin of Beef, Café de Paris Butter, Baby Vine Tomatoes & Pan Jus (GF) - £5
- Seared Fillet of Beef, Cream, Cognac & Green Peppercorn Sauce (GF) - £7.50
- Herb Crusted Monk Fish on Sundried Tomato & Wild Mushroom Risotto, Lemon Oil & Parmesan Crisp - £7.50
Cheese Board
Supplement of £60 for 8 people or £75 for 10 people
- Oxford Blue, Bath Soft, Warwickshire Truckle & Aged Red Leicester Cheeses served with Millar's Cheese Biscuits & Plum & Ginger Chutney
(V) Vegetarian (N) Contains Nuts (GF) Gluten-free
If you have any further dietary requirements or require allergen information please contact us.