Who wants an autonomous vehicle? What is the fuel of the future? Which gear will help you win the race?
Our STEAM Fortnight offers KS2 and KS3 students answers to these questions through an immersive and active learning experience in a unique setting, surrounded by our amazing collection of historic British cars.
During the day groups will rotate between four or five different activities, keeping enthusiasm and engagement levels high.
Science shows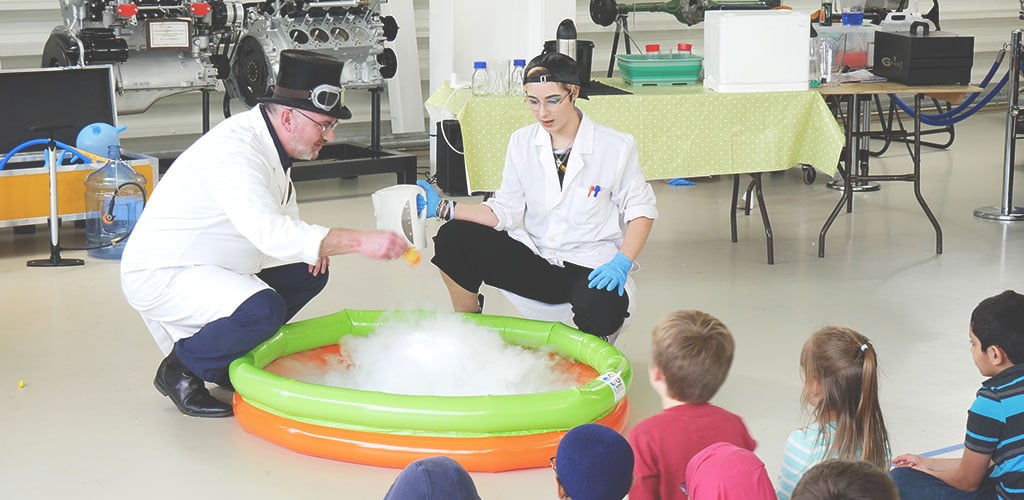 We are in a pickle over petrol - what could a green alternative be?
Students will meet the Museum's resident scientists, Professor Pickle and Dr. Pumpkin, and help them to solve the problem of how to power a car in our interactive, dry ice fuelled science show.
Learning outcomes
To understand how cars contribute to climate change and consider possible alternatives to petrol.
Designer for a Day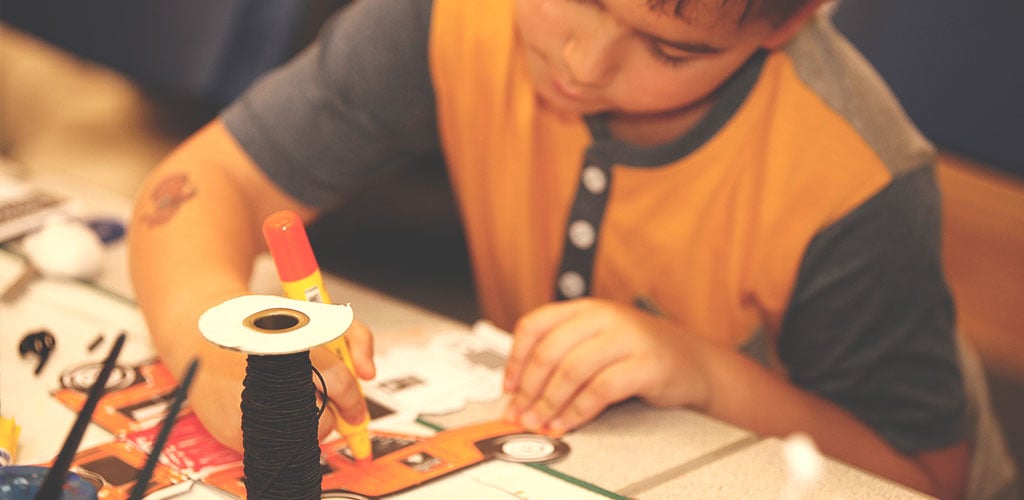 Could you design a Land Rover for the army? What about MI5?
Students can become car designers for a day and express their artistic side when designing a Land Rover cut-out car to take back to school.
Learning outcomes
To develop teamwork, collaboration and listening skills.
Gears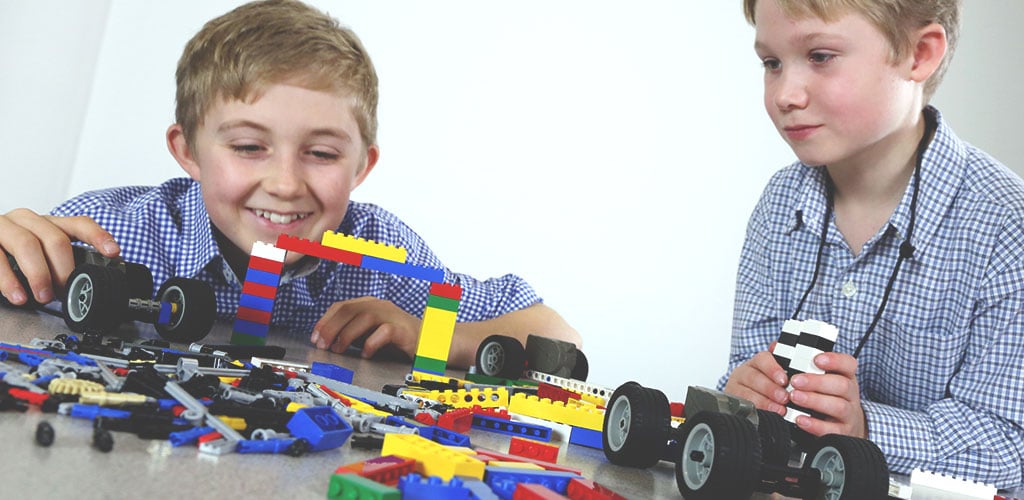 Do you feel the need for speed? Which gear will you choose for your LEGO® car?
They will also get involved with a hands-on LEGO® workshop investigating the effects of gears and ratios.
Learning outcomes
To understand how car design and gear combinations assist with speed, express gear combinations as ratios and practice rounding up and down.
Engineering Apprentices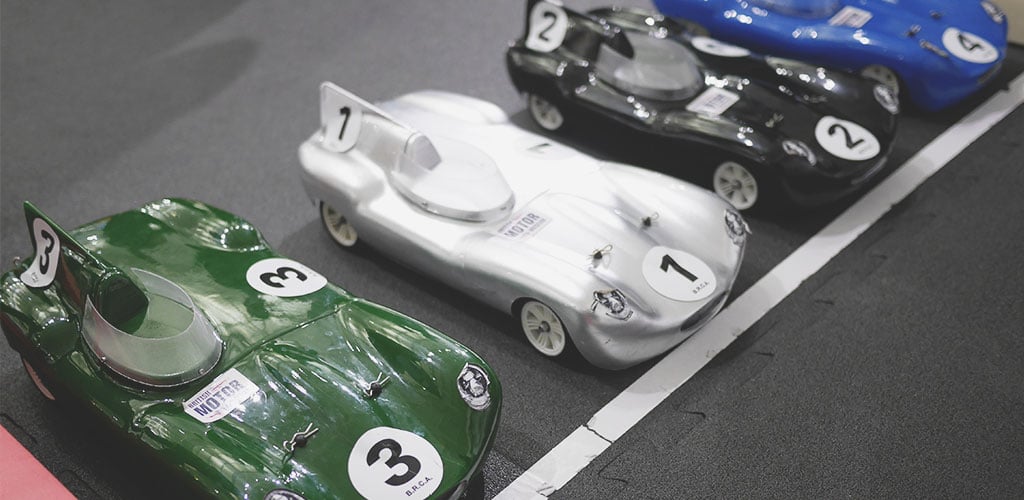 Does your team have what it takes to win the race?
The students will work in teams to road test our remote controlled Jaguar D-Types around our special racetrack.
Learning outcomes
To develop teamwork, collaboration and listening skills.
RVR Robots - Tuesdays and Wednesdays only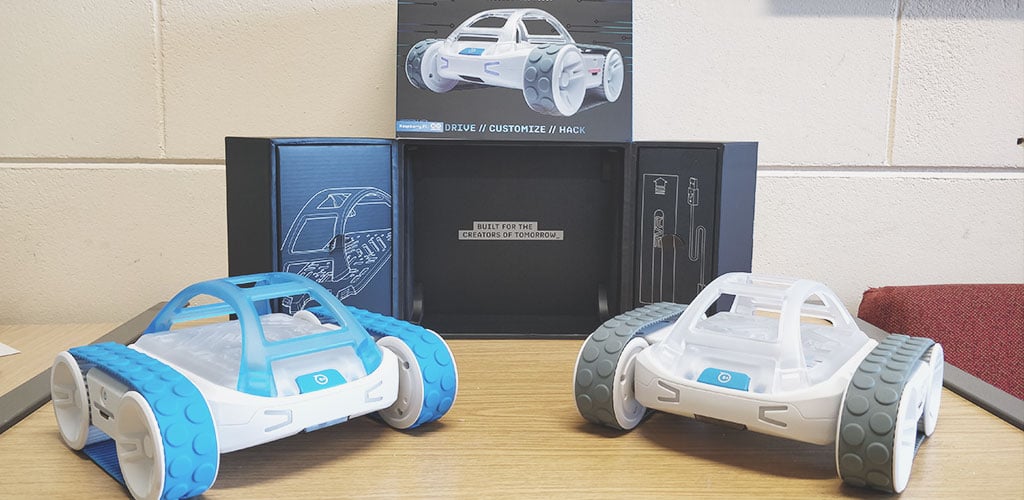 On some days within the fortnight, pupils will also have the opportunity to work with the STEM ambassadors from MoD Kineton as they put their RVR Robots through their paces.
Please enquire about alternative days. Subject to availability.
Price per Pupil
The cost is £12.50 per pupil for a full day at the Museum running from 10am to 2pm.
To book call 01926 649649
or for more information email education@britishmotormuseum.co.uk
Travel Support Scheme
The Museum's Travel Support Scheme is also available to help cover transport costs.
Click here to find out more.
Programme subject to availability and change.