This exhibition, supported by the Heritage Lottery Fund, was part of the opening programme for the Collections Centre, based at the British Motor Museum.
'Car Stories', supported by local artist and photographer Lara Platman was a community project and exhibition which supported the funding objective set out by the Heritage Lottery Fund 'making a lasting difference for heritage and local people'.
The purpose of this project and exhibition was to increase the significance and meaning of cars in peoples' lives by exploring the human stories relating to cars and discovering how they can shape our life experiences.
Gathering stories from a range of local audience groups, with the assistance of the British Motor Museum's Oral History Volunteers, building models with two local primary schools, producing a short animation film with the Lillington Youth Group and creating a series of portrait studies of retired and current work force, 'Car Stories' aims to allow the collections to become more meaningful to a wider audience.
'Car Stories' exhibition ran until June 2016 in the Collections Centre.
Click here to listen to some of the 'Car Stories'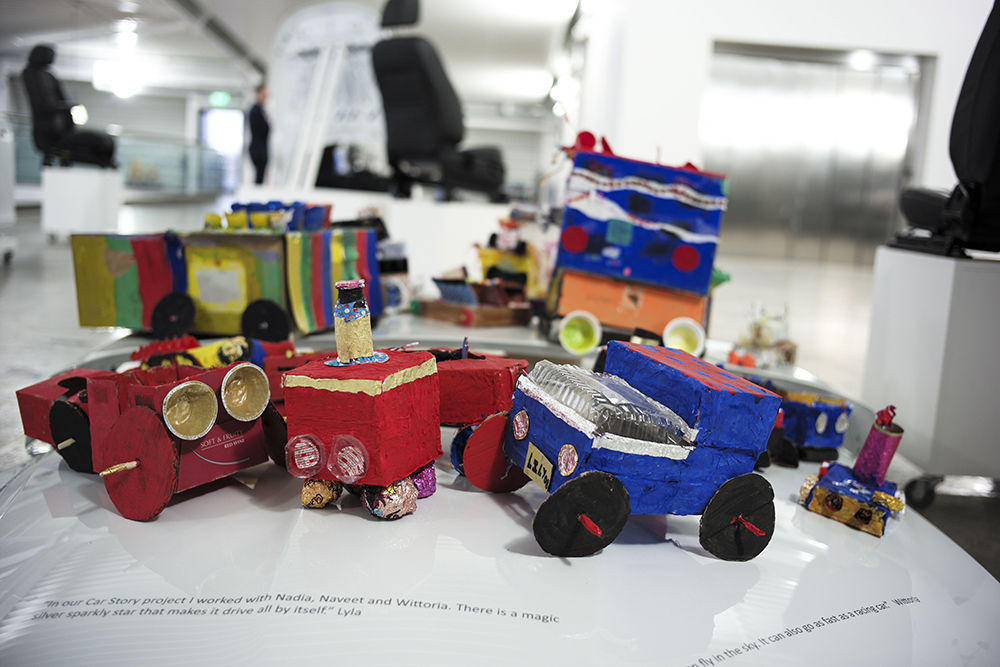 The people that made 'Car Stories'...
Community Engagement Officer, Adela Thomas
The 'Car Stories' Heritage Lottery Funded project aimed to explore the human stories relating to cars and how they could shape our life experiences. The project resulted in a vibrant and interactive exhibition at the British Motor Museum in the new Collections Centre during 2016.
As Community Engagement Officer I began this project in the Autumn of 2014 contacting a range of local community groups of all ages and abilities who we thought might want to share their 'Car Stories' with us. Working with Lara Platman, the artist creating the exhibition, initial visits were made out to the groups which included handling a variety of objects connected to cars and the car industry past and present and, sometimes, animated discussions! The enthusiasm we were met with from the groups was overwhelming and inspiring. This response led to a huge variety of car stories being collected from people of all ages and abilities. Stories were collected through oral history interviews, craft activities, and a local youth group even created a small car themed film with animation specialist, Chris Bradley.
We hope that you enjoy looking at some images from the project and listening to some of the incredible stories people old and young had to tell – we certainly had a marvellous time meeting everybody who was so engaged and enthusiastic about taking part in the project!
Lara Platman, commissioned artist for Car Stories
Every day was a treat working on this project: from visiting the children in the primary schools, designing and making with them their cardboard cars, to enlisting four teenagers at Lillington youth group to apply their confidence to creating the Short Circuit animation. Visiting the Macular Group in Leamington and hearing their stories, some of which they said to be not of any interest were, in fact some of the most interesting encounters of social history amongst car related stories I have ever heard. Along with the Royal Star and Garter residents reminiscing about their younger days talking as if it were some other world, perhaps now it is.
This project has revealed a variety of totally unique experiences, where every single person involved has in some way or another allowed themselves to take a moment in time to remember a car.
Animation film produced by Chris Bradley
When I was first approached by the British Motor Museum to produce an animated film with a group of young people from Lillington Youth Centre, I was incredibly excited about the idea. Seven weeks later and the experience has proved to be both challenging and incredibly rewarding in equal measure! Not only have the group produced a remarkably charming and engaging film that they themselves are very proud of, they have also created a film that will hopefully take pride of place at the British Motor Museum's Collections Centre.
Starting with an initial broad approach, the first of seven workshop sessions consisted of the group coming up with some preliminary ideas based around the theme of 'Car Stories'. After we had discounted the more complex and unfeasible ideas about a zombie apocalypse and a bank heist gone wrong, we very quickly settled upon a compromise involving an electric car which somehow turns bad! Once we had had that initial spark, the group were then able to forge forward with the development of the story, the modeling of the characters, props and the design and construction of the sets.
The project was incredibly well supported by both Lara Platman and Adela Thomas from the British Motor Museum as well as Gary Timlin, the youth and community worker at Lillington Youth Centre.
The project sessions culminated in a visit to a professional recording studio where the group were able to record their voice-overs for the script they had written. It was in this session that the young people seemed to really push themselves beyond their own comfort zones, producing voice-over performances that would really contribute to the success of the finished film.
I strongly believe that the finished film is testament to the hard work and effort that many people have contributed to this project. There was one young person in particular however, who really seemed to find his voice throughout this process. He grew in confidence and in his ability to express his thoughts and ideas and I believe he surprised himself in achieving things he never thought would be possible!
We would like to thank the following for the making of this exhibition
Royal Star and Garter Residential Home, The Macular Group Leamington, Sydenham Primary School, Lighthorne Heath Primary School, Lillington Youth Group, ZF TRW, Jaguar Land Rover.